As a property owner, you might consider putting your home up as a short-term rental on a site like Airbnb. But did you know that your regular homeowners insurance probably isn't sufficient?
Before you rent out your property, review your homeowner's insurance to determine what exactly is covered, and consider what type of add-ons and endorsements you might need.
If you're looking for a new landlord insurance policy, our partner Obie offers a simple and intuitive platform that gets you the right coverage at the right price. Whether you're new to property investment or looking to expand, get a personalized insurance quote in minutes.
1. What are the Most Common Problems Airbnb Hosts Experience?
When you open your home to strangers, you hope that they show your property the same respect you do- but there are always risks to worry about. These "Airbnb risks" include:
Vandalism

– whether the result of an unauthorized party or the actions of an individual guest, your property might be intentionally damaged.

Theft

– from a deck of playing cards to more valuable items like TVs and artwork, thefts can and do occur.

Unpaid property rental – while Airbnb offers safeguards, a guest may fail to show up or simply refuses to pay rent.
Bodily injury

– injury to a guest staying on your property can be a serious problem, and you should protect yourself from any potential liability.

Damage to your property

– whether intentional or accidental, you want to ensure that your home is protected against potential rental damage.

Damage to your guests' property

– if your guest's property is damaged while staying in your rental unit, you want to ensure that your insurance will cover any claims made against you.
It's important to consider these risks when thinking about renting out your home. There are countless horror stories about guests who leave mystery stains on carpets and walls, of TVs and artwork being stolen, and parties getting out of control.
If you own a property for the sole purpose of renting out to others on a short-term basis, you could also encounter unexpected damages if the space is left vacant for a long period of time.
Mold, broken pipes, sewer backup and damage caused by faulty appliances are just some of the things that might go wrong when you're not around.
Ensuring that your property has the right type of insurance is critical as it helps mitigate the expenses associated with repairing and replacing damaged property.
2. What Insurance do I Need for My Airbnb?
When you post your short-term rental on Airbnb, you receive their Host liability coverage automatically. This coverage includes:
$1 million USD liability insurance to a maximum number of claims per host property

Legal liability coverage for incidents that occur during a guests stay that result in bodily injury or property damage to a guest or third party
This is great basic coverage, but there is a long list of exclusions in the coverage, and the claims process can be long and tedious as you have to go through Airbnb's insurance provider instead of your own.
Some exclusions include:
Electronic data

Loss of or damage to certain property (specifically property you own, rent, or occupy or property loaned to you)

Assault and battery

Expected or intended injury

Fungi or bacteria
Airbnb also offers its own Host Damage Protection. This provides:
$1 million USD coverage in the event a guest damages your property during their stay.
As with host liability coverage, there is a long list of exclusions and the process of making a claim can be cumbersome.
Some exclusions include:
Currency and other monetary possessions

Animals

Vehicles

Any damage to property not on, in, or at Covered Accommodation

Electronic data
If you're looking to make your home available as a short-term rental, remember:
You will need only homeowners insurance if your policy allows for short-term rentals, and you are only renting out for a limited time

You will need an endorsement on your policy if you intend to rent out your property for a short period of time, usually not exceeding six months

You will need landlord insurance if you are renting out your property for an extended period of time

You will need business insurance if you will be using your short-term property as a regular income-generating endeavor
3. How Much Insurance do I Need for an Airbnb Rental Property?
It's possible your homeowner's insurance will cover you for short-term rentals, but the majority of policies do not. Some insurers will allow you to occasionally rent your property provided you inform them in advance, but usually, you'll need to add an endorsement onto your existing policy.
Host protection insurance is essential if you're home sharing. It's important to know what types of insurance are available to you.
Homeowner's Insurance
Insurance for the home that you live in

Covers your dwelling (that is, the structure of your home), your personal property (your belongings on the property) and liability

Often includes other structures protection for spaces such as sheds and garages

Usually does not include home-sharing protection

Often endorsements or add-ons are required if home-sharing, but this will typically only cover occasional renting for short periods of time


Short-term Rental Insurance (Airbnb Insurance)
Insurance that covers your property when it is rented as an Airbnb or short-term rental

Applicable to your primary residence or vacation property, usually for a maximum amount of time (generally six-months)

This is an endorsement, or add-on, to your homeowner's insurance, not a separate policy

It generally covers theft of your or your guest's property, vandalism, loss of rental income and legal liability

Typically costs 2-3 times more than homeowner's insurance


Landlord Insurance
Similar to business insurance

Covers damage to your property, loss of rental income and third-party liability and property damage

Does not cover damage to tenant's belongings and other property, which would need to be covered by their own tenant insurance policy

Generally applicable to businesses or individuals that rent property out for longer durations, not for home-sharing purposes
Like any insurance policy, the cost of Airbnb insurance depends on factors like:
Where you live

The type of residence

The value of your property

The value of your home's contents

What your deductible is

How much insurance coverage you want
Typically, the general cost for Airbnb insurance is between +/- $1000-$3000, but this is a very rough estimate.
For example, to insure a home in Brooklyn or upstate New York, Airbnb Insurance could cost between $4,000-$5,000/year. Meanwhile, a 2 bedroom apartment could cost between $900-$1100 to insure. There are so many factors that affect the price, your best bet is to speak to an insurance provider to determine exactly what coverage you will need.
When looking at how much Airbnb insurance you need, consider the following:
What property damage coverage you require

– the rebuilding costs of your residence, not including the land

Value of items in your home

– total up the replacement value of your possessions

What liability coverage you need

– what costs you'll face should an individual be injured on your property
TIP: Itemize your possessions that are in the home and their value. This will help you if you ever need to make an insurance claim.
Be sure to compare quotes when looking for Airbnb insurance, as many companies offer bundling options if you have multiple policies with them, but you might be able to find a more affordable rate with another company.
Proper expense management is critical when running an Airbnb. Knowing how much you're spending on home insurance, Airbnb insurance and other expenses helps ensure your rental is turning a profit. We offer integrated, intuitive expense management with our platform, to help make turning a profit easier.
4. Which Companies Offer Insurance for Airbnbs?
More and more companies are offering short-term rental insurance. It's always a good idea to speak to your current provider to see if they offer any endorsements, but if you're looking at getting a new policy or are thinking of switching companies, here are some providers that offer short-term rental insurance:
Provides AirCover (learn more below)

Seamless integration with Baselane's platform designed for

rental property management

Provides quotes for multiple insurance companies

Customizable coverage allows you to find the landlord insurance you need

Fast and easy online platform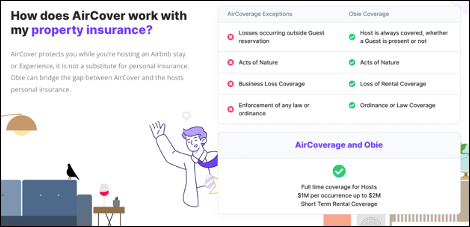 Proper Insurance
The benchmark in Airbnb insurance

Costs slightly more upfront, but provides good all-in-one coverage

Policy is underwritten by Lloyd's of London

Offers protections from Airbnb theft, liability issues and property damage

Easy to use online service plus friendly and knowledgeable staff
Liberty Mutual
Offers a landlord insurance policy that covers your property, liability that occurs on your property and loss of rental income

The coverage is not intended to insure a space where you reside, but rather a secondary residence you own for the purpose of generating income

If you are renting out a room or a space in your primary residence, then an alternate Airbnb insurance policy might be right for you
Allstate
HostAdvantage Home-Sharing insurance that can be added on as an endorsement to your home policy

Coverage in the event your personal belongings are stolen while you are renting your home and in the event of damage to your personal property
Erie Insurance
Home Sharing Coverage is an endorsement that provides property damage, theft and liability claims coverage

Only available for an individual's primary residence

Offers business insurance policies that are more suitable if one is looking to operate a secondary income property
Farmers Insurance
The landlord insurance policy provides more a-la-carte options for individuals who rent out a secondary property

Includes landlord liability, property damage, named-peril, loss of rental income, personal property and personal injury

Offers Other Structures endorsement, which extends your home coverage to garages, driveways, sheds and other detached spaces associated with your home
5. What Information Do I Need to Get an Airbnb Insurance Quote?
All the things you need to consider to get a quote:
Address

Age of building

# of units

Square footage

Build construction type

Major renovations dates

Monthly income (actual or estimate)

Market value of property

Age of systems (electrical, plumbing, HVAC, roof, etc.)
6. How to Get a Quote for Airbnb Insurance in Minutes?
Watch this Video about How to get an Airbnb Insurance Quote:
7. How Can I Make Sure My Airbnb is Turning a Profit?
Hosting a property for Airbnb rentals is a business. You want to ensure that you're turning a profit and not losing money.
Ensuring that you have proper expense tracking and have access to quality analytics allows you to manage your home sharing business with confidence. With our integrated finance management service, you gain full control of your cash flow. Easily tracking your revenue and expenses means you can identify just where your money is going, allowing you to identify cash saving areas.
Our advanced property metrics provide you with valuable insights into what the return on your investment is. With real-time analytics, you can track how your short-term rental property is performing as an investment by easily identifying your ROE, net cash flow and cash-on-cash return. Try out our easy to use analytics tool for landlords.
Protect yourself 
and your investment
Make sure you have the right coverage
Check if you can save $100's on existing policy
No phone call or hassle required
Get an Instant Quote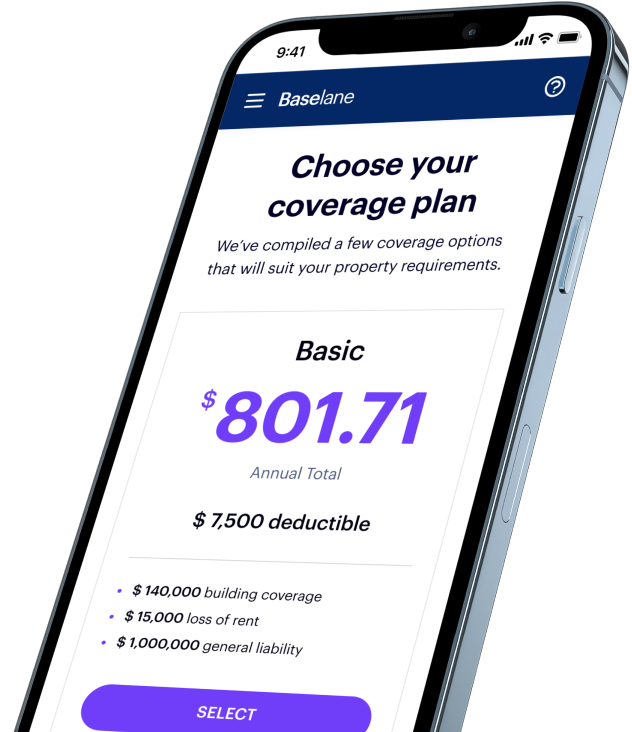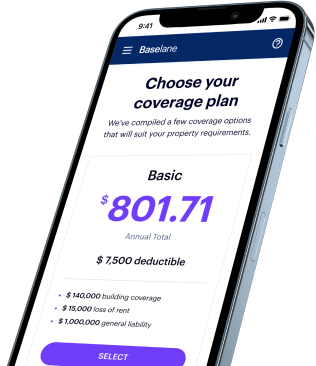 FAQs
Does homeowners insurance cover my Airbnb rental property?
Generally, your homeowner's insurance will not cover your Airbnb rental property. You will most likely require a separate insurance policy or endorsements on your homeowner's policy, depending on whether you reside in the property or not.
Do I need different insurance when renting a room on Airbnb vs. renting an entire unit?
If you're renting a room on Airbnb, it's a good idea to speak with your home insurance provider to determine if you require additional endorsements. Some providers allow for occasional renting of rooms – or even your entire property, but most likely you will need an add-on or endorsement to your policy.
Is the protection offered by Airbnb good, and what does it cover?
Airbnb offers Host Liability insurance and Host Damage Protection. Host liability coverage protects your guests in the event of personal injury or damage to their property while on your premises. Host damage protection covers your property and possessions in the event they're damaged by a guest. These policies are included for Airbnb hosts, but purchasing additional coverage is recommended as the claim process can be long and complicated, and there's an extensive list of exclusions.