According to the Federal Reserve Bank, over 43% of consumers pay their bills online, including rent. There are plenty of online rent collection apps, but not all of them include the features you need to make rent collection easier and faster.
Choosing the right tool to collect online rent payments is vitally essential to the future success of your real estate business. To help narrow down your options, here is our list of the best online rent payment tools for landlords.
How to choose the best rent collection app?
Research shows that 80% of tenants prefer to pay rent online, and those who use an online rent payment service are 20 times more likely to pay rent on time. Tenants can easily set up recurring or one-time rent payments and stay on track with automatic payment reminders. This eliminates the hassle of chasing tenants for late payments. Plus, your cash flow will be more consistent to cover bills, pay for repairs, or buy new rental properties.
Online rent payments are also the most secure way to collect rent from tenants. You don't have to deal with cash and rent checks getting lost in the mail or going to the bank to make a deposit. When tenants pay rent online, funds are deposited directly into your bank account without doing any extra work.
What Makes a Rent Collection App a Good One?
Online rent collection tools should be easy to use and allow tenants to pay rent, security deposits, move-in fees, and other charges all in one place. Your solution should also reduce the overall administrative work required for collecting monthly rent payments, reporting rental income, and managing bookkeeping.
Top features to look for when choosing an online rent payment service:
Multiple payment methods (ACH, credit card, debit card)

Low to no tenant fees (free for tenant to pay rent)

Fast payment processing (deposits within two business days)

Automatic late fees and rent reminders

Automatic rent payments

Payment tracking and notifications for landlords and tenants

Built-in landlord banking and bookkeeping

Reliable and responsive customer support for landlords and tenants
Make sure you check the fine print for security protocols and hidden fees. Look for bank-level encryption and free online rent payments for landlords that deposit within 2-3 business days.
Try to keep tenant transaction fees below 3% for debit or credit cards and free for automated clearing house (ACH) bank transfers.
Blocking partial payments for overdue rent should be a standard feature. This will help avoid delays if you're in the middle of the eviction process.
Other features to look for are built-in banking and bookkeeping to help replace manual data entry with automatic income and expense tracking for Schedule E tax reports.
What is the Best Online Rent Collection App?
There are multiple online rent payment systems and rent collection apps that make rent collection easier. To help you find the best option for your rentals, we compared the ten best rent collection tools landlords use and provided details of what each one offers.
Best For: Baselane is an all-in-one banking and financial platform built for the modern landlord. Baselane makes collecting rent payments online a breeze for landlords of any size. This rent collection app not only offers free rent collection for landlords and tenants, but also offers premium features not found on other platforms, like landlord banking, integrated bookkeeping, reporting and analytics and much more.
On top of all that, their user experience is easy on the eyes. Although Baselane has focused more on financial property management, they are planning to offer tenant screening and tenant management in 2023.
Baselane is an all-in-one property management platform with free online rent collection for landlords. Every account comes with advanced features for automatic payments, late fees, direct deposits, rent reminders, and expense tracking.
Tenants only pay 2.99% for debit or credit payments, and ACH rent payments are free. You can collect rent into an existing bank account or Baselane bank accounts for each property and unit.
If you choose Baselane banking, you can earn 4.46% APY and up to 1% cash back, in addition to enjoying virtual accounts, virtual cards, automated bookkeeping and much more.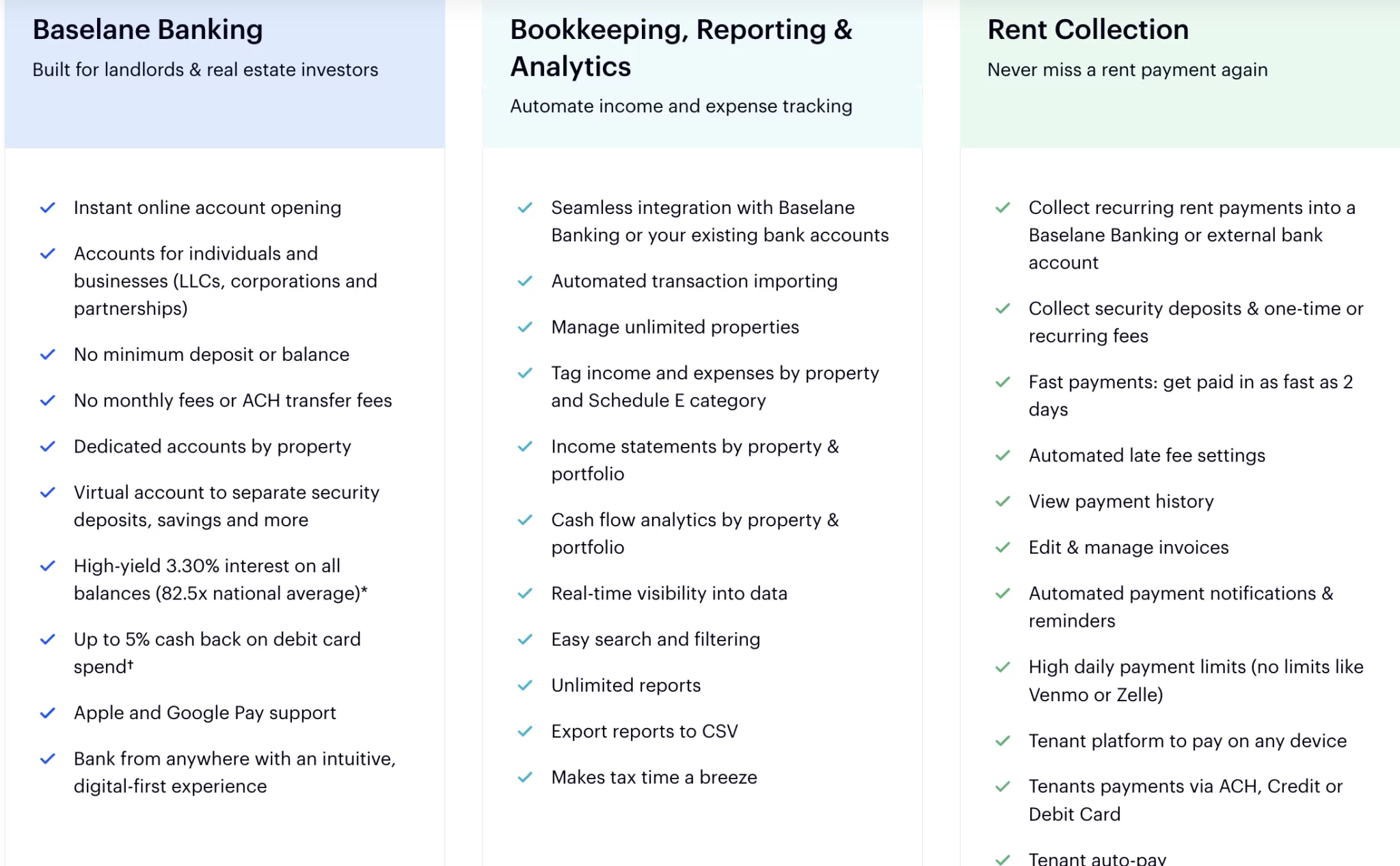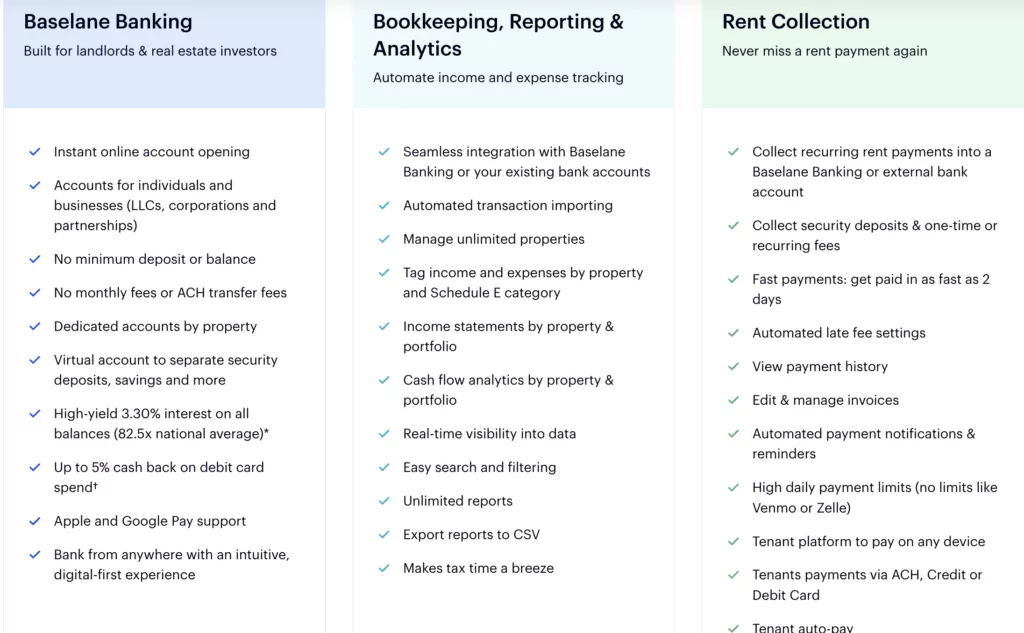 Baselane features include:
Built for online rent payments deposited directly into your bank account

Easy sign-up for tenants and landlords

Collect security deposits & one-time or recurring fees

Fast payments: Get paid in 2-3 days

Automated payment reminders & notifications

Automated payment history and tracking

Automatic late fee settings

Integrated bookkeeping with cash flow analytics and reporting for Schedule E, ROI, net Income, and net cash flow.
Tenant rent payment options:
ACH, Debit, Credit (2.99% fee)

Tenant Auto-Pay

High Daily Payment Limits
Integrated landlord banking:
Unlimited accounts, partitioned by unit

Virtual cards & spend controls

Integrated into rent collection software

Integrated with your external accounts

No minimum deposit or balance

No monthly fees

No overdraft fees

1% cash back on debit card

High-yield checking interest
Pricing: Baselane is Free!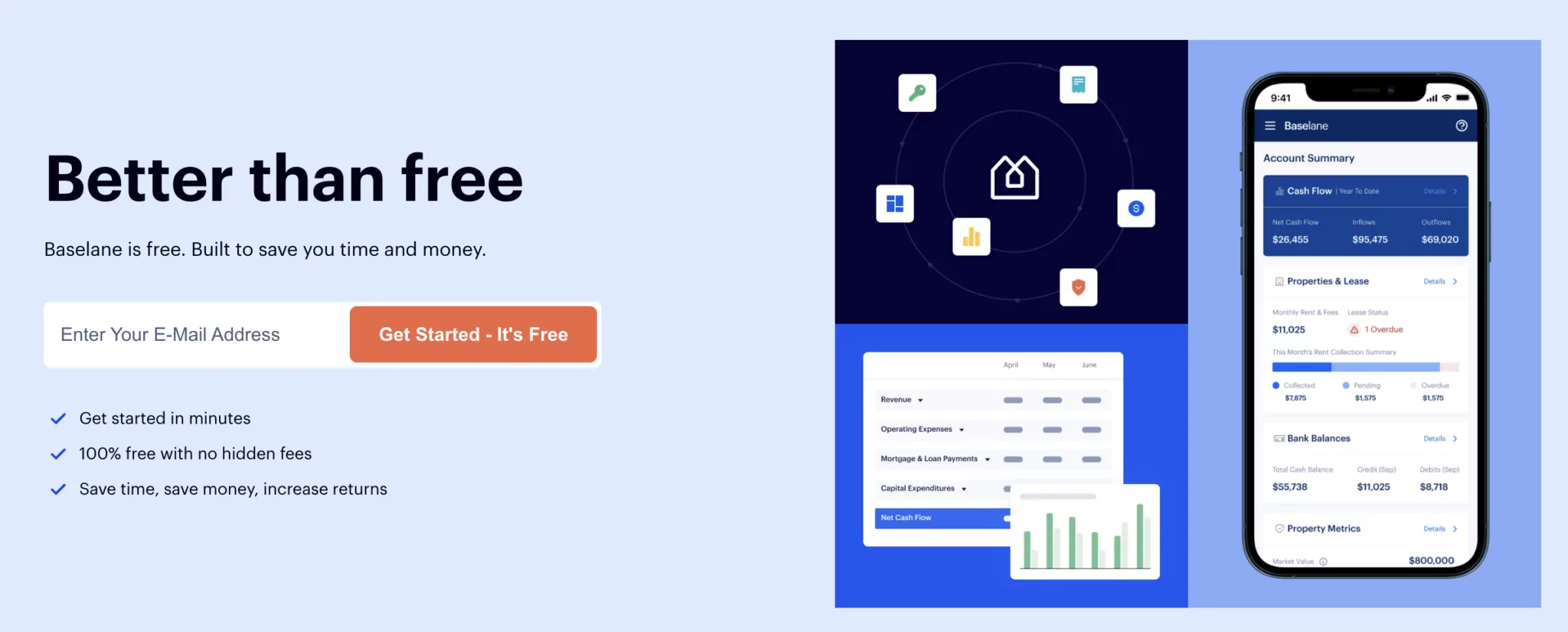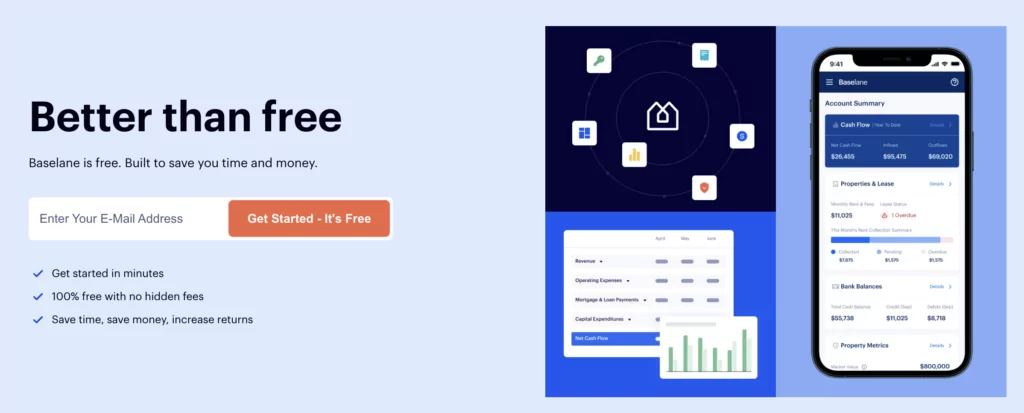 What I Like/Dislike About Baselane.com:
Free rent collection platform for landlords

Collect rent for any type of property, room rental, mobile home, residential or commercial

Built-in banking and bookkeeping

Fast payments within 2-3 days

Free ACH rent payment for tenants, low 2.99% fee for debit and credit card rent payments

Modern interface and user-friendly features
No Mobile App, but mobile web-enabled for tenants and landlords (coming in 2023)

No tenant screening (coming soon)
We interviewed some landlords and here's what we heard:
Aesthetically pleasing, user-friendly, does not feel overwhelming when they log-in

Drawn because of the integrated banking, competitors don't offer this

During tax seasons, the integrated bookkeeping is super helpful – putting the money into a real estate investor bank account is much better for tracking and tax reporting

Really like digital accounts / virtual accounts for each unit because that allows landlords to separate revenue at the property or unit level
Want to see more property management features like tenant screening, listing syndication and maintenance requests and/or tenant communication (Baselane is building all of this in 2023)
Best For: Apartments.com uses Cozy, an online rent payment system they purchased a few years back. It's a good option for collecting rent online, but it doesn't have any modern tools like integrated bookkeeping and banking.
Apartments.com covers all the basics of online rent collection except for rent payment notifications. It's easy to collect rent from one or multiple tenants in the same unit, and transaction fees are lower than most competitors.
There are additional tools available for rental listings, online applications, and screening tenants. However, it's an older rent payment service with dated visuals and features. There is an expense tracking feature, but you have to manually enter and categorize transactions.


What I Like/Dislike About Apartments.com:
Low tenant transaction fees

Split rent between roommates

Partial rent payments (this can be dangerous for landlords, and we don't recommend it)

Additional property management tools

Tenant communication portal

Lease creation and signing
No automatic expense tracking

No integrated landlord banking

Not available for commercial properties

Customer support limited to email

Not very user-friendly or intuitive for landlords and tenants

Creating unnecessary competition for landlords when Apartments.com markets other rentals to tenants
Best For: Rentec Direct is best suited for landlords and property owners with larger portfolios who can afford to pay monthly fees and scaled pricing for premium features.
Rentec Direct offers free ACH transfers and the option to charge tenants full or partial transaction fees for debit and credit card payments. Tenants can also pay rent in cash using the PayNearMe network for $3.99 per transaction. This service costs $200 to set up and requires ten monthly cash payments.
Additional rental property features are included, but you have to pay a monthly fee of $45 for Rentec Pro or $55 for Rentec PM. Pricing can reach over $2,700, depending on how many units you manage.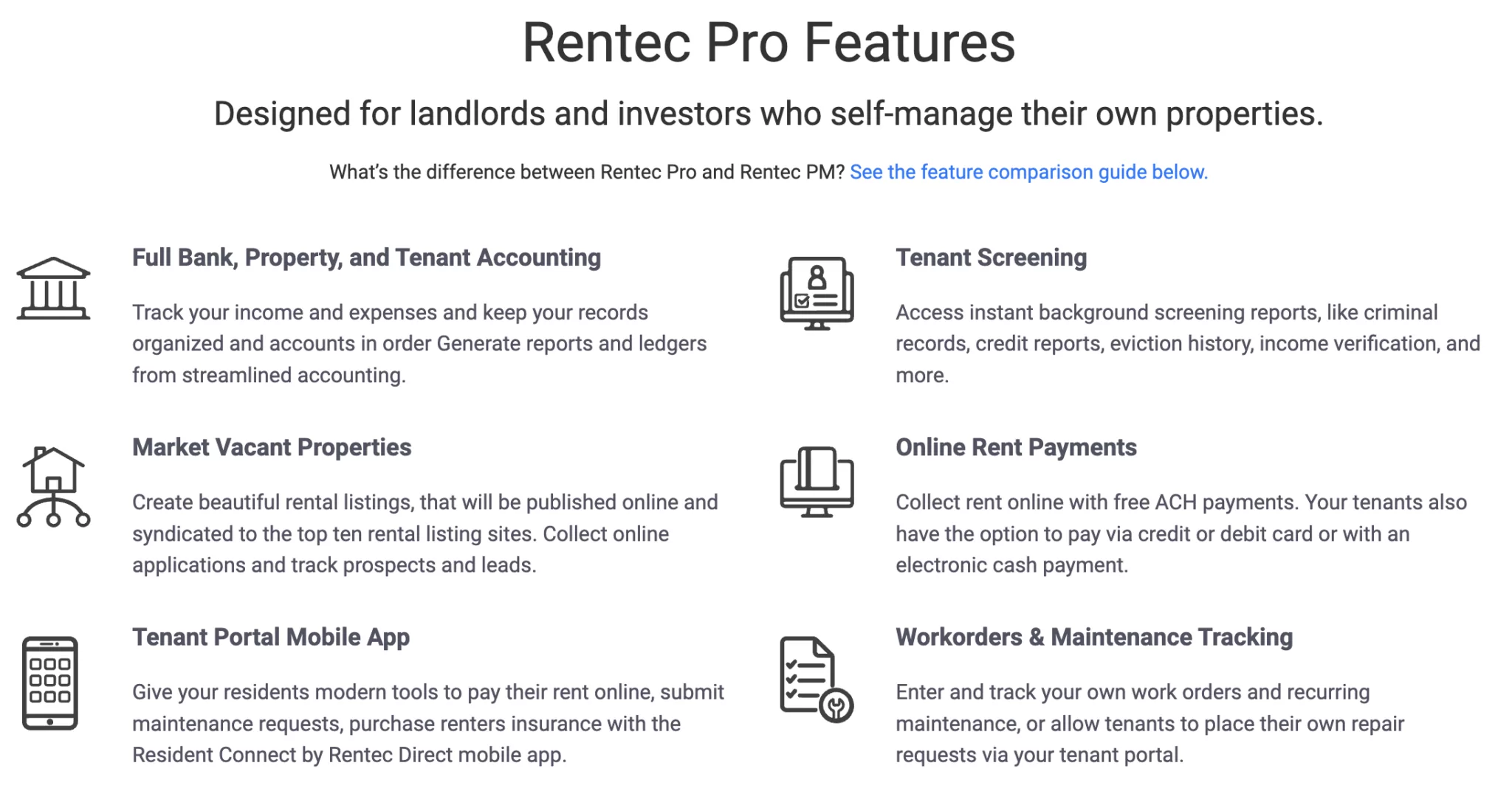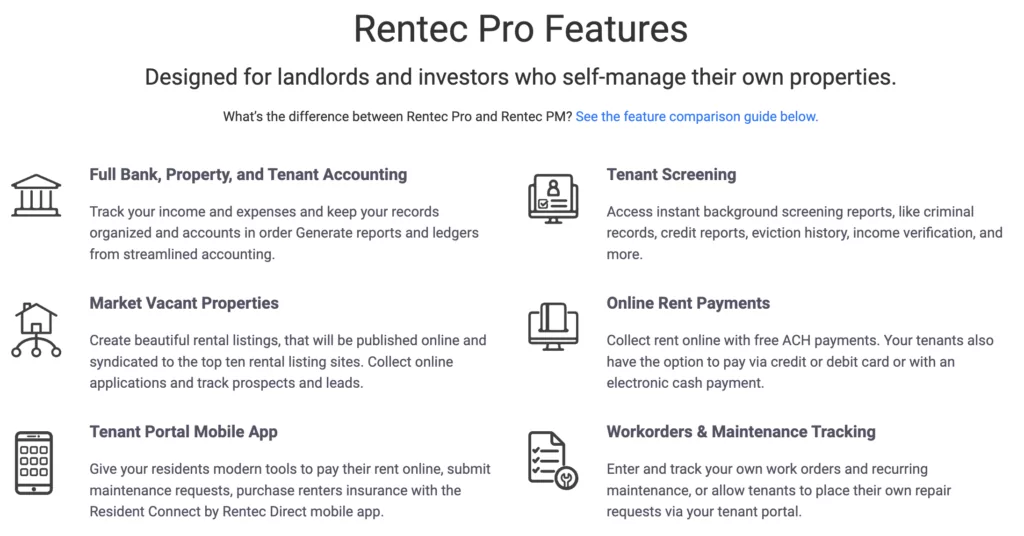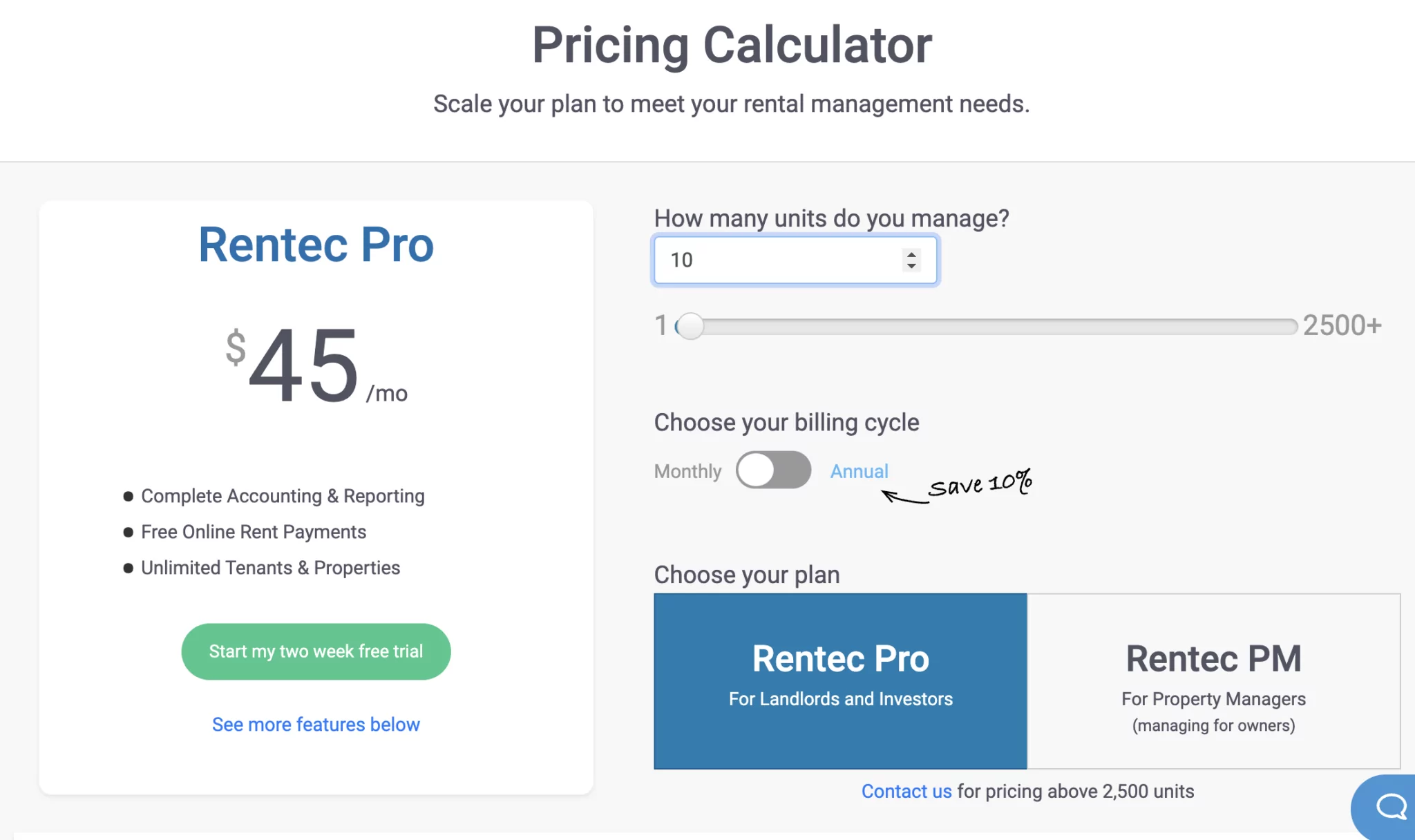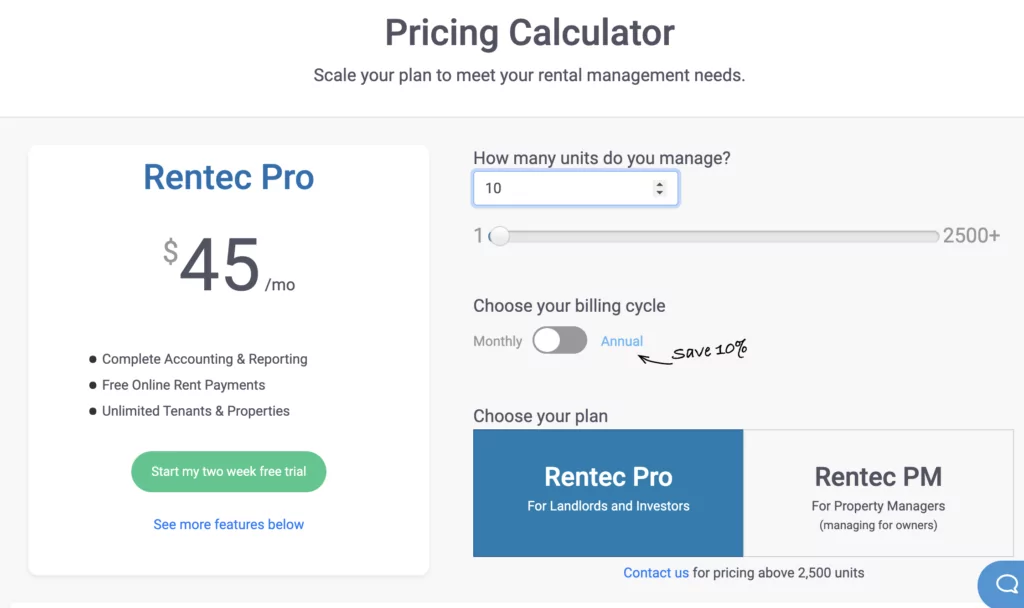 What I Like/Dislike About Rentec:
Accepts electronic cash payments

Optional same-day ACH deposits

Mobile apps for tenants and landlords
No free plans available

Pricing increases with more units ($45-$2,750+)

Monthly fee for multiple merchant accounts ($15 each)
Best For: PayRent is a straightforward online rent payment service with a few premium features for landlords who don't mind charging or splitting the cost of high tenant transaction fees.
PayRent accepts ACH and credit card payments. Tenants will pay $5 for each bank transfer unless you have a paid monthly plan that offers $2 or free ACH payments. All plans charge 3.5% + $0.30 for credit card transactions.
Additional features include renter insurance monitoring and automatic rent payment reporting to major credit bureaus. You can also use RentDefense for tenant bank balance verification. This tool requires a backup rent payment method to help prevent lost or late rent payments.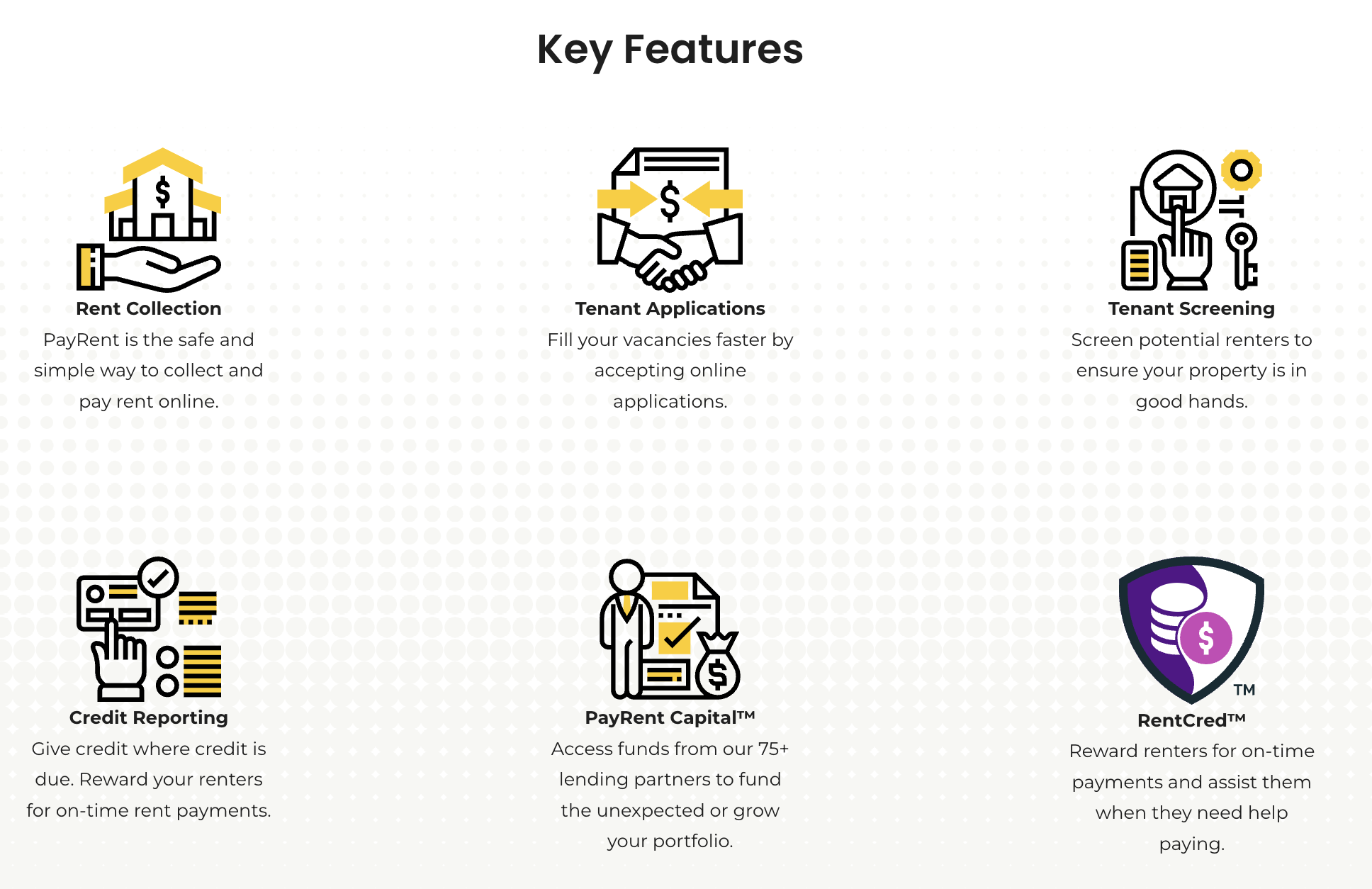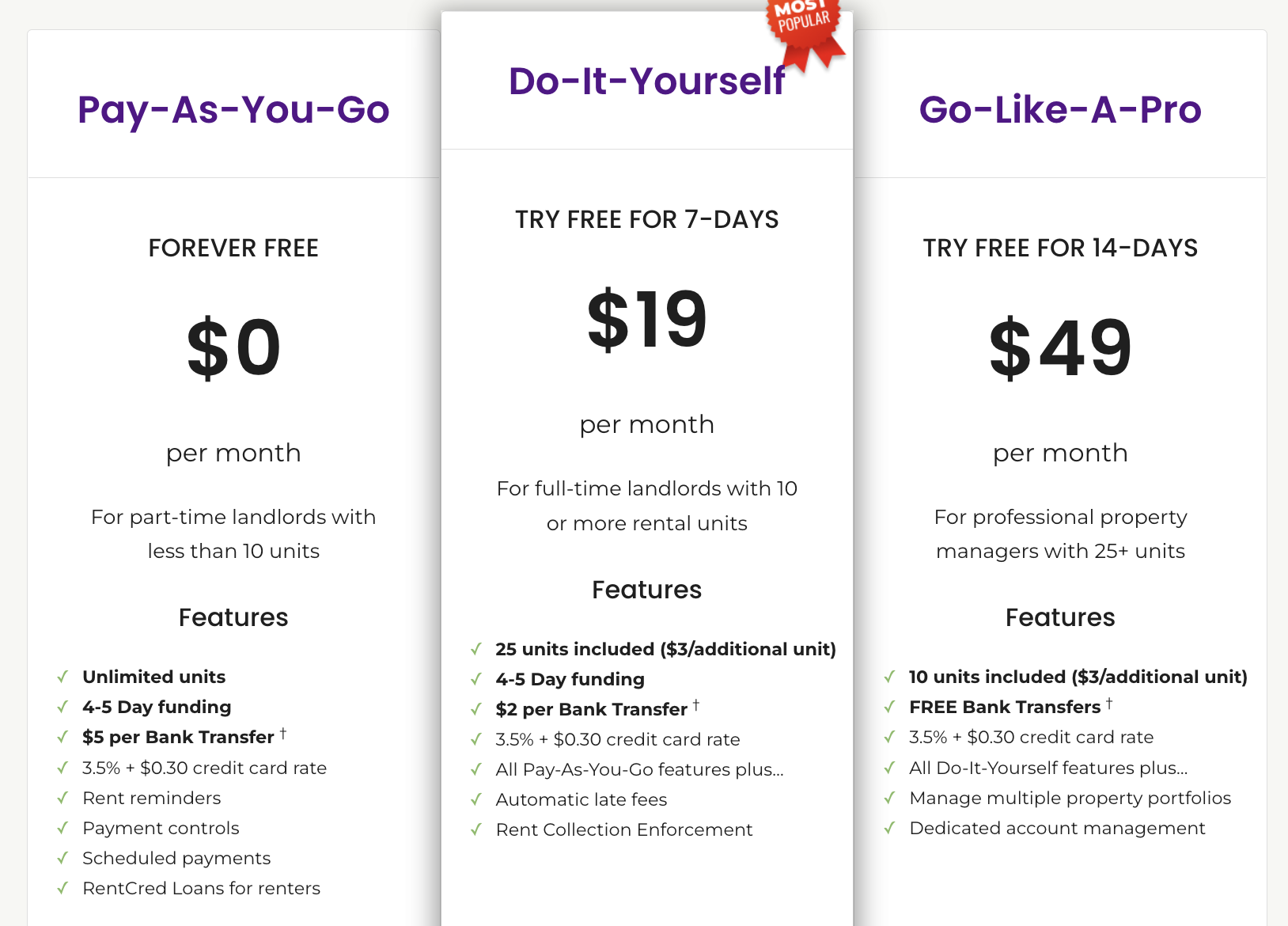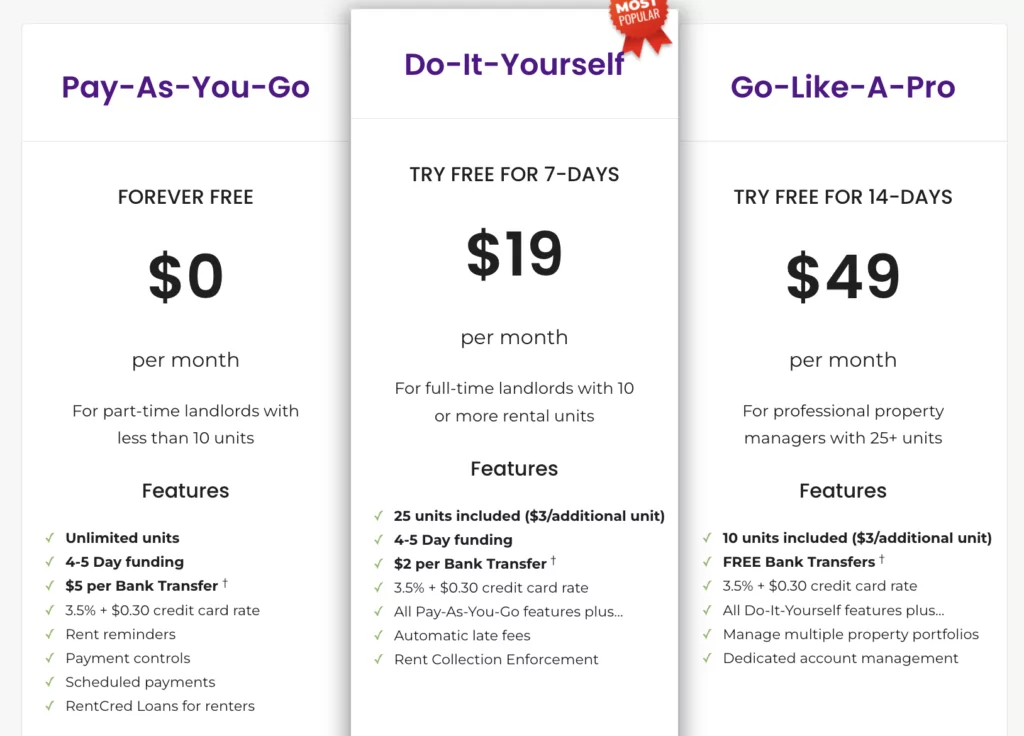 What I Like/Dislike About PayRent:
Free tenant rent reporting to three major credit bureaus

Real-time bank balance verification

Automated renter onboarding
Auto-late fees only on paid plans

High transaction fees

No support for multiple landlord bank accounts
Best For: Buildium is another online rent collection tool that is a better fit for larger real estate portfolios to help offset the setup costs for bank accounts and high monthly fees.
Collecting rent payments online with Buildium requires a paid account that costs anywhere between $50-$460 per month. Tenants are charged $1.00 for each ACH transfer and 2.95% for debit or credit card transactions.
The biggest perk is the quick rent payment processing time of 1-2 days. However, landlords have to pay a $99 setup fee for each bank account receiving rent payments. Considering the high monthly costs, this rent collection tool is best suited for rental property managers with larger portfolios.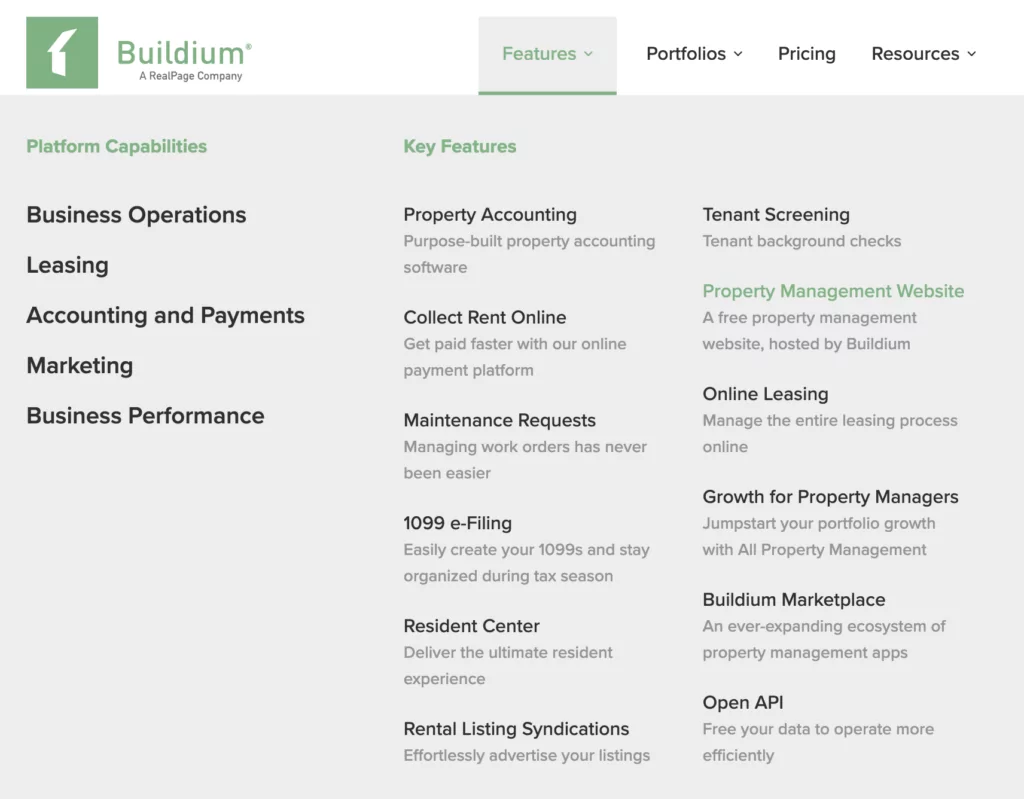 What I Like/Dislike About Buildium:
Tenant rent payments processed in 1-2 days

Bulk updates for convenience fees

Recurring credit card payments
$99 for each landlord bank account

No free plans available

Customer service limited to support tickets

Too many features that smaller landlords don't need (better suited for property managers)
Best For: TenantCloud rent collection comes with additional features for landlords with multiple rental properties who can wait up to seven days for rent payment
TenantCloud has four pricing tiers that range from $0 to $40 per month. The free plan has a ton of rent collection features like recurring payments, rent reminders, auto-late fees, and deposit notifications. You can also adjust rules for due dates, late fees, and partial payments for each tenant.
Other free features include property listings, lease templates, and rental applications. There are a few drawbacks, though. Tenants have to pay $2.95 for ACH transfers and 3.5% + $0.30 for debit and credit card payments. Rent payments can also take up to seven days to process.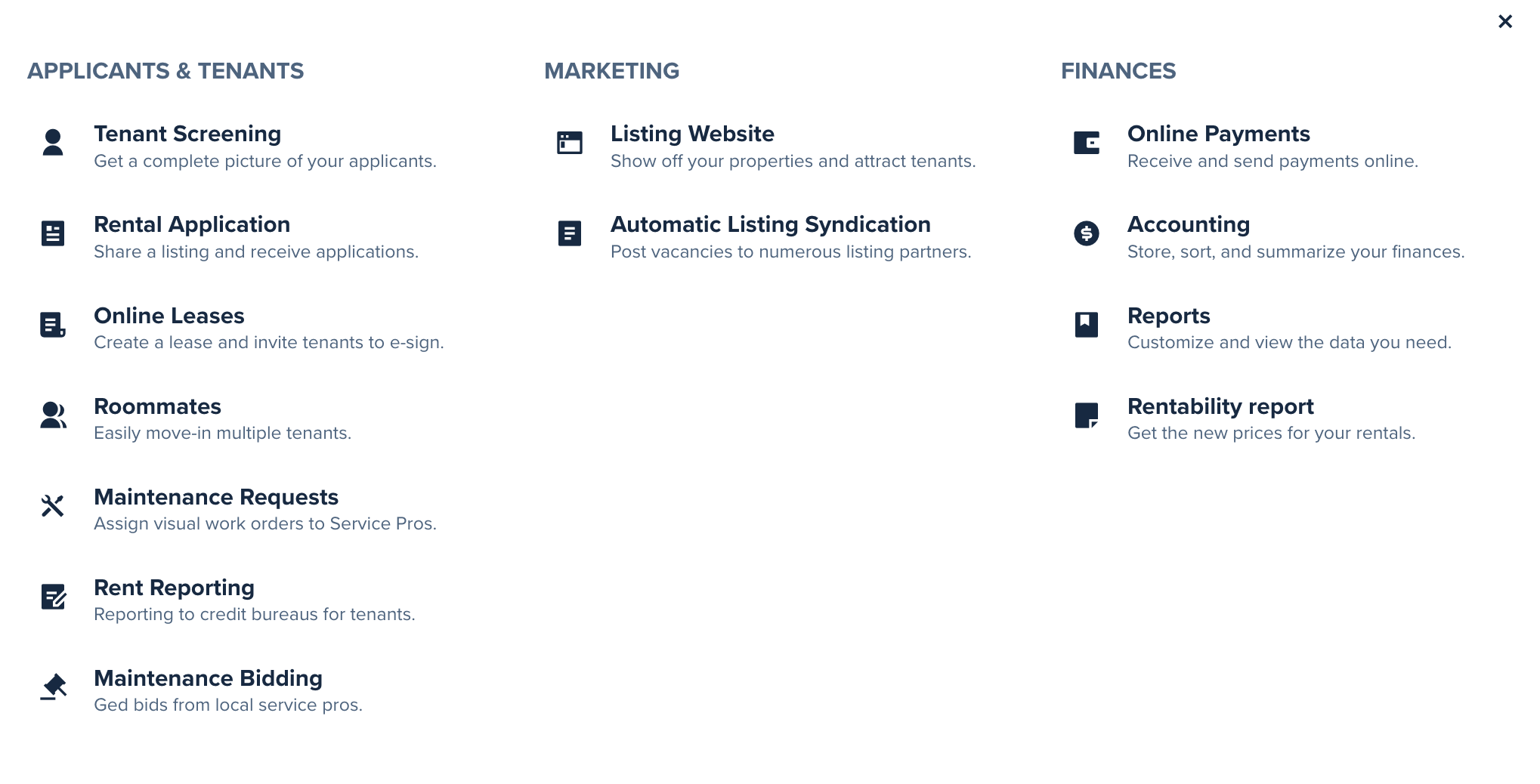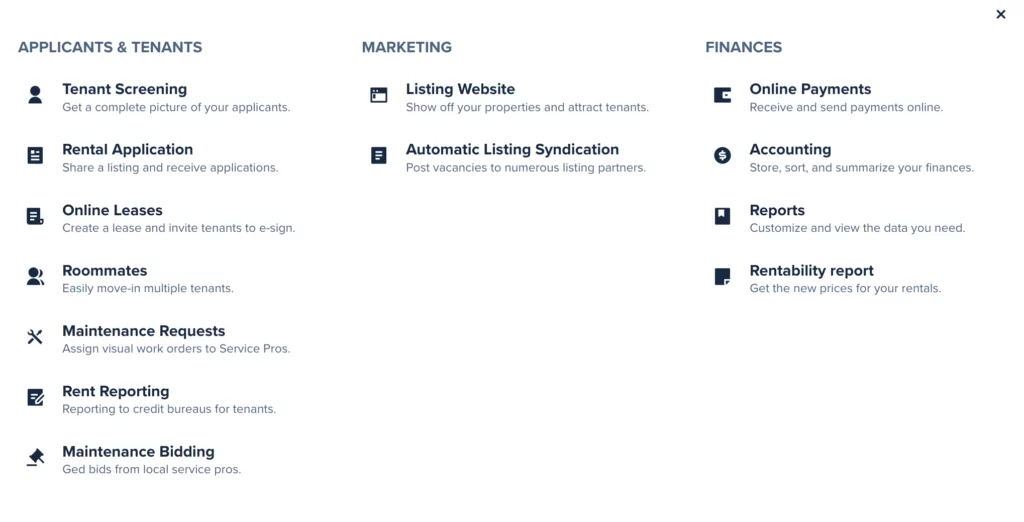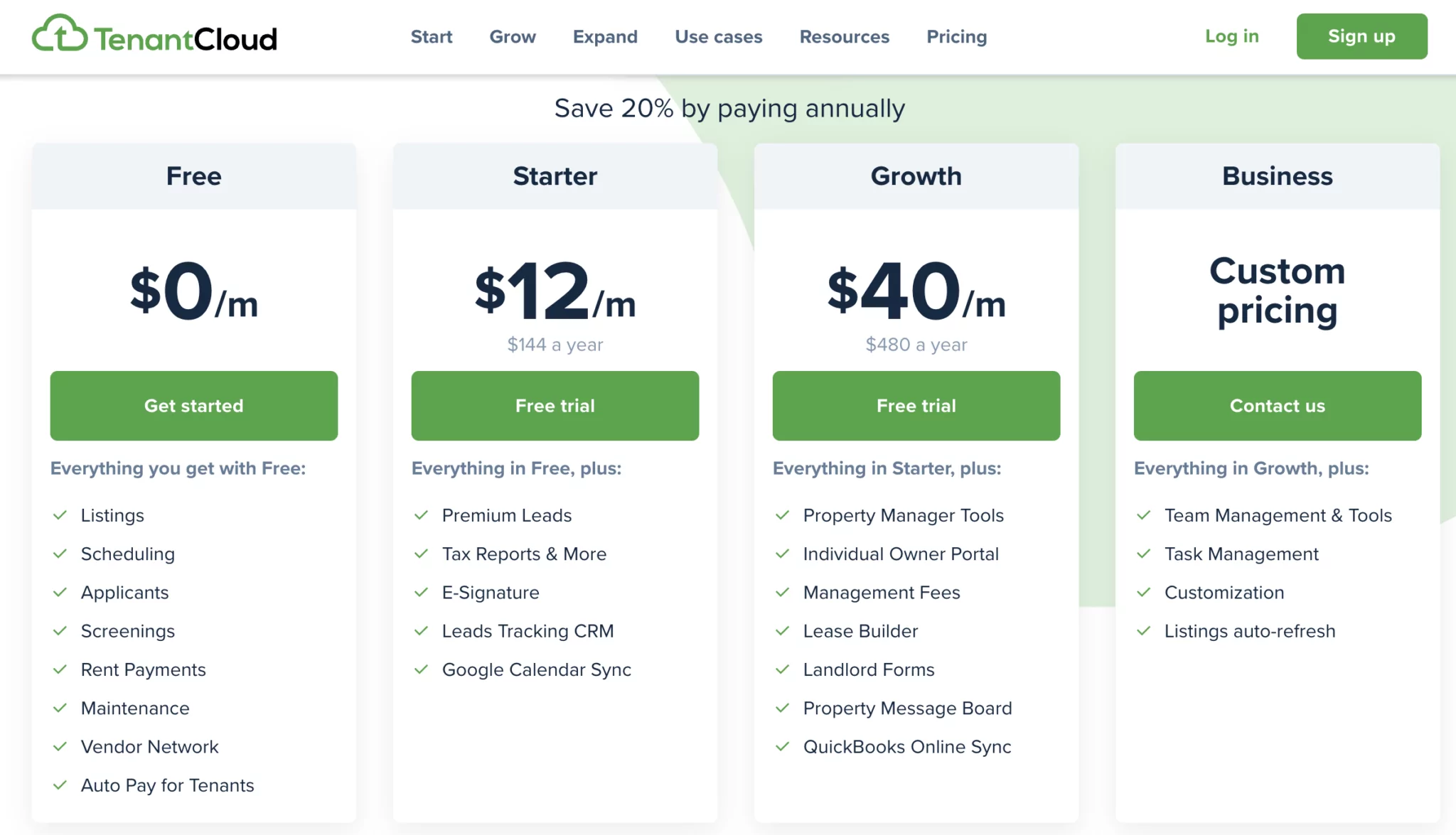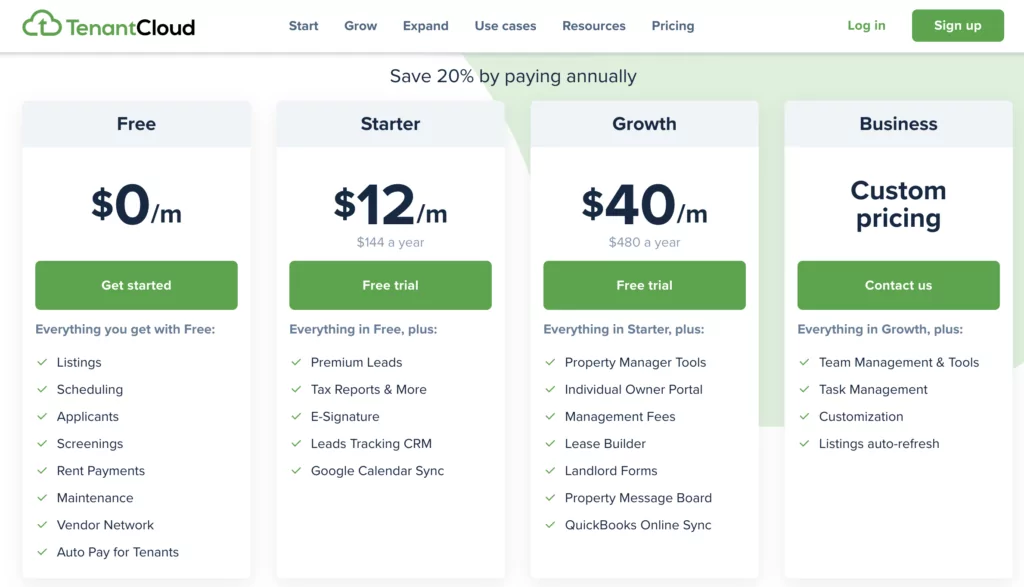 What I Like/Dislike About TenantCloud:
Supports multiple landlord bank accounts

Allows partial rent payments

Customizable tenant rent payment options
No free ACH transfers (charging $2 per payment, which tenants and landlords don't really like)

Payment processing can take seven days (this is way too long)

Basic plan limits customer support
Best For: Zillow Rental Manager offers property listing and tenant screening for small or DIY landlords not using a property manager or real estate agent. This platform has basic rent collection features with some additional tools like their "How Much Rent to Charge" Calculator, but other apps have way more to offer.
Zillow Rental Manager offers free online rent collection for landlords. Currently, this tool can only link one bank account to receive payments. If you add a new bank account for one property, it will update for all the properties you have set up rent payments for.
Tenants can send free ACH transfers or pay 2.95% for credit card transactions and $9.95 for debit card payments. Roommates are not able to pay rent separately, so one tenant must submit the total rent payment through their account.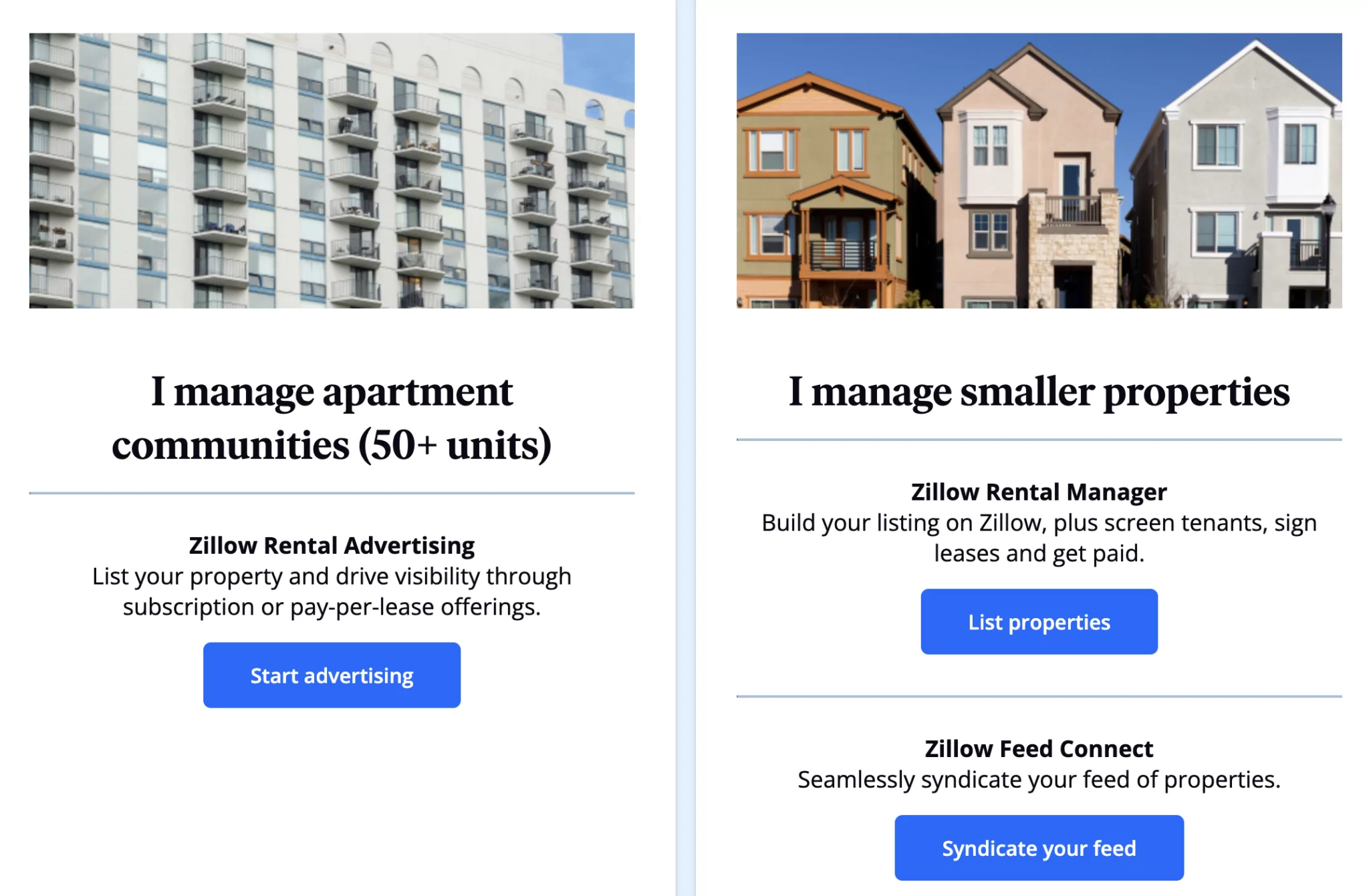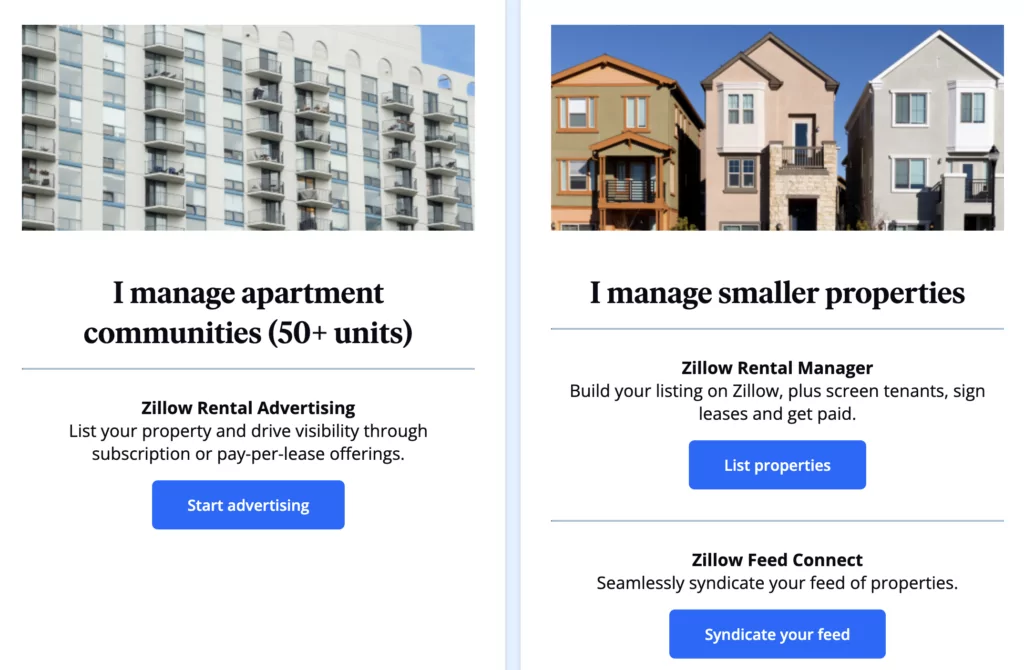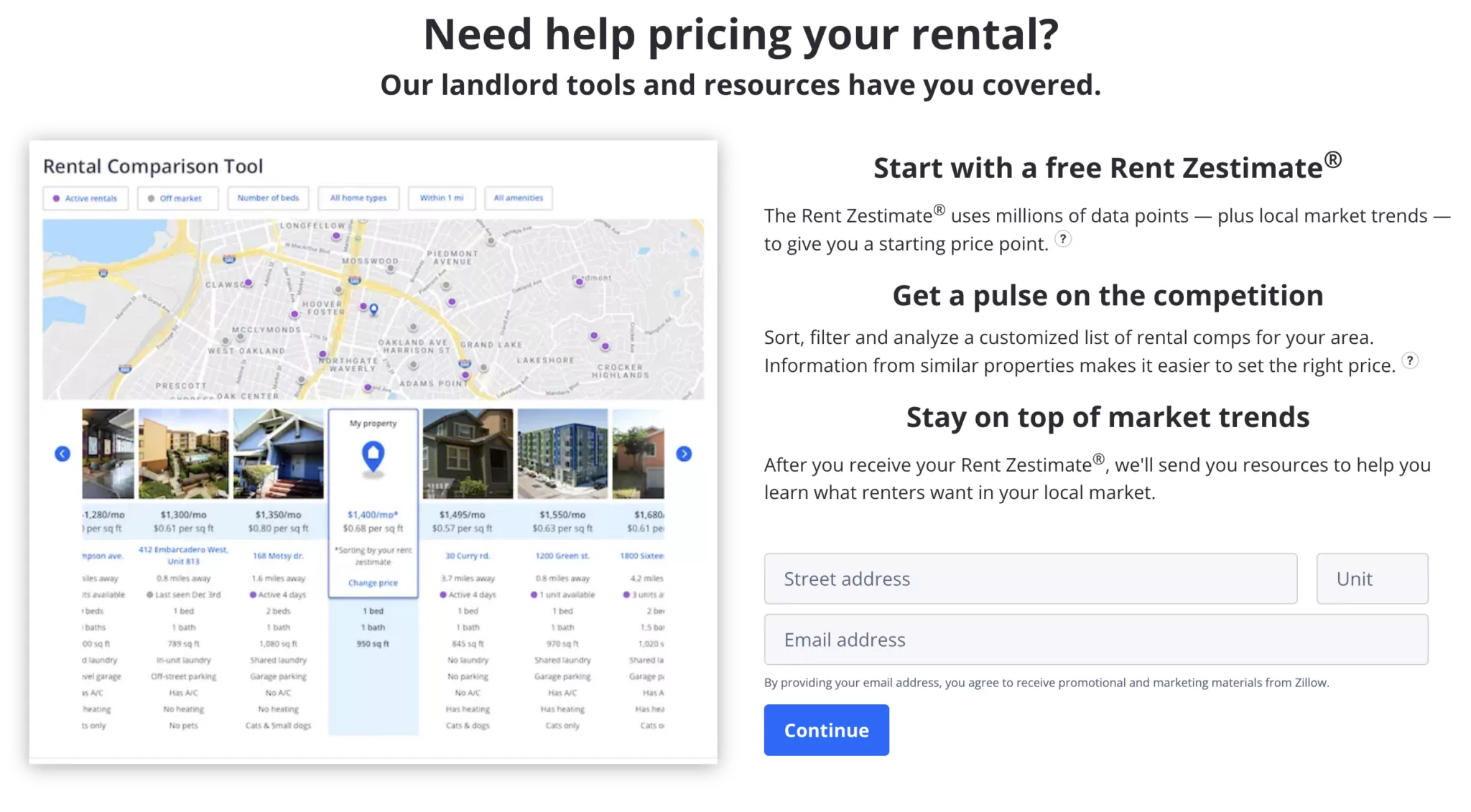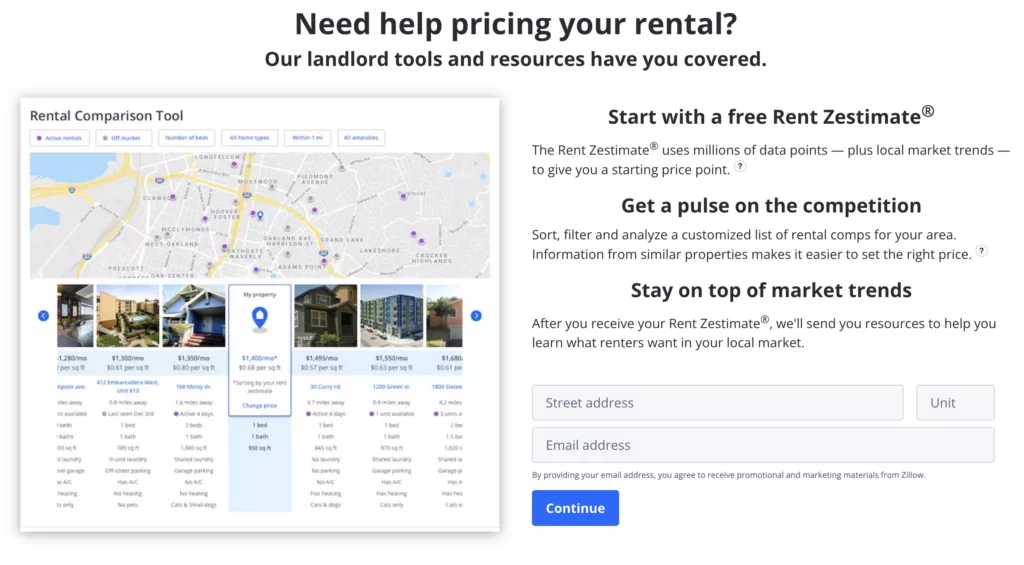 Tenant Screening: According to Zillow, tenant screening reports are free for landlords. Renters pay a $29 tenant screening and application fee, which allows them to apply to your listing and an unlimited number of participating rentals for 30 days.
Listings: Based on my experience, listing a property costs about $10/week while the listing is available.
What I Like/Dislike About Zillow Rental Manager
Biggest benefit is the ability to market a property and find tenants

Collects one-time payments

Zillow Rental Manager app

No fees for landlords
Roommates can't pay rent separately

No automatic late payment fees

$9.95 for debit card transactions

Limited to No P&L Reporting or Tax Reports
Best For: Avail offers an easy way for landlords to list properties and automate rent collection on the same platform, but paying monthly fees for each unit can get pricey if you manage multiple properties.
Avail is primarily used as a rental listing site that offers lease templates but it offers a full suite of tools to screen tenants, track expenses, and collect rent online. Upcoming rent payments can be scheduled in advance, and the system will automatically send reminders every month.
There is a free plan that charges tenants $2.50 for ACH payments and 3.5% for debit and credit cards. You can upgrade to the premium plan to get free ACH bank account transfers and next-day deposits. This plan costs $5 for each unit per month, so your budget will need to incorporate this.
Key Features and Pricing for Avail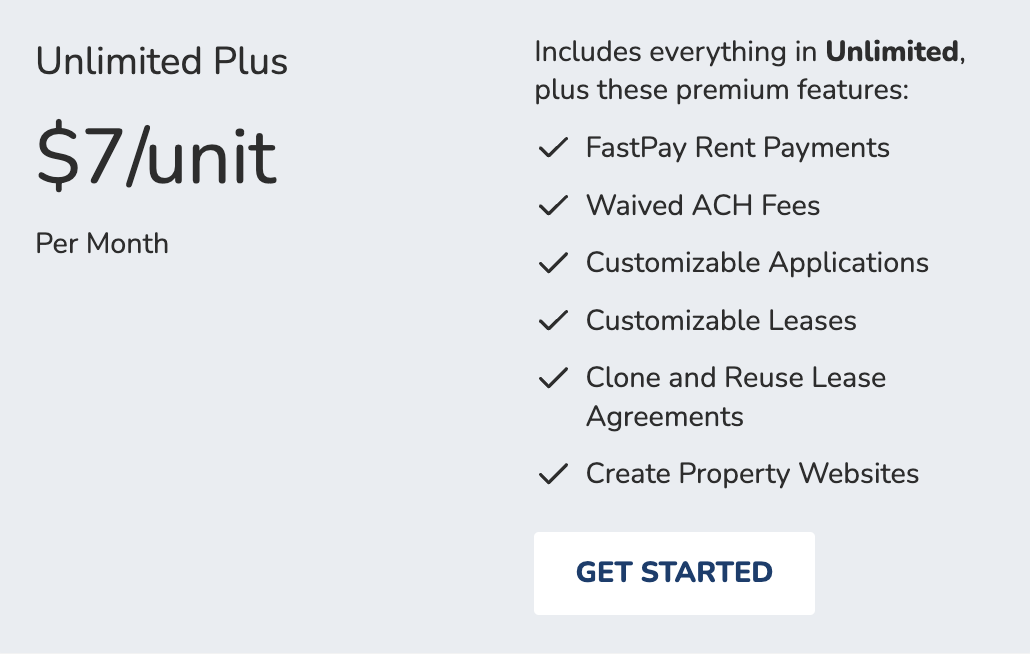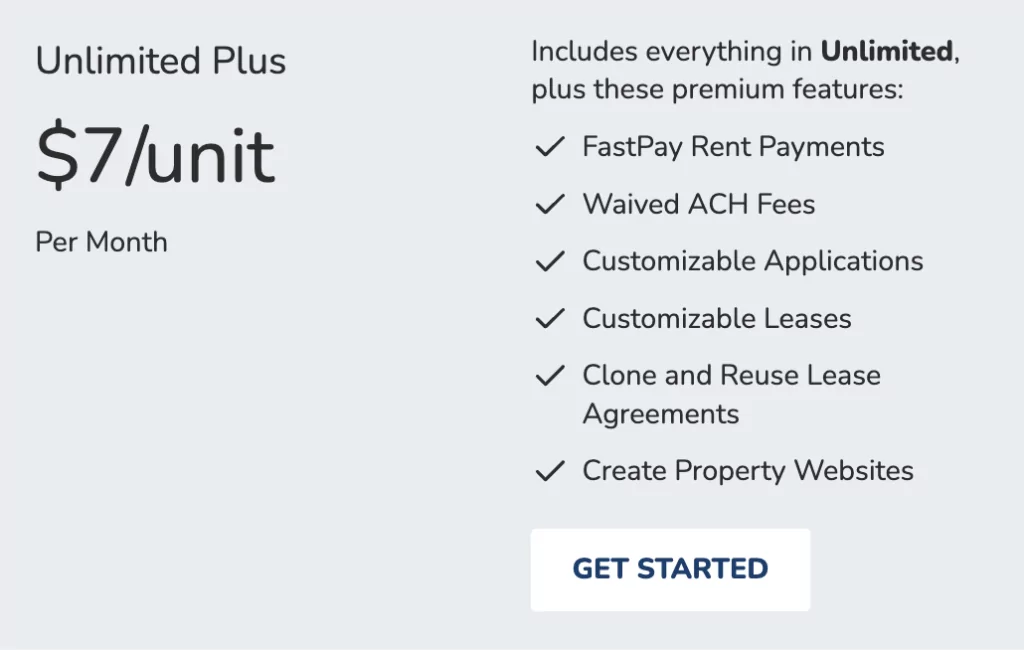 Lease creation and signing with custom applications (most landlords usually have a lease agreement they can edit themselves)

Next-day rent payments with FastPay ($5/unit)

Auto-generated payment receipts

Ability to syndicate some listings (not all)
Paid plan charges per unit

Designed for rental listings

FastPay only on premium plan

Outdated user experience

Support services are limited

No product demo
Best For: TurboTenant can be useful for experienced landlords who can maximize the value of additional property management features.
TurboTenant allows landlords to accept rent payments online for free with the basic plan. This plan also includes expense tracking, rent reporting, maintenance requests, and other property management tools. You can even add features like state-specific lease agreements ($39 each), e-signatures ($9 per document), and lease addendums ($15 per change).
You will have to pay $8.25 a month for the premium plan if you need more than one bank account or faster payouts than the standard 5-7 business days. Tenants will pay 3.49% for credit and debit payments and $55 for application fees regardless of which plan you're on.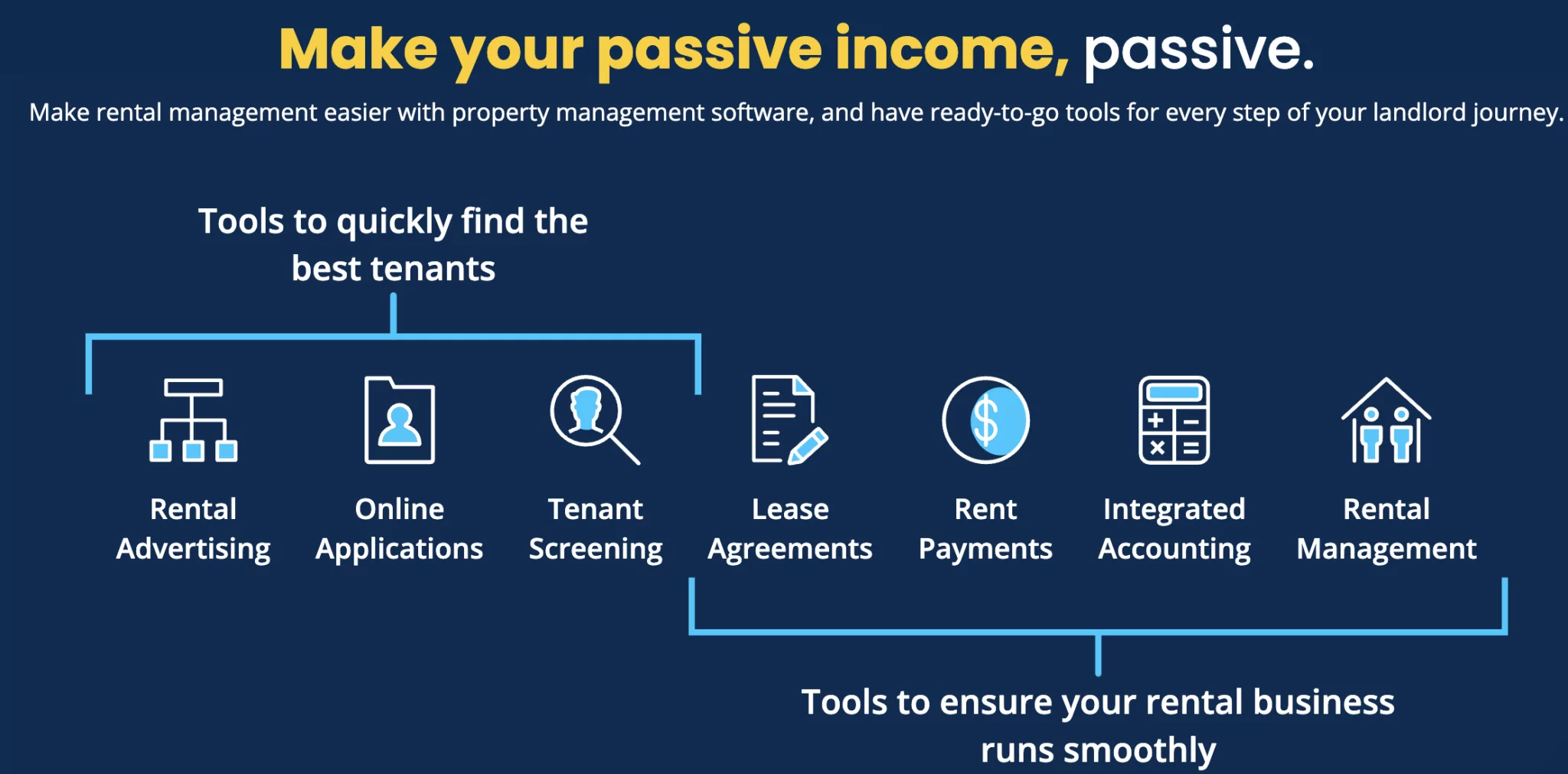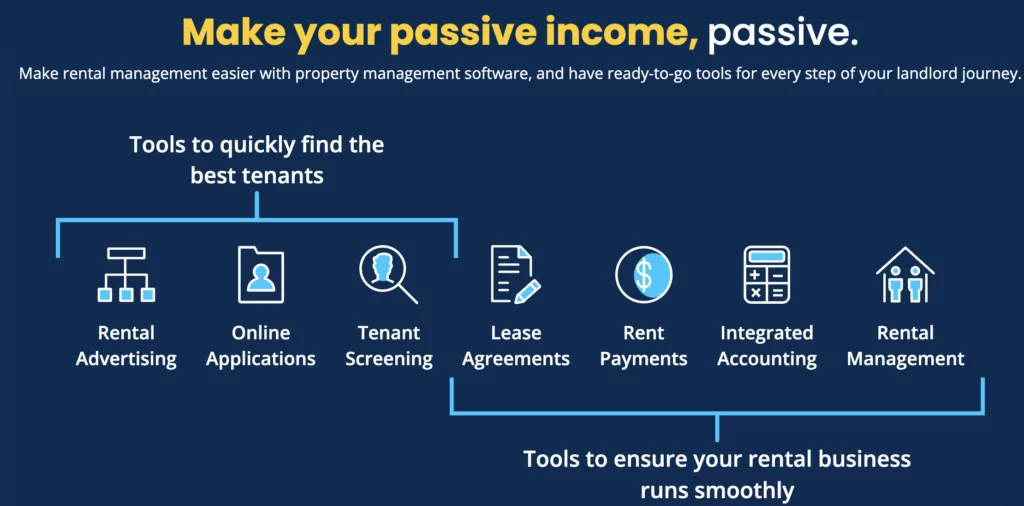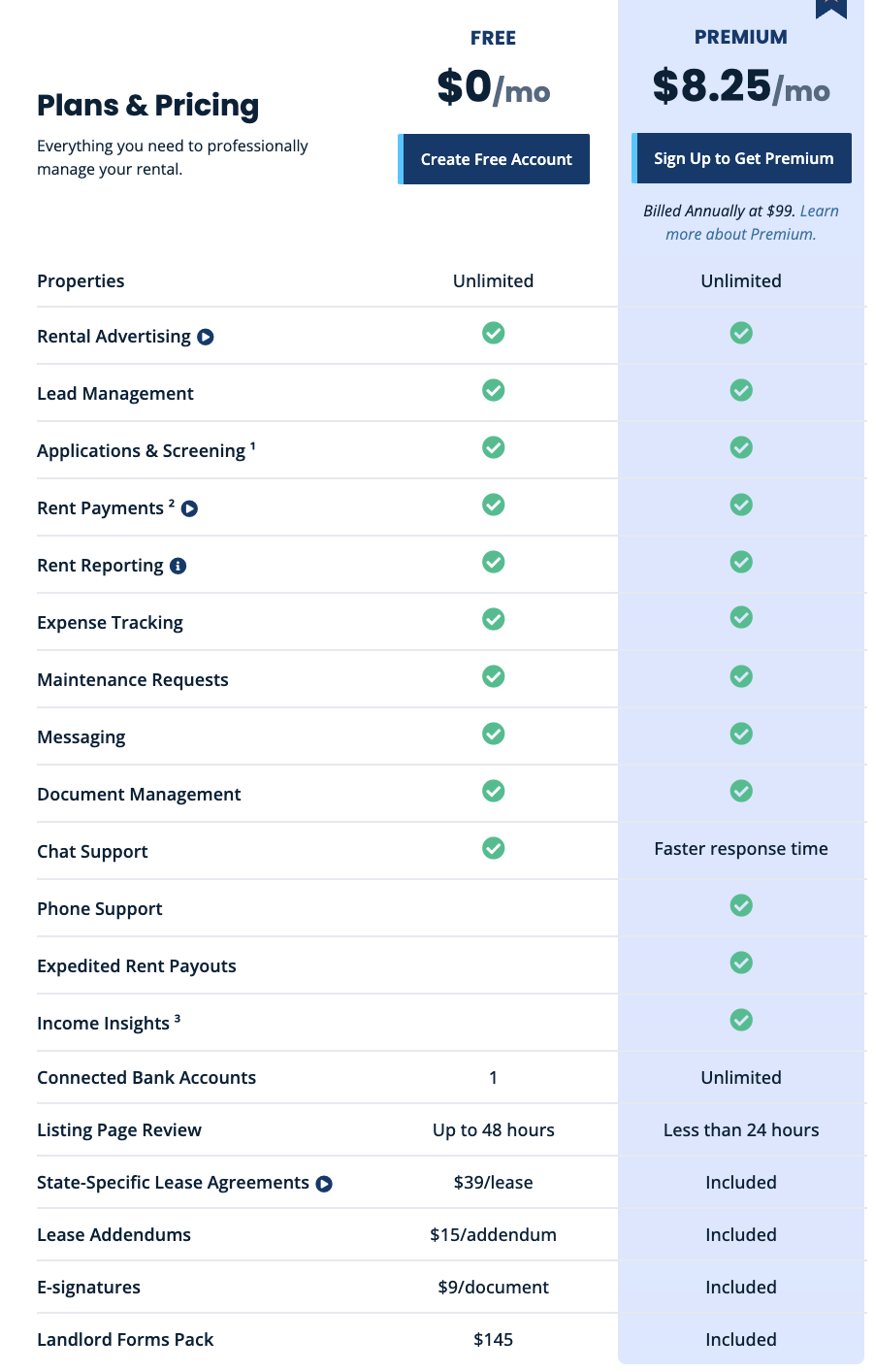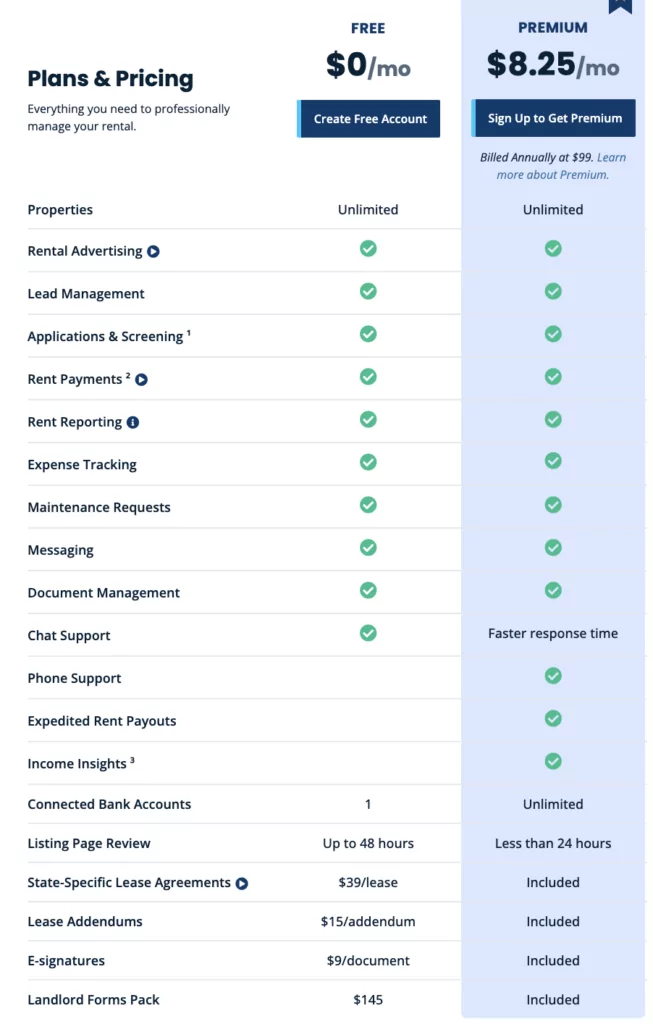 What I Like/Dislike About Turbotenant
Lease uploading

and e-signatures ($9 per signed document)
Tenant messaging

Unlimited properties for all plans
$55 application fees for tenants

Rent reminders still send after a tenant pays rent

Multiple bank accounts and phone support only on premium plan
Best For: RentRedi is ideal for landlords who have a lot of tenants paying rent in cash, but you will be charged monthly fees for online rent payment options regardless of how often your tenants pay rent with a debit or credit card.
RentRedi is a property management software platform that includes online rent collection. There are no free plans, but you can choose to pay monthly, annually, or every six months. These fees range between $9 and $19.95 per month, depending on the plan you choose.
Tenants can pay 2.9% + $0.30 to use credit and debit cards or $1 for ACH transfers. RentRedi also accepts rent paid in cash at more than 90,000 retail locations. Cash deposits cost $1 per transaction.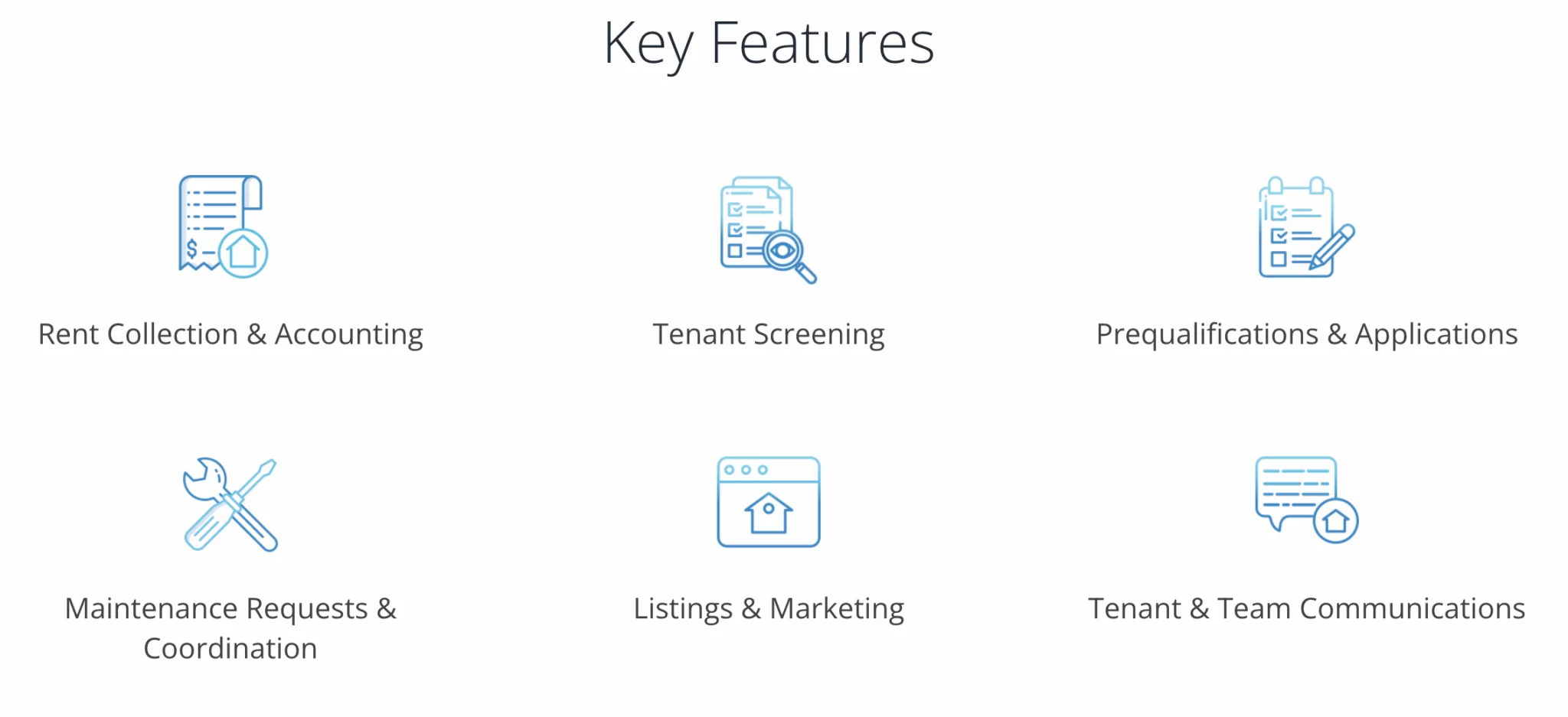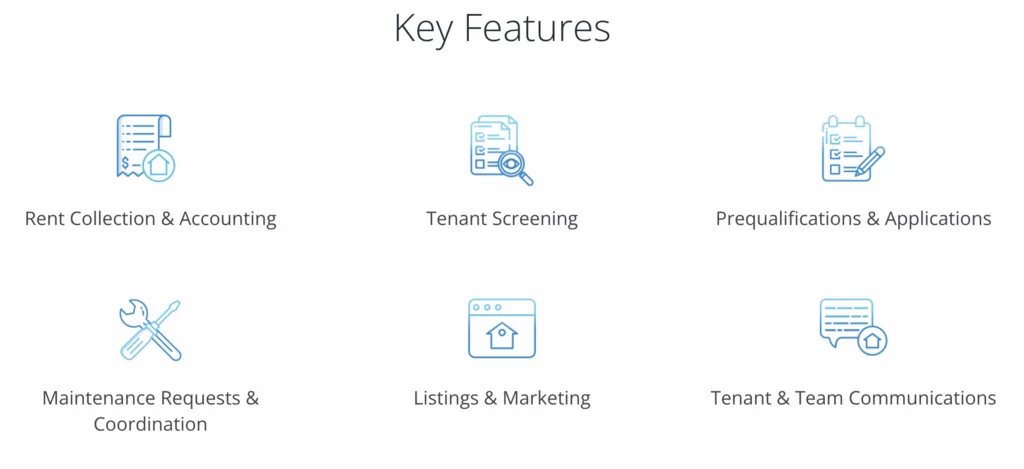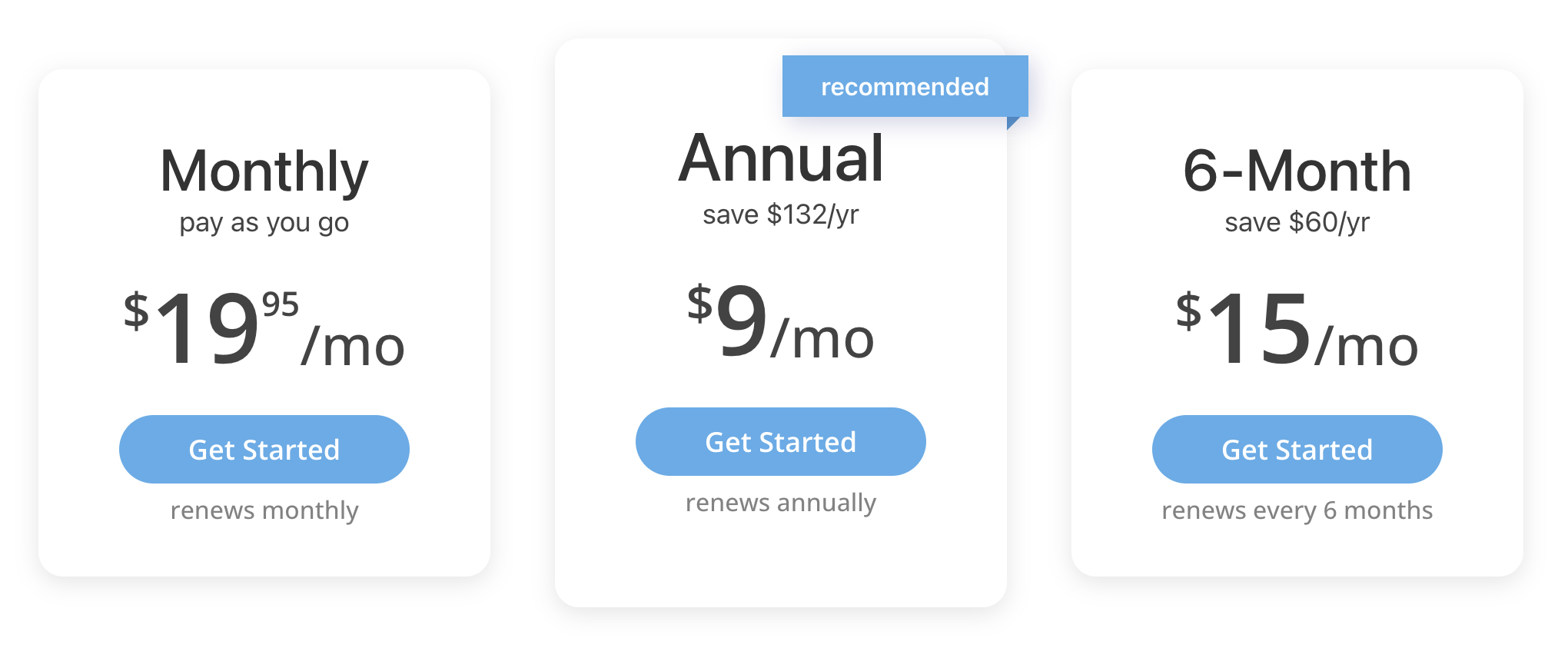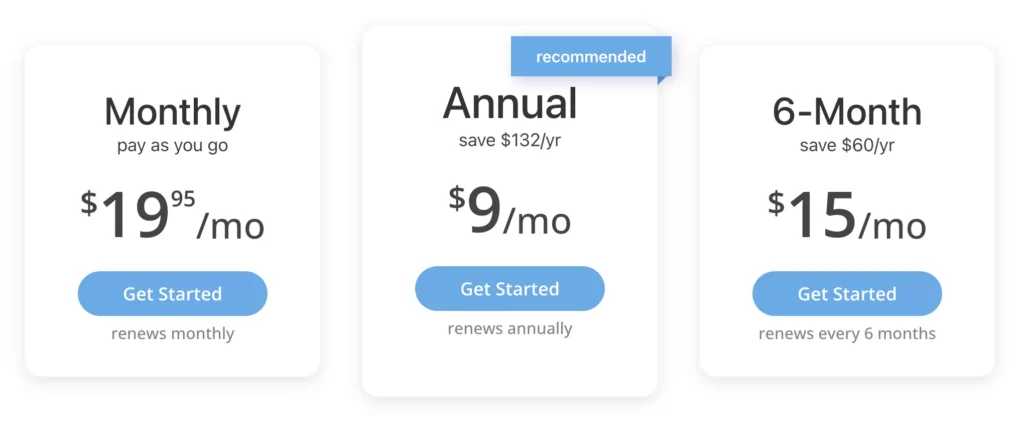 What I Like/Dislike About RentRedi
Accepts cash rent payments

Mobile app for landlords and tenants

Unlimited payment accounts

Ability to create separate invoices (e.g. expenses, section 8)

Additional property management features like tenant screening
No free plans available (might be too expensive for smaller landlords)

No free payment options for tenants

Deposits take 4-5 days

Outdated user experience that can be confusing for landlords and tenants

Limited accounting features
Why Collect Rent Payments with Baselane?
Baselane is purpose-built for landlords and real estate investors to simplify the hardest parts of managing rental property finances. It offers free online rent collection, landlord banking, automated bookkeeping, transaction tagging, cash flow reports, financial statements, and other rental property management tools all in one place.
Baselane online rent collection features:
Tenant payments via ACH, credit or debit card

Direct deposits into Baselane Banking or external bank accounts

Collect security deposits & recurring or one-time fees

High daily payment limits

Fast payments within 2-3 days

Automated late fees and rent reminders

Edit & manage rent invoices

Automatic payment tracking & notifications

Tenant platform for paying rent online with any device

Tenant auto-pay for rent payments
Baselane has everything you need to say goodbye to dozens of logins and manual spreadsheets to start streamlining your rent collection process.
Collecting rental payments from tenants doesn't have to be stressful. When you have the right rent collection app to automate rental property finances, you have more time to focus on managing and building your rental business.
Create a free Baselane account to get started with online rent collection, landlord banking, and automated bookkeeping.