Turn on the news or browse the Internet these days, and you'll immediately hear about interruptions to the supply chain caused by staffing shortages and health restrictions due to the COVID-19 pandemic.
If you go deeper down that rabbit hole, you'll hear about how interruptions in the supply chain contribute to higher inflation and whether you should be concerned about inflation.
But what is inflation? And, what is the inflation effect on average rent prices? We'll answer these questions below and tell you when to increase rent on your income property.
What is Inflation?
Simply put, inflation is the decline of a currency's purchasing power over time, and the inflation rate is the rate at which purchasing power declines annually or monthly.
Inflation means your dollar buys less than it used to over time, and, consequently, the price of goods and services goes up over the years.
Inflation is bad for consumers because they have to work harder to earn more to buy the same goods they did in the past.
If you're a rental property owner, tenant boards allow landlords to raise rent legally to keep pace with inflation.
How Does Inflation Affect Market Rent Prices?
Generally, inflation positively impacts the rental market for property owners because it means that they can increase rent, and therefore, the income they bring in keeps pace with the rising price of goods. Inflation also benefits rental business owners because construction prices go up, which means fewer new rental properties are available.
Of course, inflation isn't all positive for landlords because as their rental income goes up, so do their expenses. At the same time, rental rates tend to remain consistently on an upward trajectory during harsh economic times, which is why investing in property is seen as a good hedge against the effects of inflation and the rising cost of goods. Investing in real estate means you'll always be able to keep pace with these costs.
As a nice bonus for rental property owners, inflation also increases housing prices, which means fewer people can afford to buy a home, increasing the demand for the rental market
With increased demand and little supply, property owners are more likely to get the rental rates they're asking for, even if they're a little high. Although goods and services may be more expensive, everyone needs a roof over their head, and average rent prices is generally cheaper than buying housing, even with inflation accounted for in both scenarios.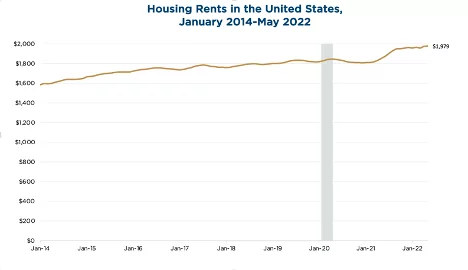 Source: Zillow Observed Rent Index (ZORI) (Seasonally adjusted); U.S. Bureau of Labor Statistics Consumer Price Index for All Urban Consumers (Seasonally adjusted); NAEH analysis. Recession data are from the National Bureau of Economic Research (NBER).
If you're an investment property owner, tenant boards allow landlords to legally raise rent to keep in pace with inflation.
What is the Average Rent Increase in 2022?
The pandemic has forced many Americans to tighten their wallets and reconsider living arrangements. National rent prices increased by 11.3% in 2021 compared to the previous year. This upwards trend in rent increases continued into the first few months of 2022, with larger cities experiencing double-digit growth.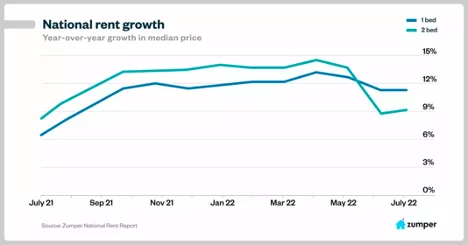 New York, California, Florida, and Indiana saw big spikes in rent prices. The monthly rent for a one-bedroom in New York City is up by 40%, and major metros in California are raising rent prices by 25% for a one-bedroom rental unit. Other cities in Florida are seeing an average rent increase between 24% to 30% for single-bedroom units compared to the previous year.
Rent Prices - Year-over-Year % Change for 1 and 2 Bedroom (Top 25 Rental Markets)
Rent Prices – Year-over-Year % Change for 1 and 2 Bedroom (Data of chart above)
City
1 Bedroom
2 Bedroom
New York, NY
41.00%
44.60%
San Francisco, CA
14.00%
11.20%
San Jose, CA
24.90%
18.60%
Boston, MA
13.00%
11.10%
Miami, FL
39.70%
39.80%
San Diego, CA
24.00%
16.20%
Washington, DC
17.00%
9.90%
Los Angeles, CA
20.00%
16.10%
Oakland, CA
10.00%
10.00%
Santa Ana, CA
15.60%
26.50%
Fort Lauderdale, FL
17.30%
28.90%
Seattle, WA
23.10%
27.60%
Chicago, IL
36.40%
32.40%
Scottsdale, AZ
13.70%
7.30%
Anaheim, CA
10.50%
23.80%
Long Beach, CA
12.50%
17.10%
Nashville, TN
36.60%
23.50%
Providence, RI
18.70%
14.30%
Tampa, FL
38.30%
34.40%
Atlanta, GA
10.00%
5.80%
Denver, CO
20.50%
17.00%
Orlando, FL
23.00%
26.80%
Gilbert, AZ
8.40%
-1.10%
Austin, TX
26.20%
24.80%
Urban Honolulu, HI
10.20%
5.90%
Rent increase trends are expected to continue, but some of the most expensive states to live in are slowly starting to level out. Even if the days of dramatic hikes are gone, there is still a projection of a 6% rent increase in the U.S. this year— double the seasonal trends in "normal" years before the pandemic.
Does Rental Income Increase With Inflation?
As rent increases with inflation, landlords stand to make more net cash flow. This puts more money in your pocket, but as the costs of goods and services increase, additional income from a rent increase will be offset by the rising costs of property management and maintenance.
Rental property expenses that have increased during this high inflation period include:
Maintenance expenses (lawn care, painting, etc.)

Major renovations (roof replacement, new water heater, etc.)

Mortgage rates (driven by Fed interest rate hikes)

Property taxes (driven by higher property market values)

Marketing costs to find tenants (broker fees)

Interest rates on non-confirming loans (private and hard money lenders have also increased interest rates)

Landlord insurance premiums
You may be wondering by how much? Here are some indicators of consumer prices between June 2021 and June 2022:
The cost of energy, household furnishing and supplies and services (among other things) have increased 41.6%, 10.2%, and 5.5% (less energy services) respectively. Refer to chart below.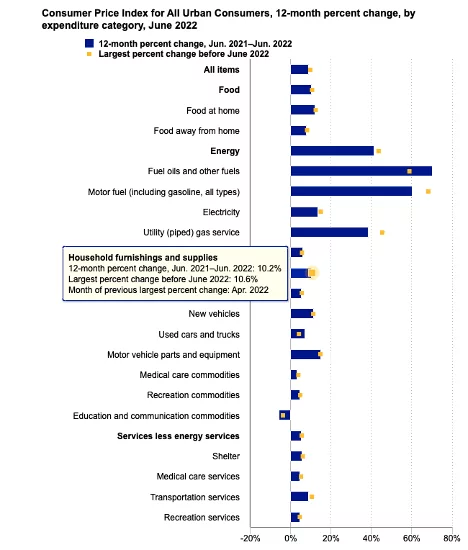 Source: U.S. Bureau of Labor and Statistics
The cost of Building Material and Supplies Dealers increased from $153.50 in January 2020 to $233.562 in June 2022, an increase of 52%.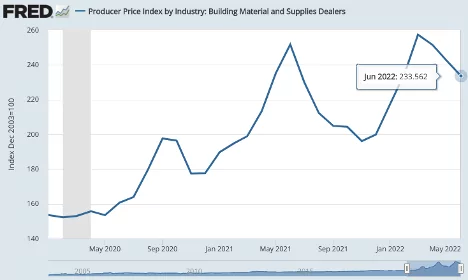 Source: U.S. Bureau of Labor and Statistics
So what? Why does this matter for landlords and rental property investors?
Our take is that if you don't raise rents to keep up with this high inflation period, your net operating income for a rental business will likely decrease by 10%+ (assuming rents don't change). If you do raise the rent by approximately 10%-15%, you protect your existing net operating income. If you want to increase your net operating income, then you likely have to raise the rent a lot more (25-40%), but you should be careful about how and when you do that to avoid tenant turnover.
Why, When, How to Raise the Rent and Keep Tenants
It's not just a question of when you can raise the rent by law, but under what circumstances you should raise the rent. In 2022 and 2023, rising interest rates affecting landlords is a reality. It increases the cost of repairs, property managers, maintenance, cleaning, construction, and everything landlords have to pay for. This is often a question landlords struggle with because, according to the 2019 Group Consumer Housing Trends Report from Zillow, 78% of renters experienced a rent increase in 2019, where 55% of those people stated that their decision to move was directly tied to that rent increase.
Why raise the rent?
No renters, no income. As a result, you have to approach raising the rent with careful consideration and empathy for your tenants. It's recommended that you increase the rent under the following circumstances (not comprehensive):
Market rates have increased

Property maintenance expenses that need to be covered

Property taxes have increased

Insurance premiums have gotten higher

Homeowner's association or condo fees have gotten higher
You cannot raise the rent as a landlord or owner under the following circumstances:
You try to raise the rent during an active lease

The lease agreement doesn't allow for a rent increase

A rent increase notice wasn't given properly

The property is rent-controlled

The rent increase is or can be seen as retaliation against a tenant

The rent increase meets the standard for discrimination against a tenant according to the Fair Housing Act

The rent increase is being done as a way to force a current tenant to move out

The rent increase is to a level prohibited by local law
When to raise the rent?
The standard timelines for landlords to raise rent prices include:
When an existing lease expires. You can't raise rent until the current lease term expires unless the rental agreement you signed with a tenant includes conditions for rent increases during the lease period.
When a lease converts from annual to monthly. Some landlords use a holdover clause in a lease agreement that states the rental price will automatically increase upon lease renewal or in the case that an annual lease converts to a monthly lease for the rental unit occupied by the same tenant.
When a new tenant signs a new lease agreement. Landlords have fewer restrictions on increasing rent for new tenants. Before setting the new rent price, check the rental market rate in the area. Raising rent too high could drive good tenants away.
How to raise the rent?
Raising rent prices is slightly different for a month-to-month tenant versus annual lease renewals for long-term tenants. Be sure to review state and local laws regulating rent increases.
How to increase rent for month-to-month leases:
Determine the rent increase based on market rates and state laws. You can use a rent calculator that helps you analyze rents in the area. Or you can calculate monthly rent using a CPI calculator for rent increases.

Give tenant(s) written a rent increase letter due to inflation in accordance with state and local laws for rent increase notice periods (usually 30 days). If you are updating the lease, you have the option to reset the term of the lease to another 12 months by adding a new lease commencement date

Request tenant confirmation of receiving the written rent increase letter

to document that proper notice was provided before you raise the rent.
For annual lease renewals, it's suggested that you send a lease renewal letter two months before the lease expires to discuss rent increases. This gives you time to take action for tenant turnover if they choose to argue the increase or vacate the property.
There are a few ways to raise the rent at renewal:
Modify the existing lease: The lease should state that all terms will remain the same except the new end date and the new rent increase. That means the lease commencement date stays the same, but the lease amount and end date are updated.
Draft a new agreement:

Sign a new lease stating the new start and end dates, new rent price, and any other changes to the lease terms.

Serve the tenant's rent increase letter due to inflation: You may only have to serve a rent increase letter depending on the lease terms and local laws.

Similar to the lease itself, the rent increase letter for annual and monthly lease agreements should state:
Landlord and tenant contact information

The new rent amount

The effective date the rent increase starts

Rent payment options

Both parties' signatures
You can create a free rent increase letter through Rocket Lawyer.
You should also consider adding a brief description of why you're raising rent prices and how tenants will benefit. For example, a rent increase will allow you to continue providing high-quality amenities and property maintenance.
Automated and free Rent Collection, without the stress
Automated and free Rent Collection, without the stress
Get Started - It's Free
Final Thoughts: How Inflation is Raising Rent Prices
For the most part, inflation is beneficial to landlords because it raises the cost of housing which will raise rent and gross income. This is because the demand for rental housing increases as people become more willing to pay high rents than an unmanageable mortgage in that economic environment.
As a landlord, you may have higher expenses due to the cost of goods and services going up. Still, having a rental property means you'll largely be shielded from the consequences of inflation because you can raise the rent on your property to keep pace with the inflation rate. You'll likely be able to pay your rent increases beyond just covering your expenses for a nice tidy profit.
Baselane's landlord banking platform and integrated bookkeeping can help keep your finances organized to the point where you'll know when it's time for a rent increase.
FAQs
Does rent increase with inflation?
Yes. As the cost of housing increases due to inflation, so do monthly rents. In fact, not only can a landlord raise rent to keep pace with inflation and the consequential increased cost of goods and services but rental increases on properties that are rent controlled are often based on the increased cost of living in a particular city and the rate of inflation.
What is rent inflation?
Rent inflation is the increase of monthly rent prices over time. For example, according to the U.S. Bureau of Labor Statistics prices for the rent of primary residences were 1,559.60% higher in 2021 than they were in 1913, which equates to a difference of $15,596.04.
Between 1913 and 2021 the average inflation rate on the rent was 2.64% per year, which is pretty high. To put it in perspective, a property with a rent of $1,000 over the year 1913 would cost $16,596.04 over the year 2021.
Does inflation raise rent prices?
Yes. As the value of a dollar goes down over time and the price of goods and services increase, including the price of real estate, inflation will also raise the rent prices.
This fact is beneficial to landlords because it either increases or maintains the amount of gross income an owner can get from their income property. After all, the managing expenses as a landlord are related to maintaining and owning the property also increase with inflation.
Does rental income increase with inflation?
Yes. As rental property equity goes up with inflation, the loan-to-value of property mortgage debt declines, keeping your mortgage payments the same. Raising rent prices while paying the same monthly mortgage can earn you more rental income.
What is the most a landlord can raise the rent?
Rent increases will depend on the local laws in the state you live in. A good rule of thumb is assessing market value to calculate how much to raise the rent. However, some states and cities set strict regulations for rent control or how much and how often you can raise the rent.
Does rent increase faster than inflation?
Yes, rents have been rising faster than inflation. With the rising cost of housing, home ownership has become less favorable or simply out of reach, which has increased the demand in the rental market. Inflation also increases the price of everything, which means less rental property competition. As a result, landlords often raise rent prices based on demand before inflation.
Are leases affected by inflation?
In some cases, yes. If your tenant's lease is almost up, you can send a formal rent increase notice specifying when and how much you will raise the rent prices. It's recommended to also include these details in a lease renewal letter.
If the annual lease changes to month-to-month after it expires, a written notice to raise the rent should suffice. Be aware of local laws when you raise rent prices, as you could be penalized for not following procedures for giving tenants a reasonable amount of notice before you raise the rent.