Key Takeaway: The BRRRR method is an acronym for Buy, Rehab, Rent, Refinance, Repeat. This real estate investment strategy enables you to buy your first property, start generating rental income and grow into a real estate tycoon with your real estate rental property portfolio.
BRRRR. While that might sound like something you say on a cold day, it's one of the most popular terms among individual real estate investors. BRRRR is short for Buy, Rehab, Rent, Refinance, Repeat. While that may sound like a complex process, it's quite intuitive for many real estate newbies and is a smart path into earning rental income and building a real estate portfolio.
With BRRRR, you can start small with a single property. As you learn how to manage and improve that property, you can pull out cash and use it to buy another property. Sound too good to be true? People do it every day! Learn how to BRRRR as a real estate investor here.
1. What is the BRRRR Method?
The BRRRR method, sometimes called the BRRRR strategy, is a method of generating rental income and building a real estate portfolio. BRRRR is a strategy consisting of starting with a single property and building a larger real estate property portfolio over time.
BRRRR Strategy Summary
At the start of the BRRRR strategy, you hunt down an affordable property that's a diamond in the rough. A distressed property is an industry term for a home or building that needs a bit of work and has good potential to generate cash flow in the future.
After buying the property for a bargain price, rehab begins. Once it's fixed up, you can rent it out and refinance, showing a higher property value. Using a cash-out refinance, you can often pull out the bulk of your original investment, giving you a lump sum to buy your next property as you earn income from renting out the first.
What is the 1% Rule in BRRRR?
The 1% rule is a quick method to figure out how much rent to charge as a landlord. If you follow the 1% rule, the rent you charge your tenants should equal at least 1% of what you paid for the house, including renovations, repairs, and other improvements.
For example, if you paid $100,000 all-in for a BRRRR property, you should charge at least $1,000 monthly rent.
2. How to Invest in Rental Properties using the BRRRR Method?
If you're ready to dive in and start with the BRRRR strategy for real estate investment, these are the main steps to follow:
Buy:

The first step is to find and buy your investment property.

Find Deals:

To find more profitable leads, start

driving for dollars

. To scale your business, learn

how to recruit drivers

so you have a team of people that generates a list of unique properties other investors don't have.

Analyze Deals:

It's important to do a thorough analysis by running the numbers to estimate the total purchase price, rehab costs, and your projected future income to ensure it's a good deal for your passive income goals. To lower your risk make sure to run comparisons for both the potential rental income and the total after repair value of the property. During the deal evaluation stage, it's also helpful to check with your lender what kind of loan you can get for the target property and how much downpayment you need to close.
Rehab:

Rehab is short for rehabilitation or renovation. In this step, you or your team of home repair experts fix up the home to a better condition. It's important to lower your risk by planning well in advance, hiring vetted contractors and having a contingency budget so you don't overspend and your rehab budget goes as far as possible.
Rent:

Now it's time to find a renter for your property to turn that monthly expense into monthly passive income. Once rented, your workload on the property should decrease. Following the 1% rule can give you an estimate of what you should charge as minimum rent to make money.
Refinance:

Most people start their BRRRR purchase with a down payment and a mortgage loan. You can also get a refinance loan from private money lenders, hard money lenders. Now that the property is in better condition and earning monthly income, you can refinance the property to optimize your monthly cash flow while pulling out a large chunk of your initial investment. A cash-out refinance, sometimes called a cash refinance, gives you enough cash for a down payment on your next property.
Repeat:

As shampoo bottles tell us, rinse and repeat for the best results, you shouldn't stop after reaching your first real estate investment success. Use the cash from your cash-out refinance to fund the purchase of your next passive income property.
3. Who Should Use the BRRRR Method?
The BRRRR method is ideal for any single real estate investor or new real estate investing team looking to get their feet wet in the real estate markets. BRRRR enables you to invest in real estate with the lowest possible initial cost while building a long-term, cash-flowing asset.
You might be closer to getting started than you realize, even without hundreds of thousands of dollars in the bank. With BRRRR loans, you can work with your real estate bank as a business. Showing the property's current value and rent and comparing it to a projected income, you may qualify for a different type of loan than you would as a primary residence.
4. The Advantages and Disadvantages of the BRRRR Method
While the BRRRR method is one of the best ways to get ahead as a real estate investor, it's good to consider the pros and cons before you get started.
Pros
Start real estate investing with a lower down payment and potentially higher return on investment (ROI)

Build a passive income portfolio over time that generates rental income right away

Money doesn't have to be tied up in your real estate portfolio forever
Cons
Some resources needed for a down payment and rehab costs

Good to excellent credit is needed for a real estate loan

Possible to lose money if the property doesn't work as planned

Requires rehab experience to start
5. Example of a BRRRR Method Deal
To help you better understand how it all works, here's a BRRRR method example focused on the Tampa, Florida real estate market and the potential return on investment (ROI) you can earn. We used our rental property ROI calculator for this example. Be sure to check out the BRRRR calculator as a resource when doing your calculations.
Consider this Tampa home listed for $260,000. If you buy the home for $230,000 and spend $20,000 on rehab and renovations, your all-in cost would be $250,000. We will use that as our "purchase price," as it's your total investment to get started with the property.
The calculator gives us the information below: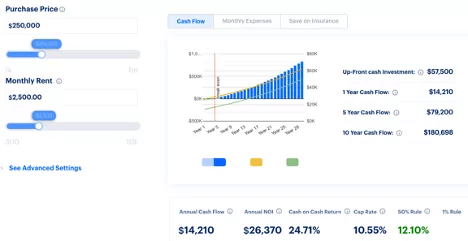 Based on common assumptions, this property would offer a cap rate of over 10% and cash-on-cash return of almost 25%, and an annual cash flow of $14,210. That assumes that you can get $2,500 per month in rent, which would be charged at a minimum using the 1% rule.
Your return is at risk if costs go up or rent goes down. If you can beat estimates on costs or charge more for rent, you can do even better.
Final Thoughts
BRRRR is a buzzword in online real estate forums for a good reason. With this real estate investing strategy, you can follow a proven, math-based approach to finding properties and turning them into a source of income without tying up your initial investment forever. That's a big benefit over the stock market and similar investments, though you're taking on more risk when buying your own properties as a landlord.
When you do it right, you can become a stealth millionaire with a successful property management business. Whether you want to do that as a side hustle, full-time career, or to build an income for early retirement, BRRRR could be perfect for you.