Baselane is an all-in-one property management platform with banking, bookkeeping, and property management tools. Avail focuses only on property management.

Baselane is free with premium features; Avail has free and paid plans ($7/unit).

Baselane excels in banking and bookkeeping features for landlords
Deciding between Baselane vs. Avail for your landlord software?
Both platforms promise to simplify your life by automating tasks and organizing your rental management. But how do they stack up against each other? And what's the best for you as a landlord?
In this article, we'll delve into what Avail offers and compare it to Baselane's all-in-one banking, rent collection, and landlord accounting features.
As a landlord and investor with 20 units, I've tried over 10 rental property management software platforms, including Avail. I was constantly disappointed and let down by the lack of functionality and frictionful user experiences with most of these platforms. I also struggled to juggle 8-10 tools and products just to manage my rentals. That's why I decided to join Baselane and help build an all-in-one platform that works, has a modern UI/UX, and actually saves investors time and money. Now, all my properties are managed on Baselane, and I do all my banking and bookkeeping there. I hope you find this article helpful. Try Baselane, and let me know what you think.
Baselane is your one-stop shop for all things property management. Trusted by over 30,000 landlords and real estate investors, it has quickly become a go-to choice for property pros ranging from individual landlords to small property management firms.
The platform is compatible with all property types and business entities. Baselane also helps you with lease agreement creation and offers security deposit accounts. And if you need a loan for property investments, Baselane has you covered there too.
Baselane is free to use and has many premium features for online rent collection, landlord banking, and bookkeeping.
Baselane is an all-in-one property management software perfect for landlords, real estate investors, and small property management companies.
Zero account fees and no minimum balance requirements

Free online rent collection—tenants only incur a 2.99% fee if using debit or credit

Receive payments in just 2-3 days

Automate rental property finances

Automated payment history

Automatic payment reminders and notifications

Create unlimited virtual banking accounts

for each property

Transparent and competitive insurance

Free rental estimation tool

Free rental property ROI Calculator
Scenario 1: New Landlord Needs Financial Clarity
Jenny just bought her first rental property. Baselane's dashboard shows her income, expenses, and cash flow all in one place. No more guesswork. She can now feel confident about her second rental property investment and be ready for the tax season.
Scenario 2: Landlord Tired of Chasing Rent Payments
Tom has multiple units, but his tenants always pay late. He switched over from Zelle to Baselane. Baselane sends automated payment reminders to tenants and applies late payment fees, making his life easier.
Scenario 3: Investor Juggling Multiple Bank Accounts
Sarah is a property manager and invests in various residential and commercial properties. With Baselane, she sets up separate virtual accounts for each property to segregate her funds and automate her bookkeeping.
Scenario 4: Property Owner Wants Quick Payouts
Mike owns several commercial properties and is tired of the 5-7 day waiting period with his current rent collection method. With Baselane, he gets payments from tenants in just 2-3 days, allowing him to reinvest the rental income faster.
100% Free with no hidden charges


All-in-one platform with online rent collection, lease creation (all 50 states), tenant screening (coming soon), landlord banking, accounting, tax reporting, cash flow analytics, insurance, lending, and more.

Instant online account opening

High-yield banking for landlords

Up to 5% cash back rewards on debit card purchases

Integration with different tools such as Quickbooks, TurboTax, etc.

No overdraft fees

Unlimited cash flow and financial reports

Ideal for both residential and commercial property management

Offers rental property loan quotes in minutes

Self-service

rental property insurance

directly through the platform
No mobile app (Coming soon)

No feature for maintenance requests or tenant communication (Coming soon in 2023)

No tenant screening feature (Coming soon)
Avail is another app for landlords and property managers that provides various features. The platform allows listing syndication on rental property sites, online rent collection, and basic income tracking. Additionally, Avail enables landlords to conduct credit and criminal screenings and generate state-specific leases.
Regarding financial transactions, tenants are responsible for application, screening, and payment fees. If you opt for Avail's Unlimited Plan, each bank transfer will cost your tenants $2.50.
Avail offers a premium version with next-day rent payments, waived ACH fees, custom applications, leases, and the ability to create a property website.
Although Avail has recently launched some basic accounting tools, it still lacks a modern user experience and banking features like security deposit accounts for landlords.
Online rent payments

Rent analysis report available at an additional cost ($19.99)

Next-business day rent payments through FastPay (Paid plan only)

Maintenance requests

State-specific lease templates

Tenant screening available ($55 per screening, including credit, criminal, and eviction checks)
Case study: Landlord Looking for Tenant Screening
Michael has had bad experiences with tenants and wants to be extra careful this time. He chooses Avail's tenant screening service at $55 per screening to get detailed credit, criminal, and eviction checks.
Two options:
Option 1: Free

Option 2: $7/unit per month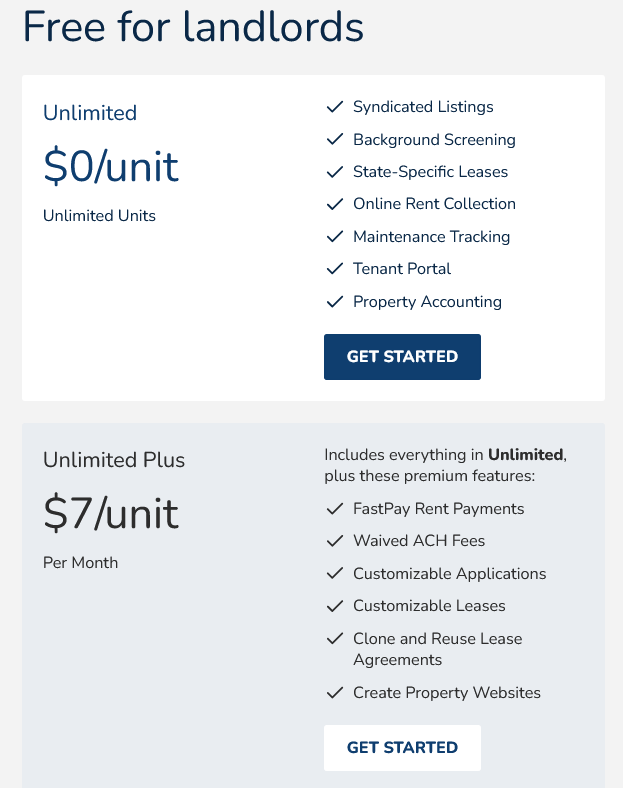 Free plan available with limited features

Good customer support

Auto-generated payment receipts

Increases property visibility with the ability to syndicate some listings (limited)
Expensive for landlords with multiple units ($7/unit)

Web interface is not user-friendly and dated

Landlords can't manually mark invoices as paid

Doesn't offer integration with Quickbooks

Payments sometimes get delayed

Lack of how-to tutorials

Some users reported that lease generation is difficult

High payment fees for tenants ($2.50 per bank transfer and 3.5% processing fee for debit and credit card payments) if their landlords are on a free plan.
Avail vs. Baselane — Head-to-Head Comparison
| Features/Parameters | Baselane | Avail |
| --- | --- | --- |
| Rent Collection | Free online rent collection for landlords; Free ACH payments for tenants | Free online rent collection for landlords; $2.50 per transaction for tenants |
| Accounting Tools | Comprehensive landlord accounting features | Recently added some basic accounting tools |
| Tax Reporting and analytics | | |
| Banking built for landlord with virtual accounts and cards | | |
| Rent Collection via Debit or Credit Cards | Available (2.99% processing fee) | Available (3.5% processing fee) |
| Fee Structure | 100% free, no hidden charges | Free Unlimited plan; $7/unit per month for Unlimited Plus |
| Tenant Screening | Coming soon (partner with Transunion) | Available at $55 per screening |
| Quickbooks Integration | | |
| Mobile App | (Coming Soon) | |
Final Thoughts: Baselane vs. Avail
After reading this Baselane vs. Avail comparison, it's clear that both have a lot to offer. But Baselane gives you more bang for your buck with its all-in-one free platform.
From landlord banking to easy rent collection and top-notch accounting, Baselane has you covered.
So why keep juggling bills, rent, and spreadsheets when Baselane can do everything for you? Say goodbye to stress and hello to easy property management! Get Started – It's free!