Craigslist has been the top classified ads website for about as long as the internet has been around. It's free, it attracts approximately 400-million visits every year, and you may even have used it in the past to find a place to live.
The key to success when advertising your rental property on Craigslist is to make it easy for searchers to find your ad, give them the information they need to become interested in your property, and make it easy for them to contact you to set up a showing. For an effective ad that won't dip into your landlord bank account, follow these pro tips to optimize your rental property advertisements on Craigslist.
1. Capture attention with a great headline
Chances are there are hundreds of rental listings in your area on Craigslist. Since yours will be one of many search results, you need to stand out from the crowd. Standing out starts with a great headline that captures attention and entices your audience to take a closer look.
The perfect headline on a Craigslist rental ad gives the reader an instant understanding of why your rental is right for them, and why they're the right tenant for your rental. Use this formula to craft a great headline every time:
Name your ideal tenant. Your ideal tenant may be a young family, a retired couple, a student, or a young professional. Get their attention by calling them out directly in your headline.

Use one or two words to describe the type of home. House, townhouse, townhome, bungalow/ranch, condo, and apartment are a few examples of single words that conjure a clear picture of the property.

Highlight the features your ideal tenant is most likely to care about. Families need space, parking, and good schools. Seniors need a place that's going to be low-maintenance. Students want to be close to campus. You can find some great information in our article, 5 Features to Highlight on Your Rental Property Advertisement.
Craigslist only shows about the first 70 characters of your headline in search results, so you need to make every word count. Keep in mind that Craigslist includes some metadata in search results, like the rent, number of bedrooms, number of bathrooms and location – so don't use precious headline space for those details.
What does a great headline look like on Craigslist?
Here are a few examples to help you get started:
Big Family Home in Bellevue! Backyard, Walk to Schools, Finished Bsmt
Bright Bsmt Apt Ideal for Single! 8ft Ceilings, Separate Entrance
Perfect for Professionals - Brand New Condo w/ Great View 10 min to DT
Student Living Close to Campus! Transit at Door, Restaurants Nearby
Downsize to this Midtown Bungalow! No Stairs, No Carpet, 2 Parking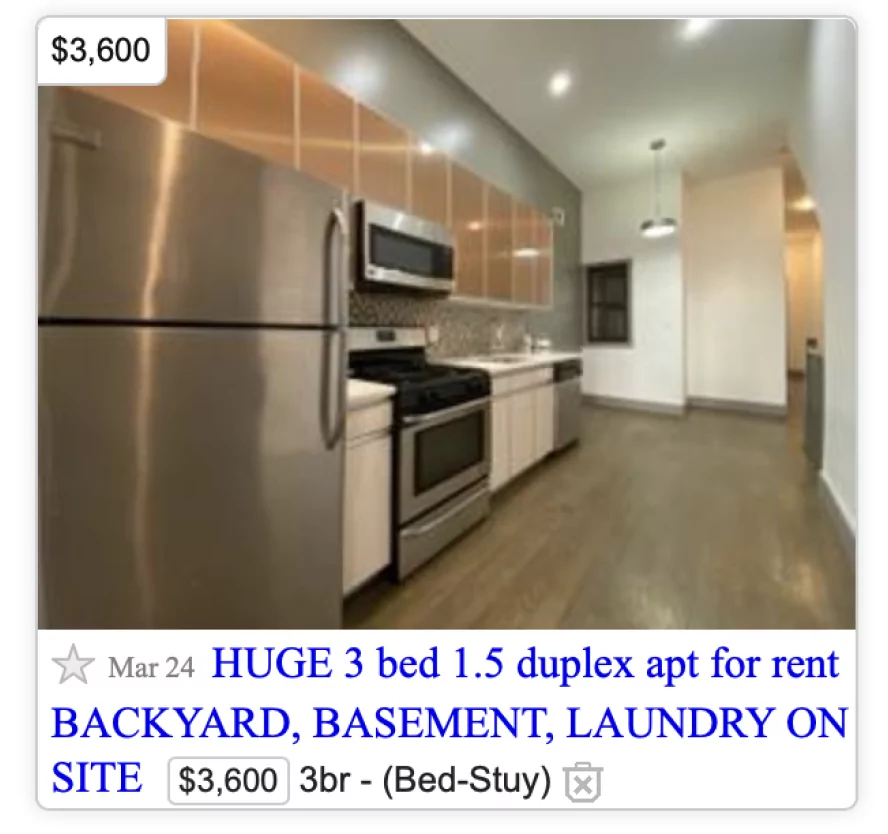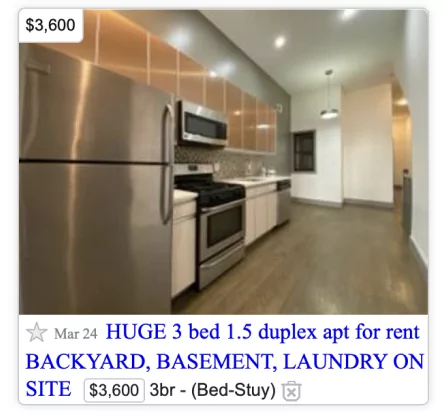 2. Include lots of eye-catching pictures
When people are apartment hunting, they're looking at potentially hundreds of rental listings on Craigslist and making snap judgments on each in a split-second. Together with your headline, your featured image is the primary tool searchers will use to decide whether your rental unit is worth a closer look.
Craigslist allows you to include up to 24 pictures with your rental property advertisement, so take full advantage. Follow these tips to get great photos:
The best time to take pictures is when the unit is vacant, clean and freshly painted. If you can't take pictures while it's empty, ask your tenant to remove as much clutter as possible.

Your pictures should give the viewer a good sense of the space. Avoid focusing on details and instead show as much of each room as you can. Don't forget hallways, bathrooms and storage areas.
Take photos of the exterior as well as the interior. Be sure to include pictures of any amenities and nearby attractions if they're relevant to your ideal tenant.
Choose a feature image photo that best represents the rental. It could be the main living area, the exterior, or something different.

Craigslist doesn't prohibit text in images, so consider using a tool like Canva to add captions describing each picture. You may also want to add a headline to your featured image to help grab attention when people are browsing.
3. Fill in all the metadata
Remember, your ad's goal is to be easily found, generate interest, and make your phone ring. Craigslist's metadata fields can help you achieve all three of these goals:
Craigslist lets renters filter listings by location, price, bedrooms, bathrooms, square footage, availability date, and other features like parking, laundry, and housing type. Enter as much of that information as possible so you're easy to find.

Most of the people who view your ad won't read the full description. Craigslist helps make up for this by placing the metadata at the top of each ad in a predictable, structured way. Providing complete information helps readers make quick judgments when they click through to your ad.
Choose to show your email address and phone number so anyone who's interested can get in touch right away. If publishing your number on Craigslist makes you queasy, you can use apps like

Burner

to get a temporary, disposable number.
Automated and free Rent Collection, without the stress
Automated and free Rent Collection, without the stress
Get Started - It's Free
4. Provide a detailed description
Once your headline, pictures and metadata have done their job sparking interest, your description's job is to convert that interest into a phone call. It does this by providing a comprehensive depiction of the rental unit, and giving your ideal tenant a picture of what their life could be like if it was their home.
Give an overview of the unit's specifications. Provide details on the location, type of home, number of bedrooms and bathrooms, square footage, rent, availability date, and other pertinent information.

Describe why your ideal tenant would want to live in the unit. Paint a picture of all the selling features they would care about. This is your time to go into detail about the kitchen appliances, the size of the bedrooms, the upgraded fixtures in the master bathroom, the hardwood floors, the windows, the view, and the yard.
Describe why your ideal tenant would want to live in the neighborhood. This is the time to talk about access to public transportation, what can be done within walking distance, and what amenities the condo building or HOA provide.
Disclose everything your prospective tenant will need to know before submitting an application. Specify what is and isn't included in the rent. Stipulate any rules like whether you'll allow smoking or pets. State that applicants are required to agree to a credit check and criminal record check. And make it clear what deposit and fees will be required.
Be mindful that people hate to read, so avoid big blocks of text. Space everything out and make it easy to read by using headings, short paragraphs, and lists.
5. Don't limit yourself to just Craigslist
Craigslist is one of many tools you can use to advertise your rental. To reach a wider audience, look into rental advertising websites like Zillow and Apartments.com as well as alternatives like Facebook Marketplace. You can get more ideas about where to advertise your rental in our article on the 5 Best Websites to Advertise Your Rental Property.
Post your ad in the right category
Craigslist has several different categories in its housing section. Choosing the wrong one will ruin your chances of finding a renter before you even get started. Note whether your ad belongs in long-term housing, rooms and shared accommodations, sublets and temporary housing, or vacation rentals.
Final thoughts: pro tips for advertising your rental property on Craigslist
Craigslist is a great free tool for advertising your rental property. Get the most out of it by appealing directly to your ideal renter with a catchy headline, great photography, and detailed description.
FAQs
What websites should I advertise my rental property on?
Advertise your rental property on a variety of websites that will reach your ideal tenant. Consider using rental listing websites like Apartments.com and Zillow, marketplaces like Facebook Marketplace, and free classified websites like Craigslist.
How can I make my rental listing stand out on Craigslist?
Make your rental listing stand out on Craigslist by using a headline that speaks directly to your ideal tenant, adding a headline to your featured image, and including lots of high-quality photography that gives house hunters a good sense of what they'll get if they rent from you.
How much does it cost to advertise my rental online?
Most rental advertising sites have a free tier, including Craigslist. Some, like Zillow, charge a nominal fee if you advertise multiple properties. And others, like Apartments.com, artificially suppress your ad unless you pay for a premium listing which can cost as much as $349. Keep track of your advertising expenses in your rental property bookkeeping software so you can deduct them at tax time.