Indiana's rental market is firing on all cylinders. Average property prices sit around $221K, home values are up 14.7%, occupancy rates are steady at 91%, and job creation is rising alongside a growing population of 6.8 million.
As in-migration continues to outpace housing inventory in the Hoosier state, landlords can capitalize on high rental demand by purchasing cash-flow properties while prices remain low.
Before buying real estate in Indiana, ensure your margins account for more than the purchase price and rental income. Loan costs, taxes, repairs, legal fees, and vacancy rates can cut your potential profits.
You can make this math a lot easier with our rental property calculator. Just input your rental income and expenses to get instant results for cash flow, cash-on-cash return, and capitalization.
See the screenshots below for how to set up the calculator to evaluate your rental property. This is just an example, not investment advice.
Example Investment Property: 3 bed, 2 bath Single Family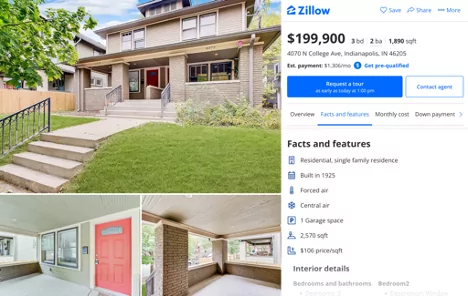 How to Calculate the ROI on Rental Properties?
Assuming you put down 20% and borrowed 80% to buy this property, the rental calculator estimates $51,460 in net cash flow over five years (gross income ÷ expenses) and a cash-on-cash return of 19.85% (annual cash flow ÷ cash invested).
When calculating rental property returns, a good rule of thumb is to aim for at least $100-$300 per unit in monthly profit and a 10% return on cash invested. If you can achieve that, it's worth taking a closer look at the property.
Now that you know how to use the calculator, here are some cities to start searching for your next real estate investment in Indiana.
1. Indianapolis
Fondly referred to as "Indy" by more than 869,000 locals, Indianapolis is the largest city in Indiana. Despite inventory shortages, properties are still reasonably priced at around $240K versus tapped metropolitan markets. You can find pockets of new developments in the city center and surrounding suburbs to help bypass the lean housing supply.
Nearly half of Indianapolis is renting since the current price-to-rent ratio of 18.4 makes this cheaper than buying property. Single-family homes dominate 60% of the market, bringing in around $1,500 monthly. Properties in Downtown and Broadripple usually rent between $2,073-$2,138. You can get over $2,500 on some properties in Meridian Hills, which is considered the best city in Indiana to retire.
2. Fort Wayne
More than 268,000 residents live in Fort Wayne, the fastest-growing Great Lakes region metro. New builds are on a steady incline, and a price-to-rent ratio of 19.6 continues to push the renter fraction toward 40%. These trends present an opportunity to buy into developing markets for about $209K to capitalize on high occupancy rates and annual rent increases of 15%.
Young professionals in Indiana account for 46% of all Fort Wayne renters. 2-bedroom units are the most popular, with rent prices between $1,000-$1,500 getting 39% of the market share. Fort Wayne investment properties typically clear around $23,386 in annual rental profits after expenses (averaged across all property types).
3. Fishers
While Fishers has a smaller population, just shy of 100,000, it started with 7,500 residents in 1990. This expanding suburb has a mix of established communities and new subdivisions with a median listing price of $385,000. Most markets have higher rent prices and low property taxes. On average, apartments rent for $1,500 monthly, and single-family homes go for $2,834.
Families living in Fishers, Indiana, currently take up 56% of the rental market. The overall price-to-rent ratio is 19.9, but this will fluctuate based on the area. 3-bedroom properties priced below $300K that bring in about $2,000 a month will generally have higher price-to-rent ratios. Listings in Limestone Springs start at $200K, and average rent prices range from $1,700 to $2,500.
4. Lafayette
Lafayette is a quaint town of approximately 73,000 in northwestern Indiana. Purdue University employs almost a quarter of the population and provides a regular influx of renters to keep vacancy rates below 5%. Even with a 20.9 price-to-rent ratio holding the renter fraction at 51%, property prices are still very affordable in most neighborhoods.
Lafayette real estate will run you about $225K with an average property tax rate of 0.72%. Units priced between $700-$1,000 get the most traction, with studios seeing annual rent hikes of 70%. To get more than $1,000 in monthly rental income, you need to look at 2 or 3 bedroom units. These properties usually rent for $1,060-$1,495.
Final Thoughts
While Indiana might not be the right choice for all real estate investors, it poses a compelling opportunity for the buy-and-hold game in a stable rental market. Acquisition costs are 51% below the national average, rent prices are up across the board, and appreciation rates have steadily increased by 58.19% in the last five years.
You won't have any rental control laws limiting your earning potential either. This landlord-friendly state lets you control rent increases (with a 30-day notice) and charge security deposits, late fees, and any necessary deductions for property damage. Evictions only take ten days to help get delinquent tenants out quickly and recoup your losses.
With a relatively new reputation for real estate investment, Indiana isn't highly competitive like other saturated regions in surrounding states. You can strike while the iron is cool before everyone else gets their irons in the fire. Regardless of your investment strategy, getting started now is the best way to get ahead in the long run.