As a property investor and landlord, you want a go-to tool that simplifies the complicated world of real estate. That's where the rental property analysis spreadsheet comes in. This makes rental property analysis easier and more efficient. The spreadsheet lets you quickly compare potential rental properties, calculate the total return on investment, and analyze cash flow.
Despite spreadsheets sounding boring, this tool can unlock profitable opportunities. Not sure where to start? Dive in to see how this tool can transform your view of rental properties.
How to Set Up Rental Property Analysis Spreadsheet?
For real estate analysis, spreadsheets are a basic and commonly accepted tool. You can track all the changes in the market with little effort. Investors can access it at any time for free. You just have to pick either Excel or Google Sheets and get started. This will result in easier visualization and reporting.
Here's how to set up a real estate analysis spreadsheet:
Select a Template or Create Your Own
Choose the template that best suits your needs or create your own using Excel. For instance, if you are looking for a template that allows you to calculate monthly cash flow, you should choose one with columns for income and expenses. If you create your own template, make sure that it is easy to understand and organized logically. This will help you to quickly and accurately enter data and calculate results.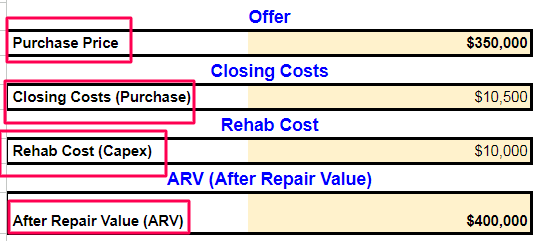 Include data such as purchase price, loan terms, estimated monthly rent, maintenance costs, etc. Keep track of your rental income and expenses. Make sure to budget for any necessary repairs or improvements. Review your financials regularly to ensure your rental property is profitable.
Be sure to double-check the data you enter for accuracy and completeness. When you are finished, review the template to ensure all calculations are correct. Save your template for future use.
Incorporate Formulas for Calculations
Keep accurate records of all income and expenses throughout the year. Calculate your net rental income by subtracting your expenses from your income. Monitor your rental property's financials regularly to ensure it is making a profit.
For example, the 1% Rule estimates monthly rent by multiplying the property's asking price or market value by 1%. If a property's market value is $150,000, the rent should be at least $1,500 monthly.
Rentability Metrics: A Guide to Analyzing Rental Properties
Cash flow is the difference between income and expenses for a rental property. It is the amount of money an investor can expect to make from the rental property after all expenses are considered. It is an important metric to consider when evaluating the profitability of a rental property.
For example, if the monthly rent is $2,000 and the total expenses are $1,600, the cash flow is $400.
This calculates the return on the actual cash invested. The Cash-on-Cash return is calculated by dividing the cash flow by the total cash invested. For instance, if an investor puts $100,000 into a rental property and receives $10,000 in positive cash flow, the cash-on-cash return would be 10%.
The capitalization rate, often called the cap rate, is the ratio of Net Operating Income (NOI) to the property asset value. So, if a property is worth $1 million and its NOI is $100,000, the cap rate is 10%.
The gross rental yield is a calculation used to determine the potential return on investment for a rental property. It is calculated by dividing the annual rental income by the property's purchase price. If a property worth $200,000 generates $20,000 in annual rent, the gross rental yield is 10%.
Formula: Gross Rental Yield = Annual Rent ÷ Purchase Price.
Get a Free Rental Property Analysis Spreadsheet
Free sample spreadsheets like this one provided by Baselane can help you jumpstart your analysis. Just plug in your property's data, and the spreadsheet calculates essential metrics. Whether you're a seasoned investor or just starting out, this free tool is designed to make rental property analysis more accessible and less time-consuming.
Simplify your investment process with a free rental property analyzer spreadsheet, and let the numbers guide you toward smarter decisions. It's user-friendly and tailored to landlords and property investors like you!
Rental Property Analysis Spreadsheet Alternative
The property investment analysis spreadsheet simplifies complex calculations, saving investors valuable time and effort.What if real estate analysis spreadsheets slow you down?
It's time to discover Baselane, a rental property accounting software transforming how landlords manage their finances.
So, forget about the painstaking process of categorizing, tracking, and reporting – Baselane automates it all.
Here's why Baselane is a game-changer:
1-Click Categorization

: Bookkeeping becomes a breeze, saving time and reducing errors.

Real-Time Insights

: Stay on top of your cash flow and performance with immediate updates.

Comprehensive Reporting

: From income statements to tax reports, get everything at the click of a button.

Simplified Bookkeeping

: A custom chart of accounts in a single click and automated line item capturing lets you focus on expanding your portfolio.

Stress-Free Tax Time

: Auto-generate Schedule E reports and makes tax time a breeze.

One Place for Everything

: Say goodbye to spreadsheets and save 20+ hours a month with all your finances in one consolidated ledger.

Seamless Integration

: Baselane integrates seamlessly with your existing bank accounts, from unlimited monthly reports to easy receipt uploads.
Baselane offers landlords unique features compared to other bookkeeping and reporting tools. With real-time visibility into data, easy search and filtering, and the ability to track unlimited properties, it's a solution designed for efficiency and ease of use.
If you're looking to simplify your rental property finances and take control of your cash flow, Baselane is the alternative you've been waiting for. Learn more and get started today – it's free!
Rental property analysis doesn't have to be a daunting task. It's a complex process made more accessible by spreadsheet tools, but there's an even simpler way. Baselane is your all-in-one property management solution.
Having everything at your fingertips is easier than juggling multiple tools. From tracking maintenance requests to analyzing cash flow, Baselane streamlines your operations. This isn't just a tool; it's a partner that understands your needs.
So, take your property management to the next level, sign up for a free trial with Baselane, and discover the ease of having everything in one place.