Landlords have to ensure that their rental properties are safe and in good living conditions, but their responsibilities stretch far beyond the physical state of the property itself.
As a property owner, you also have to manage and safely keep your tenants' security deposits, and having a separate bank account for rental property payments helps simplify this responsibility.
While not all states require landlords to use separate bank accounts for their property rental funds, this common practice brings excellent benefits.
In this article, we'll share eight benefits of using separate bank accounts for your rental property business.
Benefits of Having a Separate Bank Account for Your Rental Property
Keeping your personal and business finances separate can help you stay more organized while making it easier to assess the success of your business.
Having a rental property business checking account is no different. In your case, the rental property bank account represents the business aspect of your finances, so you always have a clear idea of the business vs. personal assets you have available.
Additionally, having a separate bank account has many other benefits highlighted below.
1. Stop Commingling Funds
The first and most obvious benefit of having a separate bank account for rental property funds management is that you don't commingle funds. In other words, your personal and rental business finances always stay the same.
A separate business checking account is beneficial because it makes it easier to perform monthly bookkeeping, calculate taxes, pay bills and analyze your income and expenses.
In worst-case scenarios, commingling can be illegal. This depends on your state and local government, but mixing business and personal funds can result in a fine. When dealing with tenant rental security deposits, most states require landlords to have a separate bank account that is not an active account to hold such funds.
To avoid this, you should open business accounts for every commercial venture you initiate, including your property rental.
Whether you're interested in attracting real estate investors, partners, lenders, or new tenants, having a separate bank account for your property rental gives you more credibility.
For starters, having separate bank accounts shows that you abide by the rules and that you're serious about your business.
Not only this, but knowing that the security deposit, business funds, and all other assets that stem from the rental of your property are safely kept away from any non-business debt collectors. This allows you to gain the trust of your real estate partners and colleagues and build a brand name for yourself.
3. Potential Rewards and Extra Features
It's common for bank accounts designed for landlords to include additional features and rewards geared toward these entrepreneurs.
This includes discounts and cashback at home improvement stores and similar perks. Moreover, it's also possible to open landlord bank accounts with an annual percentage rate (APY) higher than average, which helps you generate extra revenue from your property profits.
4. Scalability and Financing
You should use a separate bank account for rental property matters for many practical reasons. However, none may be as beneficial as improving the scalability of your rental business.
Once you start looking into adding more properties to your portfolio, organized accounting can also increase your chances of getting financing.
5. Protection of Business and Personal Assets
If you're involved in a legal dispute with your tenant or any other individual (i.e., lawsuit), having a separate company (e.g., LLC) and business bank accounts for your real estate business finances can help you protect your assets.
Let's say your tenant files a lawsuit because of unfulfilled duties. In this case, your bank account where you have your business funds may be frozen. There are no special protections for commingled bank accounts, so if you have your personal and business funds in one place, you may lose access to both.
Keeping updated records and making your tax payments on time is necessary for rental properties.
The good news is that a separate bank account for your rental property can significantly simplify your tax preparation process.
Instead of having to differentiate between certain expenses and payments, all the interactions in the separate business bank account belong to the property, so you will have a much easier time doing your taxes.
7. Employee Payroll and Vendor Payments
A business checking account is necessary if your rental property business has employees, as it allows for the easy and efficient processing of payroll and employee resources.
A separate business account makes it easier to pay vendors and contractors who work with the rental property business, improving business relationships and ensuring timely payments.
8. Use the Account for More than the Security Deposit
It's common for landlords to open a separate account, known as an escrow, to store the security deposit. But there's no reason why you should limit yourself.
You can have a separate bank account for mortgage and bill payments, online rent collection, security deposit storage, maintenance reserves, and much more. Use your business bank account as much as possible, as this may help increase your rewards.
How Many Accounts Should You Have?
It's up to you.
You can open one business checking account or many depending on how your business is structured. We've made a list of some key factors below.
Factors to consider:
Entity Legal Structure:

Sole proprietor, LLC, Corp

Number of Entities:

Single entity vs. multiple entities

Number of Properties:

One rental property vs. many rental properties

Geography:

Are your rentals in one state or many?

Security Deposit:

What are the state requirements? Are you required to open a separate non-operational bank account?
Generally speaking, for new landlords with one rental property having one bank account for income and expense tracking makes sense. But should you open separate accounts for every property you own?
Even if you have several properties generating significant rental income, you should avoid having multiple accounts for the different properties you own. This is because you need to keep your investment property finances organized.
The best way to do this is to open a single landlord banking account with features specifically designed for owners with multiple properties.
New digital banks offer virtual accounts. This allows you to open one main account and several virtual accounts to get better organized. Examples of sub-accounts could be:
Main account- used for rent collection, paying the mortgage, and much more

Maintenance Reserve account – used to budget 5% for a rainy day

Security Deposit – used to hold the tenant's security deposit separately
Example – Baselane Business Checking Account with Many Virtual Accounts


How to Open a Baselane Banking Account
Opening a Baselane banking account for landlords is extremely easy — the process can be as fast as two minutes.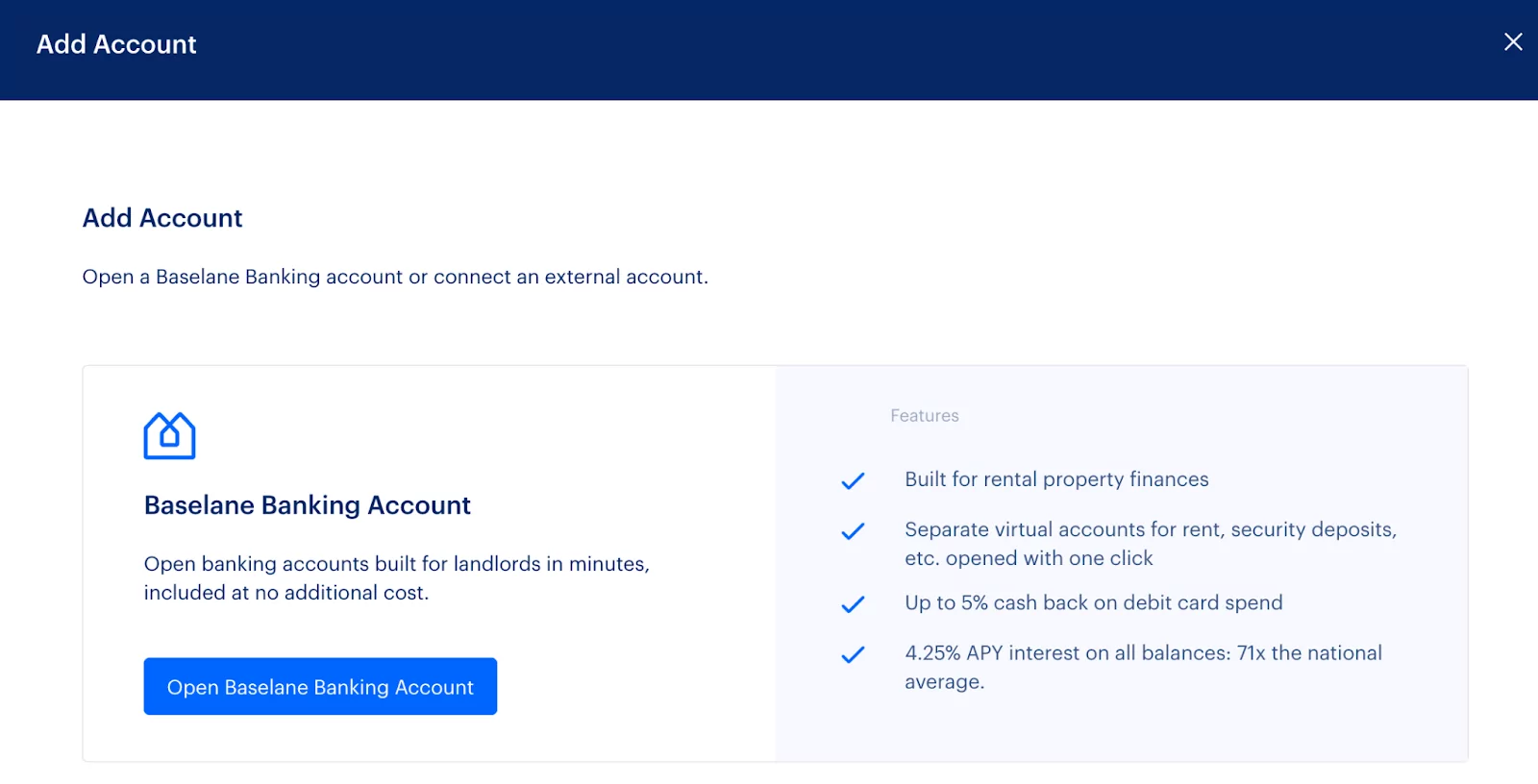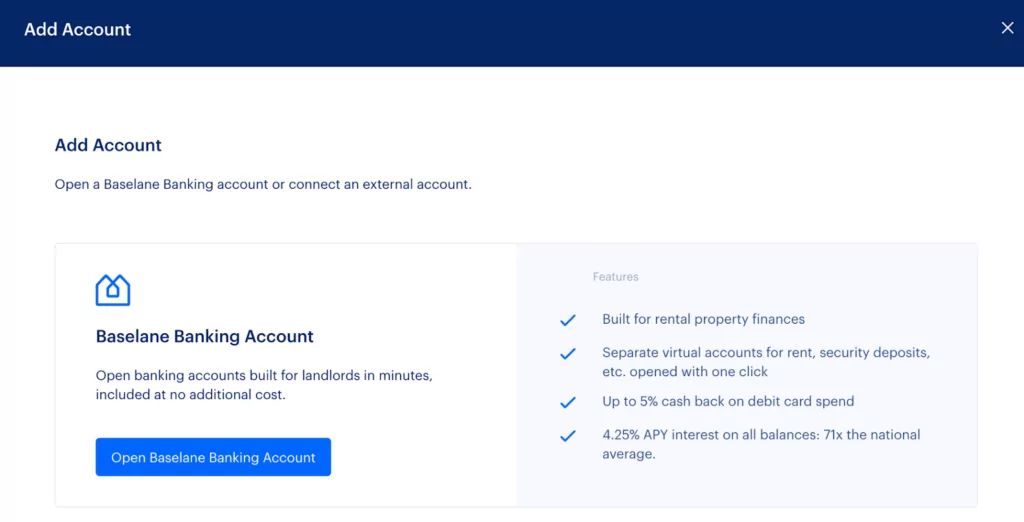 First, you have to open a free Baselane landlord account.

Once logged in, access the Baselane Banking tab on the left-hand panel.

On the Baselane Banking page, click "Add Banking Account," then click on the blue button that says "Open Baselane Banking Account."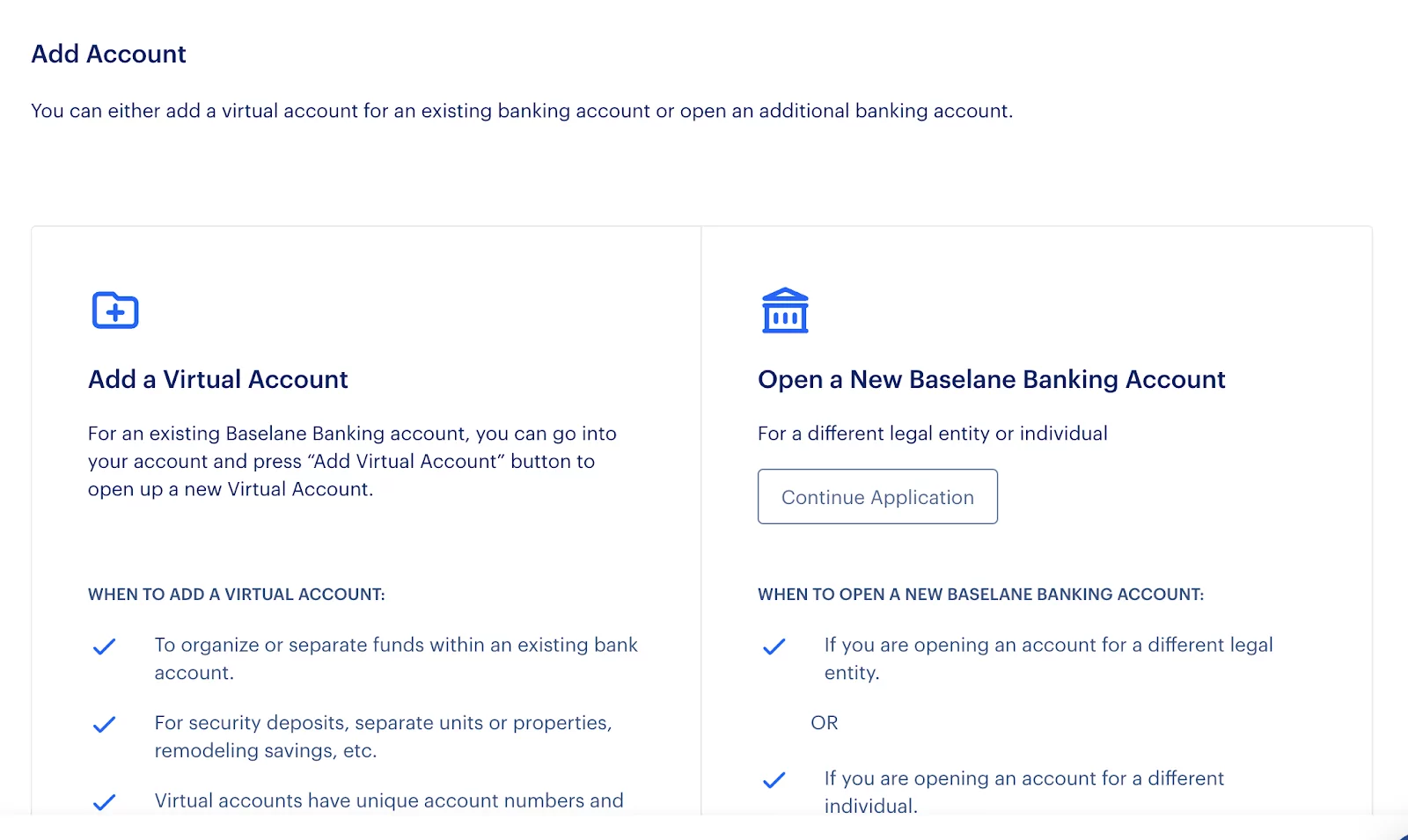 4. Now, you can open your account as an individual (sole proprietor) or as a business (LLC, corporation, or partnership).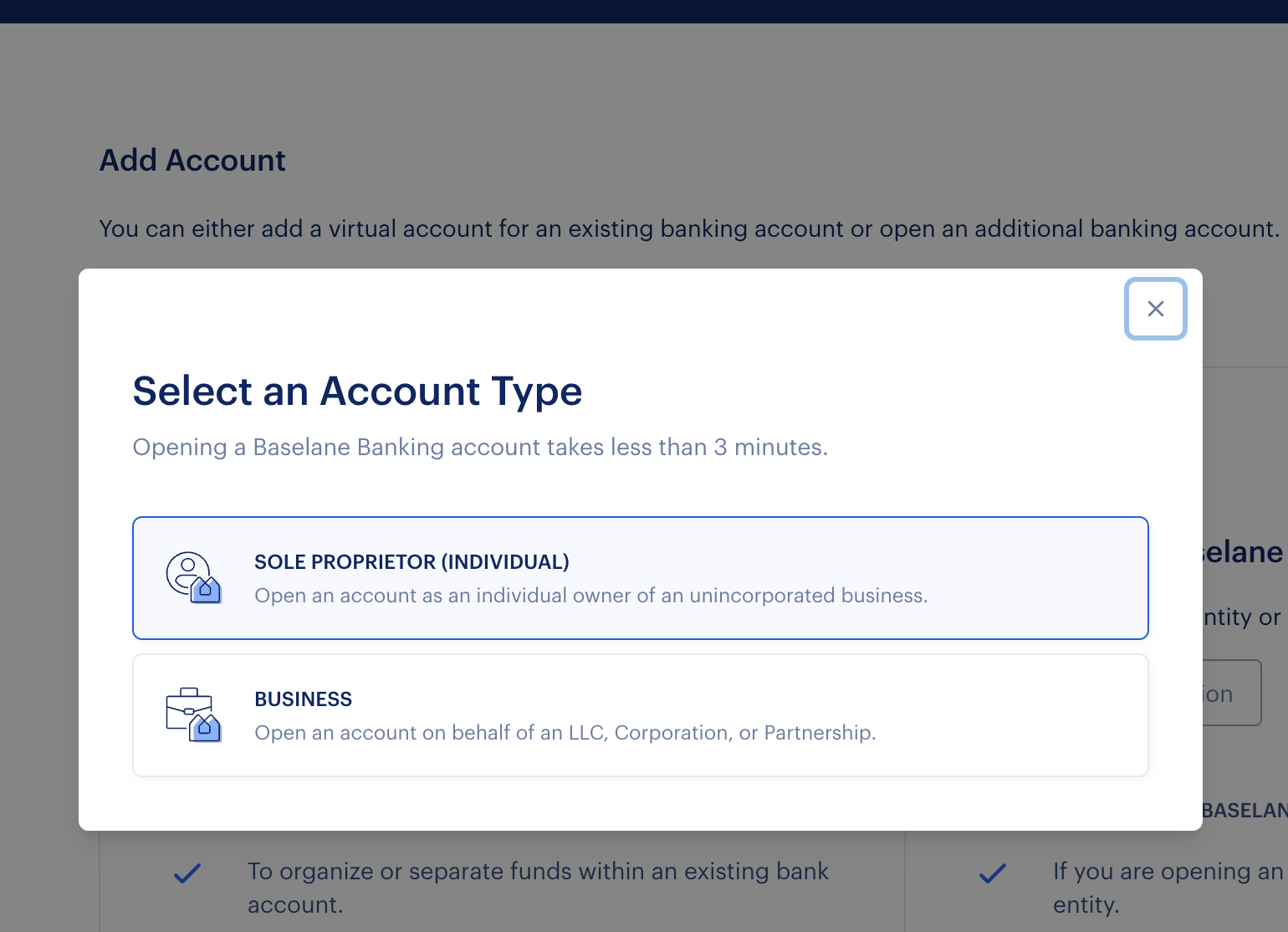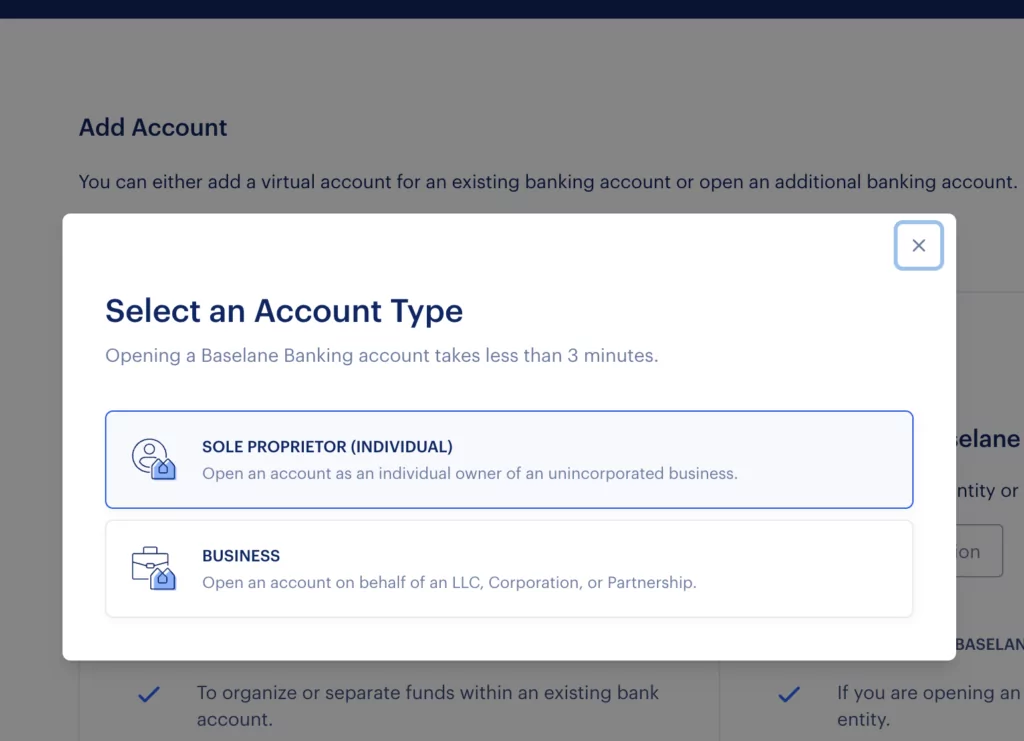 5. Finally, you'll be asked to provide personal information or business details.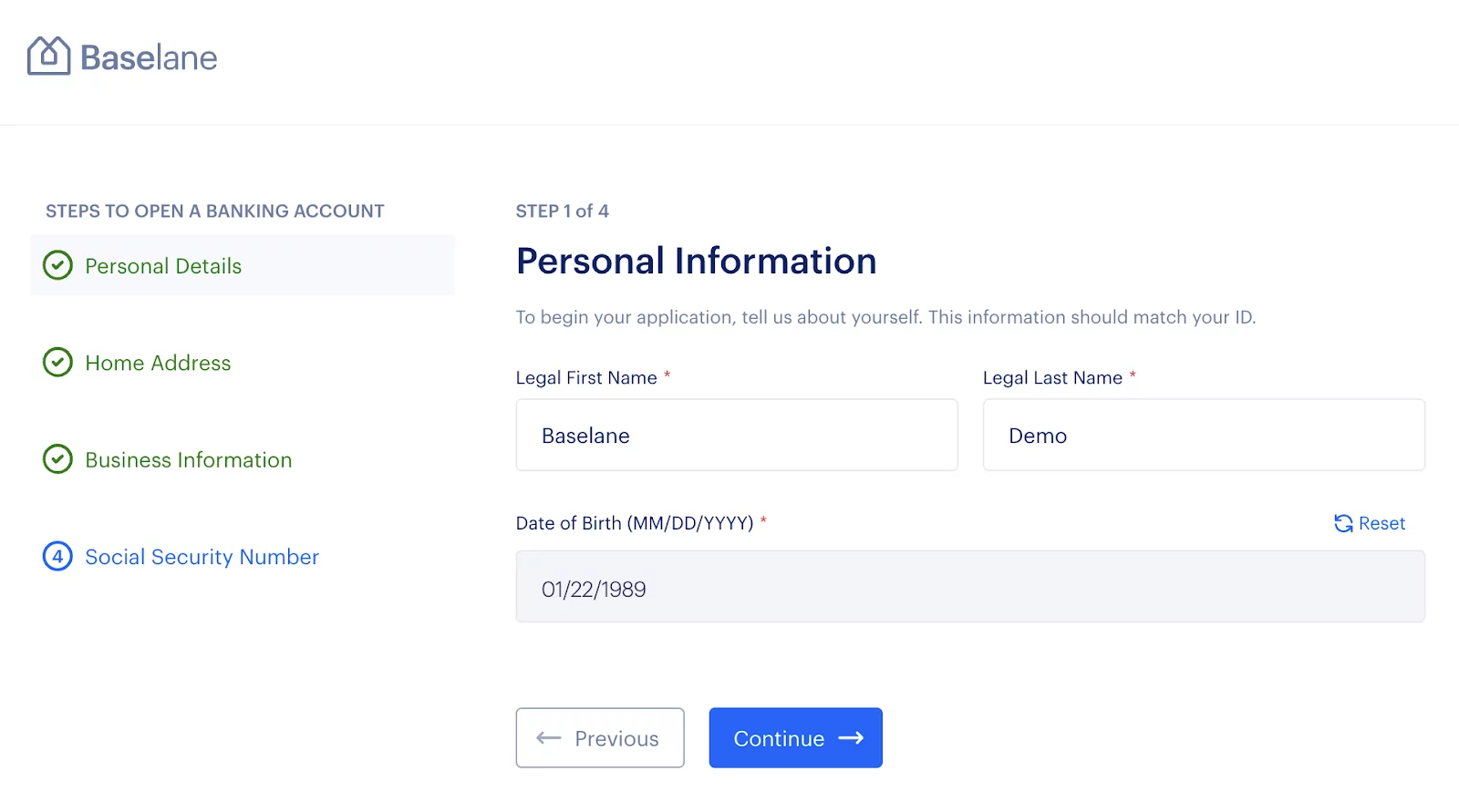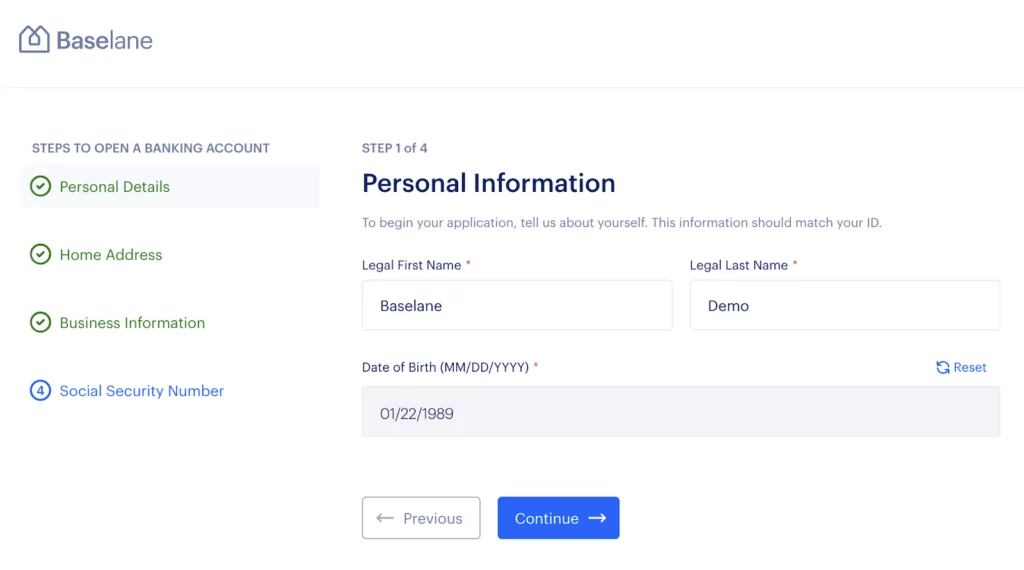 6. Complete the process by clicking "Submit Application," you'll receive a notification once your request has been reviewed.

Opening a separate business checking account for your property rental and putting all your relevant expenses against it is a great way to look professional, simplify your accounting, and open more opportunities for you.
Stay tuned to our blog to learn more about the advantages of business banking accounts and other landlord resources.