When it comes to effective property management, having the right tools at your disposal can make all the difference.
As a landlord, keeping track of your finances and managing your properties can be a real headache. The complexity of these tasks can lead to errors and inefficiencies, costing you time and money. This is where property management software comes in.
Stessa and Avail are property management software allowing landlords to have online rent collection and expense management tools, while only Stessa offers banking.
In this Stessa vs. Avail comparison, we will closely examine the features and functionalities and how they stack up, so you can decide which software best meets your property management needs. Both platforms offer distinctive features and benefits, making life easier for landlords and property managers.
However, as we dig deeper into these platforms, a third contender, Baselane, might surprise you with its compelling offerings.
Stessa is a rental property management system that offers solutions for investors, landlords, and tenants. Here are the features, pros, and cons of the product.
Pricing: Two options –
Option 1:Free

Option 2: Paid version available @$20/month
Overview of Stessa's Features
Stessa is property management software that offers landlords expense tracking and financial reporting. It's designed to help landlords track their rental income and expenses, clearly showing their property's financial performance.
Through Stessa, landlords can connect to banks, lenders, credit cards, and property managers in one real-time dashboard. The software can also generate income statements, balance sheets, and cash flow reports.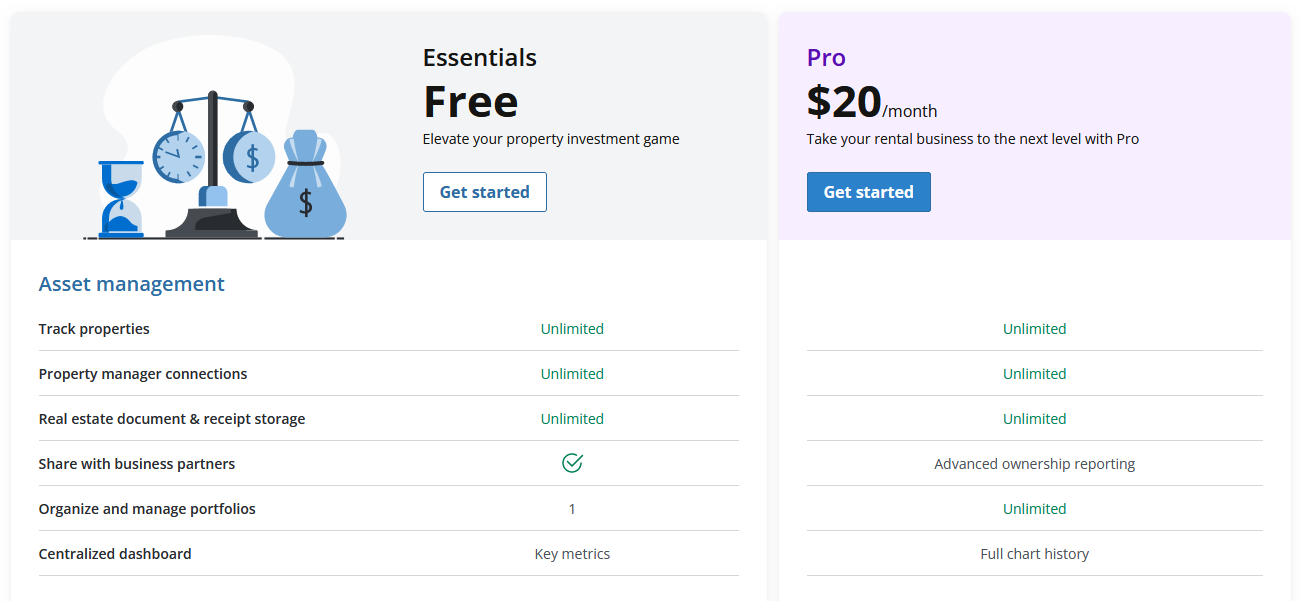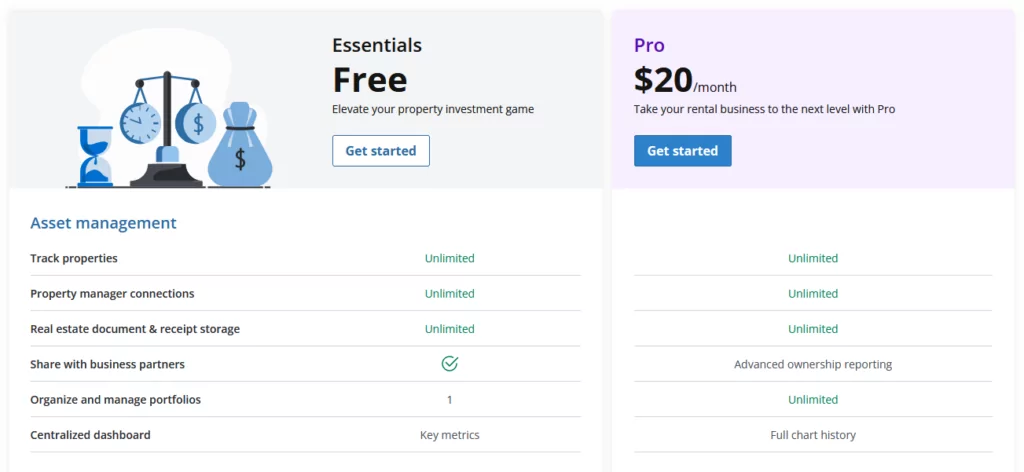 Stessa also offers a cash management account feature. Once this account is opened, landlords only need an active lease and their tenant's email address to set up online rent collection through Stessa. The platform invites the tenant to start paying rent and automates the process by setting up recurring ACH payments.
Here are some of Stessa's key features:
Integrated Checking Account

: Open a business checking account for real estate that integrates with Stessa. This feature allows you to pay vendors, move funds, and earn cash back and interest, all within the platform.

Personalized Tax Package

: Access your personalized Stessa Tax Package, which includes an income statement, net-cash-flow report, and exportable ZIP file. This feature aims to simplify your tax preparation process.
Tenant Screening and Application Management: On Stessa, you can screen tenants, generate applications and track their status for additional fees.
Pros and Cons of Using Stessa
Free version available with limited features

Expense tracking feature provides an organized record of all property-related expenses

Streamlines tax preparation for landlords with tax reports
Free tier limits expense management (e.g.

assigning expenses to your entire portfolio vs assigning to a specific property)

User interface is dated and not as user friendly

Customer support has had issues – see online comments and do you homework

The platform does not offer a feature for creating and editing leases within the app

Needs to integrate with more small banksDoes not allow users to add or modify categoriesReporting features need more customization options

Web interface is more intricate as compared to other platforms
Avail is a platform that primarily serves as a rental listing and online rent collection site, offering a range of tools to assist landlords in managing their properties.
Pricing: Free (Paid version available @$7/unit/month)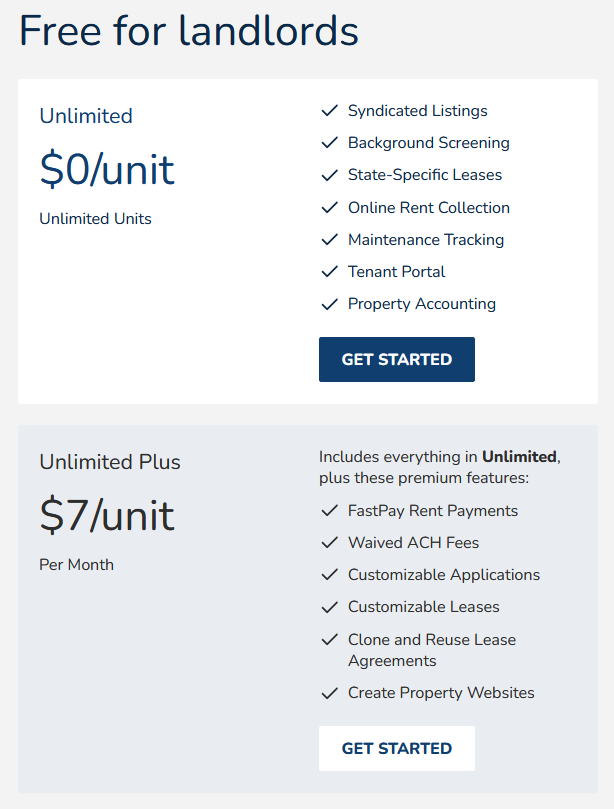 Overview of Avail's Features
While its main feature is providing lease templates, Avail also offers tools for tenant screening, expense tracking, and online rent collection functionalities. This suite of tools aims to streamline the property management process, making it more efficient for landlords.
One of Avail's notable features is its rent payment scheduling. Upcoming rent payments can be arranged in advance, and the system is designed to send reminders every month automatically. This feature can help landlords ensure timely online payments and collection and reduce the risk of late payments.
Avail offers a free plan, which charges tenants a fee for ACH payments and debit and credit card transactions. Specifically, tenants incur a $2.50 fee if paying with ACH, while debit and credit card transactions are subject to a 3.5% fee.
For landlords who prefer quicker deposits and free ACH bank account transfers, Avail offers a premium plan. However, this plan costs $5/unit per month, which landlords must factor into their budget.
Here are some notable features of Avail:
Free Online Property Listings

: Avail enables landlords to list their rental properties for free across 12+ popular property listing sites.

Lawyer-Approved Lease Agreement

: Avail provides landlords with a lawyer-approved lease agreement template.

Rent Analysis Report

: Avail provides landlords with a Rent Analysis Report, which takes the guesswork out of setting the rent price for their properties.
Pros and Cons of Using Avail
Free version available with limited features

Simplifies the leasing process with lease creation and signing

Improves cash flow with next-business day rent payments through FastPay

Saves time and aids organizations with auto-generated payment receipts

Increases property visibility with the ability to syndicate some listings (limited)
Can be expensive for landlords with multiple properties ($7 per unit)

Primarily focused on rental listings

FastPay only available on the premium plan

Outdated user interface

Limited support services

No product demo available
Stessa vs. Avail — Head-to-Head Comparison
| Feature | Stessa | Avail |
| --- | --- | --- |
| Free Version | | |
| Paid Plan Pricing | $20/month | $7/unit |
| Demo Videos Available | | |
| Mobile App | | |
| Free Online Property Listings | | |
| Tenant Background Checks & Eviction History | | |
| Phone Support | | |
Baselane vs. Stessa and Avail
While Stessa and Avail have made a name for themselves in this space, a new player is redefining the game – Baselane.
Designed specifically for landlords and real estate investors, Baselane offers an all-in-one banking and financial platform that integrates seamlessly with your property management tasks.
It goes beyond the standard features offered by Stessa and Avail, providing a comprehensive suite of tools catering to every property management aspect.
From banking services tailored for landlords to automated rent collection and powerful reporting and analytics, Baselane is purpose-built to save you time, increase your returns, and automate your finances.
Banking Made Easy for Landlords
Unlike Stessa and Avail, Baselane offers innovative landlord banking solutions. On Baselane, you can enjoy the following:
No fees

: Say goodbye to unnecessary banking charges.

High yield

: Earn 4.25% APY on all balances, maximizing your returns.

Cashback

: Get up to 5% cash back on debit card spend.

Seamless integration

: All banking features are integrated into the Baselane platform, making it easy to manage your finances.

Dedicated accounts

: Baselane provides dedicated accounts by property and for security deposits, ensuring your funds are organized and easy to track.

FDIC-insured

: Your funds are safe with a Baselane

security deposit account for landlords

.
Automated Rent Collection for Hassle-Free Management
While Stessa and Avail offer rent collection features, Baselane takes it further by putting rent collection on autopilot.
Baselane's advanced algorithms automate your bookkeeping property accounting tasks, ensuring accuracy and saving you valuable time. Designed to save landlords hours of work each month, Baselane offers:
Accept rent directly

: No more chasing down checks. Accept rent by ACH or card directly into your bank account.

Automate payments

: Set up automated payments to streamline your rent collection process.

Automate fees and reminders

: Reduce the risk of late or missed payments with automated fees and reminders.
Insightful Reporting & Analytics for Optimized Returns
While Stessa offers expense tracking and Avail provides landlord accounting, Baselane goes beyond with modern interface that is easy on the eyes and powerful reporting and analytics. It simplifies tax time by organizing your financial data in an easy way to report.
With Baselane, you can:
Track cash flow

: Stay on top of your rental property finances.

Generate P&L reports

: Get detailed insights into your profits and losses.

Maximize returns

: Use Baselane's analytics to optimize your investment strategy.

Consolidate financial data

: Get a comprehensive view of your finances by consolidating data from your Baselane and external banking accounts.

Automated reporting

: Generate automated income reports, tax reports, and more.
Baselane also offers free lease creation and e-sign through the platform.
While Stessa and Avail have their merits, Baselane's comprehensive features and focus on financial management, as well its modern user interface make it the superior choice for landlords and real estate investors and their tenants.
Choose Baselane for a streamlined, efficient, and effective property management service experience.
Eager to discover more? Watch Baselane's demo. See how easy property management can be!