As a landlord, rent collection is one of the most challenging tasks. From tracking monthly payments to chasing down overdue rent payments, it's no wonder landlords are opting to ditch cash and checks to collect rent payments online. But not all online rent payment collection tools are created equal. In this article, we'll compare collecting rent payments through Cash App vs. Baselane, focusing on the best online rent payment methods.
Baselane vs. Cash App: Overview
Both Cash App and Baselane offer online rent collection for landlords, making it easier for tenants to pay rent on time using multiple payment options. Before we dive deeper into each service, the comparison chart below gives you a snapshot of Baselane vs. Cash App.
CashApp Rent Collection = Time Drain. Automate Instead!
Save 4-10 Hours: Embrace Auto Rent Collection.
Cash App is a popular peer-to-peer payment service that transfers cash instantly. This digital wallet owned by Square, Inc. works similarly to collecting rent with PayPal, Venmo, and Zelle.
But as a landlord, this may not be your safest option for accepting online rent payments, as there is no protection against sending funds to the wrong person. A tenant may be sending rent payments to someone else, and you may not realize until it's too late.
How it works: Rent payment sent through Cash App gets deposited within 1-3 business days. Landlords must pay a fee of 1.5% to have funds deposited instantly into their bank account. Tenants can link their bank account, credit or debit card, and there is an option for automatic payments.
Payment Methods: Tenants can link most bank institutions to their Cash App account, but the limit on rent payments could impact your cash flow. Tenants paying rent online can only send up to $250 in a seven-day period and $1,000 in a 30-day period. There is an option to increase send limits to $7,500 a week with identity verification.
Tracking: Cash App sends notifications when money is received. There is no option to track or set up fees for late rent payments, and funds can accidentally end up in the wrong hands with typos and instant transfers without buyer protection.
Baselane is built for landlords. Both landlords and real estate investors can use Baselane to simplify online rent collection, bookkeeping, banking, and rental property management.
How it works: In addition to rent payments, Baselane can also collect security deposits and other fees. Tenants can set up auto-payments using a debit card, credit card, and ACH bank transfers. Online rent payments take 2-5 business days to process.
Payment Methods: Tenants can link their payment method from any banking institution. There are no transfer limits for rent payments sent through Baselane. Unlike Cash App, Baselane is connected to a bank account to eliminate the chance of sending money to the wrong person.
Tracking: Both tenants and landlords can view payment history and records with Baselane. Options for automatic late payment reminders will save time and energy while keeping tenants on track.
Beware of Partial Payments!
Pro Landlords Refuse Partial Payments.
Cash App vs. Baselane: Features
Before you decide if tenants should start paying their rent with Cash App vs. Baselane, let's compare the features of each online rent payment option.
Cash App vs. Baselane: Features
Easy to pay rent for a wide range of services.

The Cash App mobile app is compatible with rental business payments.

Send money using an email address, phone number, or $Cashtag.
Baselane: Online Rent Collection Features
Quick and easy sign-up process, plus it's free!

Payments for rent, security deposits, and other fees are deposited directly into a landlord's bank account within two business days through our online rent payment service.

Tenants have the option to make

one-time payments or set up auto-pay

for recurring rent payments debited from their bank account using our online rent payment service.

Tenants can pay rent using their credit or debit card or directly from their bank account through our online rent payment service.

Tenants can manage and pay online rent payments from any desktop, mobile, or tablet device.

Automated rent reminders and payment confirmations are sent to tenants.

Landlords can easily track payment history and any

overdue rent payments

.

Landlords can receive real-time notifications of online rent payments.

Online rent payments are secure with 256-bit SSL bank-level encryption.

Generate one-time invoices.
Cash App vs. Baselane: Collecting Rent Online
Baselane and Cash App make it easy to collect rent online. To determine which online rent collection app is better for your online rent collection needs, consider some notable differences:
Collecting Rent with Cash App
Both tenant and landlord must install the rent collection app

Tenant enters landlord's email, phone number, or $Cashtag

Enter the reason for payment

Accept amount
Collecting Rent with Baselane
Sign up

Connect a receiving bank account

Add rent payment collection details and invite tenants

Collect rent

Track and manage rent payments

Keep in mind that landlords don't have the option to block partial rent payments with Cash App. Collecting partial rent payments can create issues with the eviction process in some states. For instance, Texas will make you restart the eviction proceedings if you accept a partial payment after filing in court. You should check with the eviction laws in your own state for regulations on accepting late rent payments.
When you process online rent collection through a platform designed for landlords like Baselane, you can manage, track, and stop partial or late payments.
We asked a multi-unit real estate investor in Florida to compare the best online rent payment systems with rent checks. After making the switch, the investor reported, "Baselane has transformed how I manage my properties because everything is automated in one place."
Key Takeaways: Cash App vs. Baselane
Based on our comparison of Cash App vs. Baselane, here are some considerations to keep in mind for collecting rent payments:
Baselane has an auto-pay feature for setting up monthly recurring payments, and Cash App doesn't.

Baselane can automatically notify tenants of upcoming rent payments or when rent is overdue. Cash App can't send these notifications.

Baselane can notify landlords of late rent payments, how many days rent is overdue, or whether rent has been paid. Cash App can't send these alerts.

Baselane can automatically charge late fees when rent is past due. In Cash App, late fees have to be added manually through a separate transaction.

Baselane offers secure payments. Cash App offers some security but no protection against fraud and accidental transfers to the wrong person.

Adding contacts and signing up for an account with Cash App is easier than Baselane.

Baselane allows landlords the option to block partial payments, an essential feature that Cash App does not have.

Baselane allows you to

process security deposits

and other fees securely. Cash App rent collection will only allow you to collect rent payments.

Baselane gives the tenant user-friendly payment methods and complete transparency with payment history and reporting, and Cash App doesn't.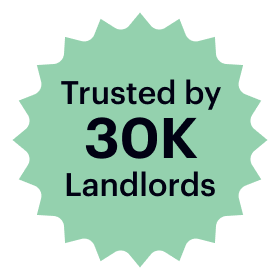 30,000 Landlords use Baselane
to Automate their Rent Collection
FAQs
What are the benefits of using rent collection software?
Not only do tenants prefer to make their payments online, but also rent collection software offers flexibility, instant invoices, and payment reminders. Property management software consolidates your banking and bookkeeping, leaving you with rent paid on time and happy tenants.
Why should I convince my tenants to switch to online payments instead of checks for rent?
As a landlord, you want to choose payment options that are easy to document and quickly process. Collecting checks from your tenants might seem like a good idea until it comes time to deposit. Your tenant may not have funds in their account, or the check could get lost in the mail. Accepting rent payments online makes it easy to track the rent, set automatic reminders, and enable recurring payments.
How can I sign up for Baselane?
Create a free Baselane account in minutes:
Sign up using an email, full name, and password
Follow the instructions in the confirmation email
Start exploring Baselane