Keeping track of rent collection can take time and effort, especially if you own multiple properties. It's challenging to manage a sea of rent receipts, bank statements, messages, and invoices – all at once. That's where a tool like a fillable rent ledger comes in handy.
This blog post will provide simple steps to help you manage and monitor your rental income using a 'rent ledger template.' We will also discuss a better way of rent tracking than rent ledgers.
A rent ledger, or a rental ledger, is a document or digital tool used to track and record all the rent payments you receive from your tenants. It helps you track when a tenant's rent is due and lets you contact them using their provided contact information on the rent ledger.
Think of it as a detailed diary of your property's rent transactions to track financial records as you usually do in a business. In this ledger, you record every rental payment, noting down essential details such as:
Rental Period

Rent Payment Date

Payments from Tenants

Due Date of the Rent

Tenant's Name

Tenant's Contact Information

Property Owner

Rental Property Address

Type of property (short-term rental, multifamily, single-family)

Bedrooms/Bathrooms

Late Rent Payments

Lease Agreement Start Date

Lease Agreement End Date

Zoning or Use

Square Feet (Size of the Unit or Home)

Additional Expenses

Security Deposits

Method of Payment

Comments
Some investors prefer to focus only on rental rates and collections, keeping things simple. However, for those who want a more comprehensive and accurate approach, it's essential to maintain a detailed record of every aspect that could be beneficial in the future.
Why Is It Important to Keep a Rent Ledger?
Let's explore why keeping a rent ledger and its numerous benefits are essential.
Accurate Tracking of Rental Income

: With a rent ledger, you can accurately track all incoming payments, making it easy to verify whether a tenant has paid rent on time or any overdue charges. This ensures you always have a clear picture of your rental income status.

Quick and Easy Reference

: A rent ledger is a quick reference for any payment-related queries. Did a tenant dispute a payment? Refer to your log to resolve any confusion.

Record Keeping for Tax Purposes

: A rent ledger is a lifesaver when tax season rolls around. It provides a detailed record of your rental income, making filing your tax returns accurately and on time much easier.

Prevents and Resolves Disputes

: A well-kept rent ledger can help avoid or resolve potential payment disputes. By keeping a detailed record of all transactions in the rental agreement, you'll have tangible evidence in the event of a disagreement.

Monitor Cash Flow

: The rent ledger allows you to

visualize your cash flow

, helping you identify trends, like which months bring in more rent or when you may need to budget for less income.

Efficient Financial Management

: A rent ledger aids in efficient financial management. By understanding your income flow, you can make better, data-informed decisions for your rental business.
Who Can Use Rent Payment Ledger?
Individual Landlords

: Helps manage rental payments and provides an organized snapshot of income across properties.

Property Management Companies

: Facilitates efficient oversight of multiple properties' financial transactions.

Real Estate Agents

: Assists in transparent record-keeping for properties managed on behalf of landlords.

Tenants

: Empowers tenants to track their rental history and ensures clarity in rental transactions.

Accountants

: Enables seamless integration of rental income into financial reporting and simplifies tax preparation.

Legal Professionals

: Provides a solid and detailed record of rental payment history that can be used as legitimate proof for rental disputes.

Vacation Rental Owners

: Streamlines managing short-term stays and associated payments across various platforms.
Get a Free Fillable Rent Ledger Template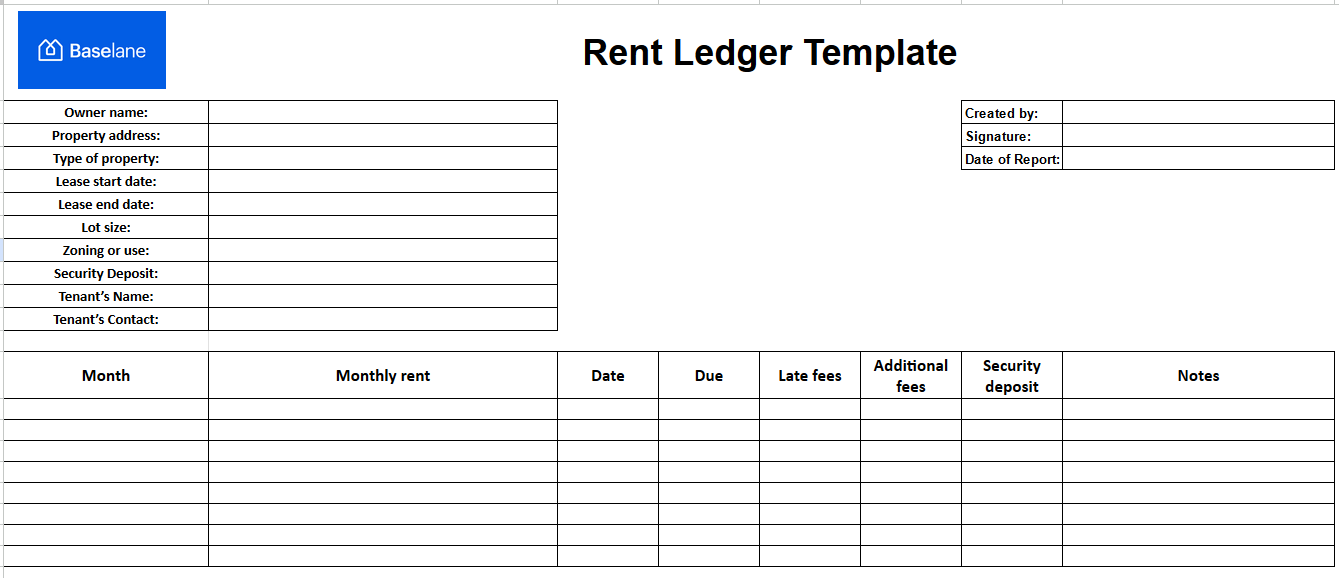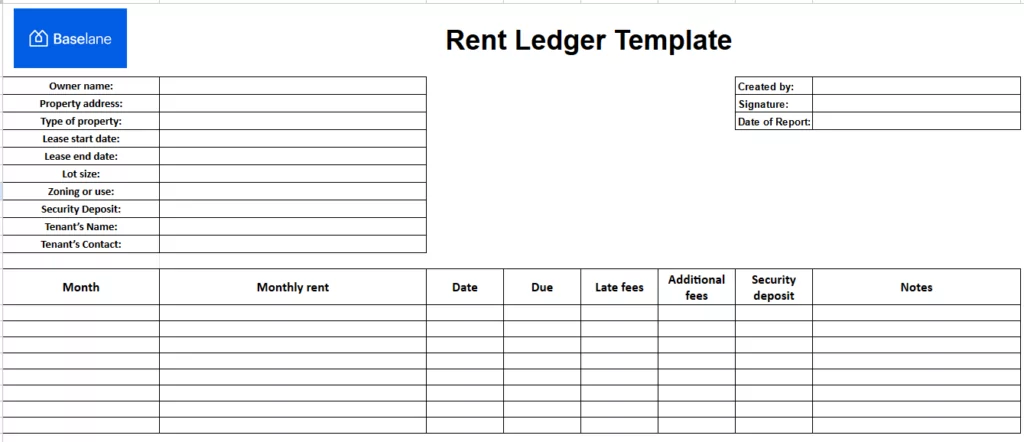 We've designed a fillable rent ledger template specifically tailored to the needs of landlords and property managers like you. It's user-friendly, customizable, and, best of all, completely free!
Here's a free fillable rent ledger template for your rental properties provided by Baselane:
You can open the fillable rent ledger in programs like MS Word, Google Docs, or any document software that supports the format. Later, you can share it as a PDF file with your tenants or landlords. You can also use Google Sheets to build your own rent ledger from this template.
How to Fill Out a Rent Ledger Form?
Here are detailed step-by-step instructions to help you fill out the form with ease:
Step #1: Make a Copy of Baselane's Rent Ledger Template
Step #2: Property Information

Fill in the details related to the property, including:
Owner Name

Property Address

Type of Property (Specify whether it's a residential or commercial property, apartment, or house)

Lot Size (usually measured in square feet or acres)

Zoning or Use (e.g., residential, commercial)

Security Deposit

Lease Terms
These fields will provide a complete overview of the property in question.
Step #3: Tenant's Information

In this section, provide current tenants' information. Enter the 'Tenant's Name' and 'Tenant's Contact,' including their phone number or email address.
Step #4: Rent Tracking Table


Now, move to the rent tracking table, where you'll document the monthly rent details.
Fill in the following information:
Month

Monthly Rent

Receiving Date

Due Date

Late Payments

Additional Fees
This comprehensive information will allow you to easily track rent payments, due dates, and other related information.
Step #5: Additional Notes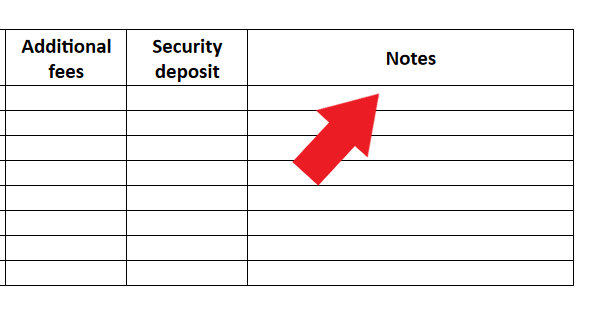 Utilize the 'Notes' field in the rent tracking table to jot down any additional remarks or specifics related to individual payments.
This could include information about the payment method, special agreements, or other vital details a landlord or tenant may need to reference later.
Finally, review the entire ledger to ensure all information is entered correctly. You can also include an electronic signature of yourself.
Make any necessary adjustments or corrections, then save the document securely. Regularly update the ledger as new rent payments are made, and consider keeping a backup to prevent any data loss.
You've taken a significant step in streamlining your rent tracking process using Baselane's free fillable rent ledger template. But why stop there?
Baselane's property management software doesn't just provide a fillable rent ledger template; it automates the entire process with automatic rent collection, a modern user interface (UI), and the ability to manage multiple properties easily.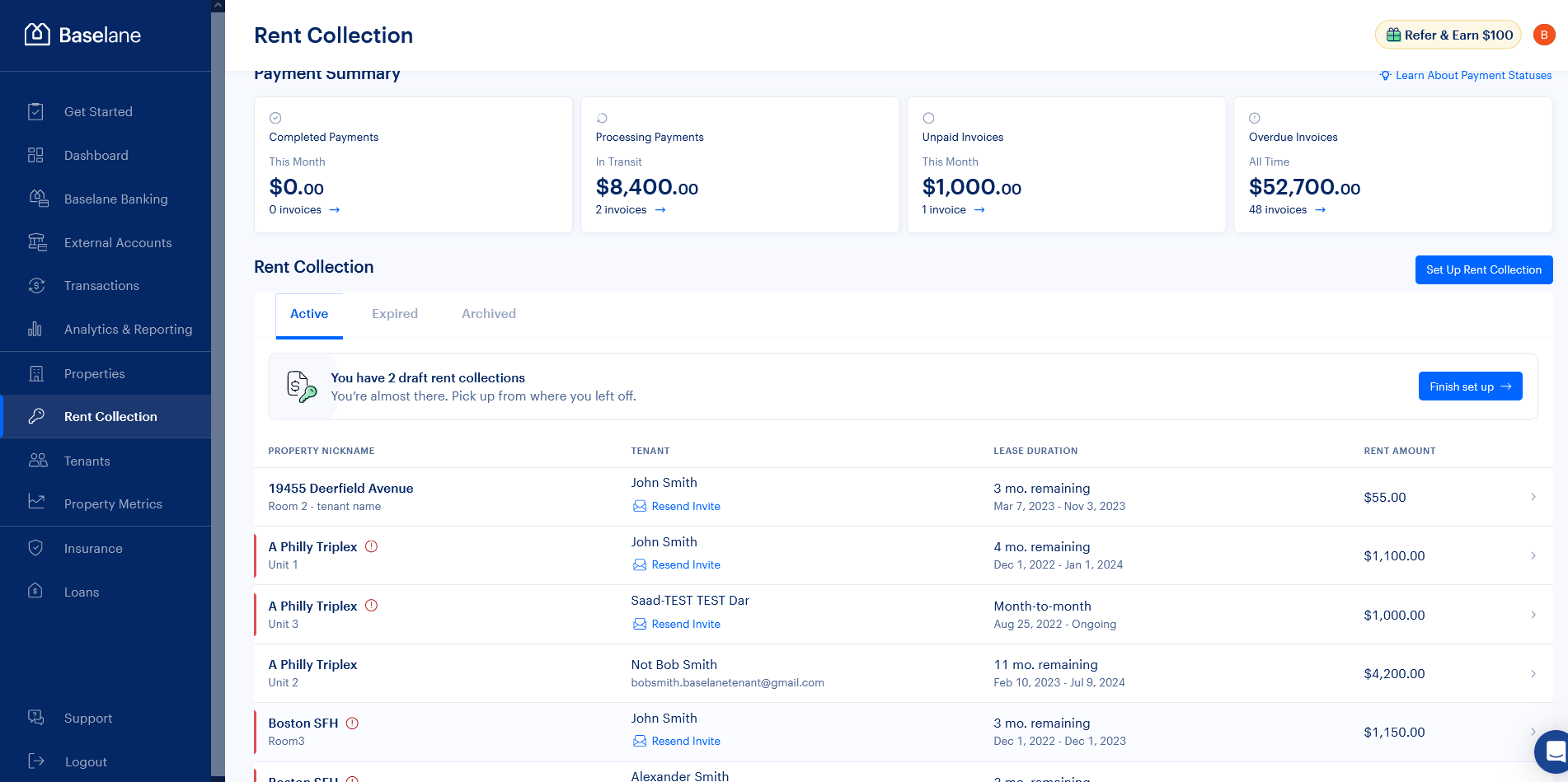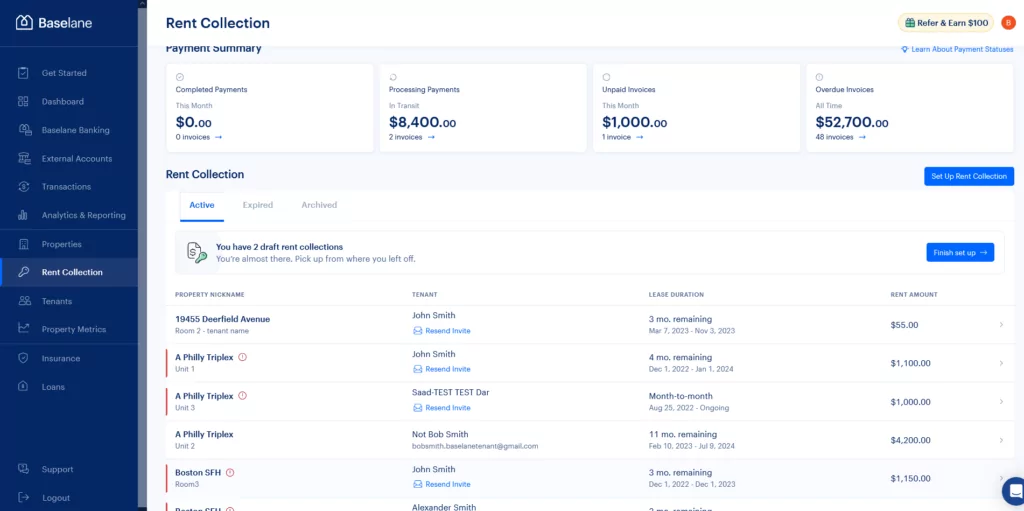 Imagine not having to enter rent details every month manually, but instead, having everything updated automatically, right at your fingertips! Save time, and reduce errors — Book a demo today!