Property management software is a great resource that can reduce the amount of work in your property rental business. That said, there are dozens of different platforms to choose from, all of which promise an unmatched set of features.

For example, AppFolio Property Manager and Rent Manager are two great options that provide slightly different features. But how do you choose the right platform?

Determining the best features is tricky, let alone testing each to ensure it delivers the promised results. To help you, we've compiled an article comparing AppFolio vs. Rent Manager, which contains everything you need to know to choose between the two.

AppFolio Property Manager Overview
AppFolio is a complex property management tool suitable for agencies and property owners with hundreds of units. Besides maintaining open communication, the platform revolves around the actual management process and includes features like online invoicing and landlord and tenant or renter portals.

Overview of AppFolio's Features
As an advanced cloud-based property management software, AppFolio users need to have an extensive portfolio for the platform to be worth it. It caters to managers overseeing 50 or more units, making it suitable for those dealing with substantial property holdings.
Established in 2006, AppFolio has gained recognition within the property management software industry.

Its main functions include communications, analytics, and marketing features, among other basic capabilities designed for property management professionals.
Here are some key features of AppFolio:
Property Management Functionality

: AppFolio offers a range of property management features, allowing users to efficiently handle various tasks associated with property administration, such as rent collection, maintenance requests, and lease agreements.

Analytics for Real Estate Investors

: With AppFolio's analytics, real estate investors gain access to reports that can assist them in making informed decisions. These reports include cash flow statements, CAM reporting, and delinquency records.

AI Leasing Assistant

: AppFolio incorporates an AI leasing assistant capable of handling basic yet essential tasks for property managers. This feature includes scheduling showings and conducting basic tenant screenings for vacant units.

AppFolio focuses more on increasing the productivity of real estate investors with the help of automation and AI.
Pros and Cons of Using AppFolio
AppFolio brings excellent benefits for landlords and property managers alike, but it's also essential to consider its limitations before choosing this platform.

The most significant benefit of AppFolio is its varied feature list, which is the best fit for small and large property managers.
From a customizable interface to the ability to create simple websites for promotional campaigns, you'll likely be able to find whichever features you're looking for in this app.
Here are the other pros of using Appfolio:
Includes a leasing metrics dashboard

Tenant screening feature

Mobile application available

Includes a rent comparison tool

Ability to show your units virtually to anyone

Support channels include chat, phone calls, and emails

New updates keep rolling out based on customer feedback
In addition to its hefty price tag, it's important to note that landlords with fewer than 50 units may find AppFolio too complex.

The power of this platform shines through when you scale your business, so smaller property managers may feel like it needs more work.

Moreover, the platform only offers basic integrations, so you may need help connecting it to the rest of your marketing stack.
Here are some cons you should look out for:
Expensive plans

Basic integrations are limited

No custom reporting available

Not suitable for landlords with less than 50 units

Steep learning curve for new users due to overwhelming features

Variable onboarding fee

The software's focus on security is low; raises concerns about user data protection
The process of switching from previous software is not always smooth
Pricing and Plans Available for AppFolio
As of thigh writing, AppFolio has two pricing ranges geared toward property owners with multiple units. For instance, you'll need a minimum order of teams to sign up for the most basic plan, which is roughly $280.

The second-tier plan starts at $1500 and has a minimum of 500 units.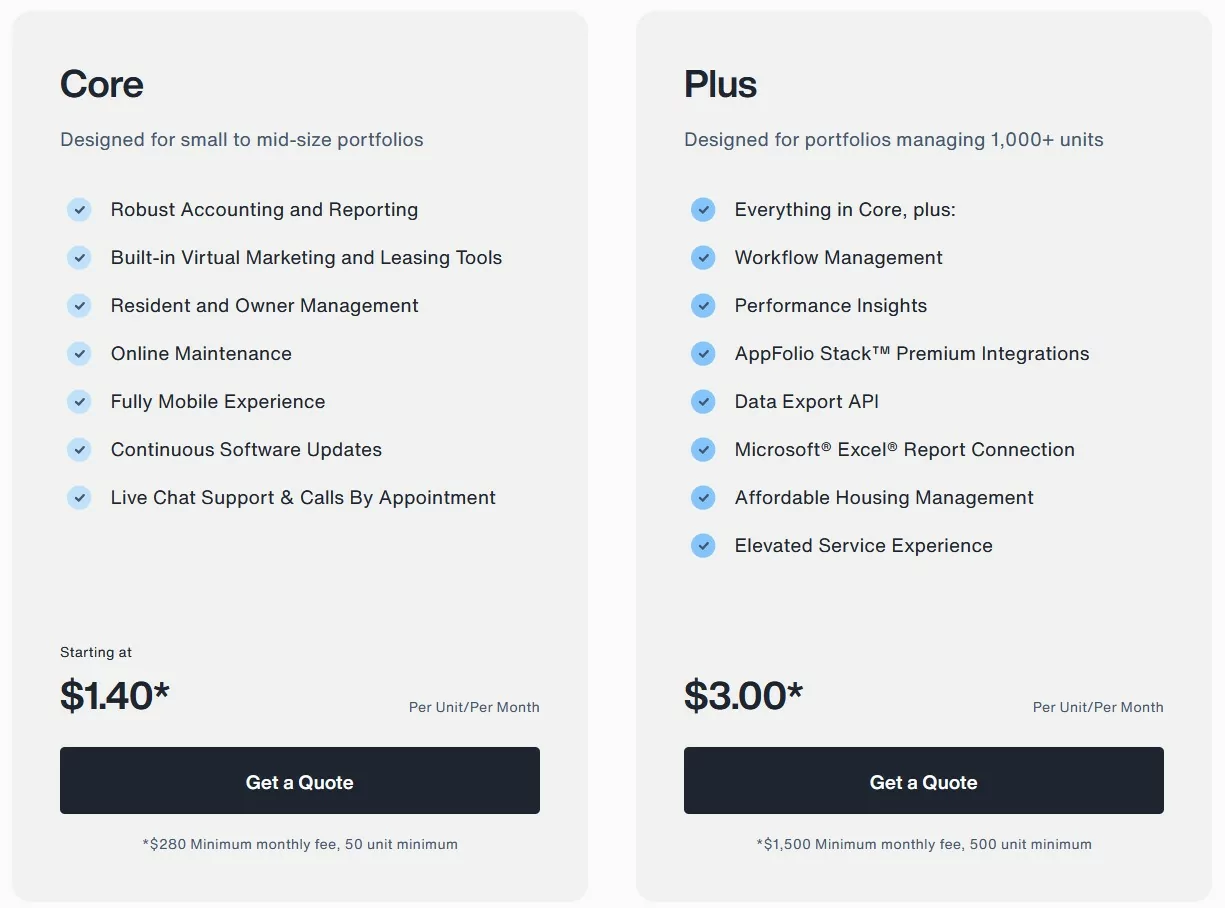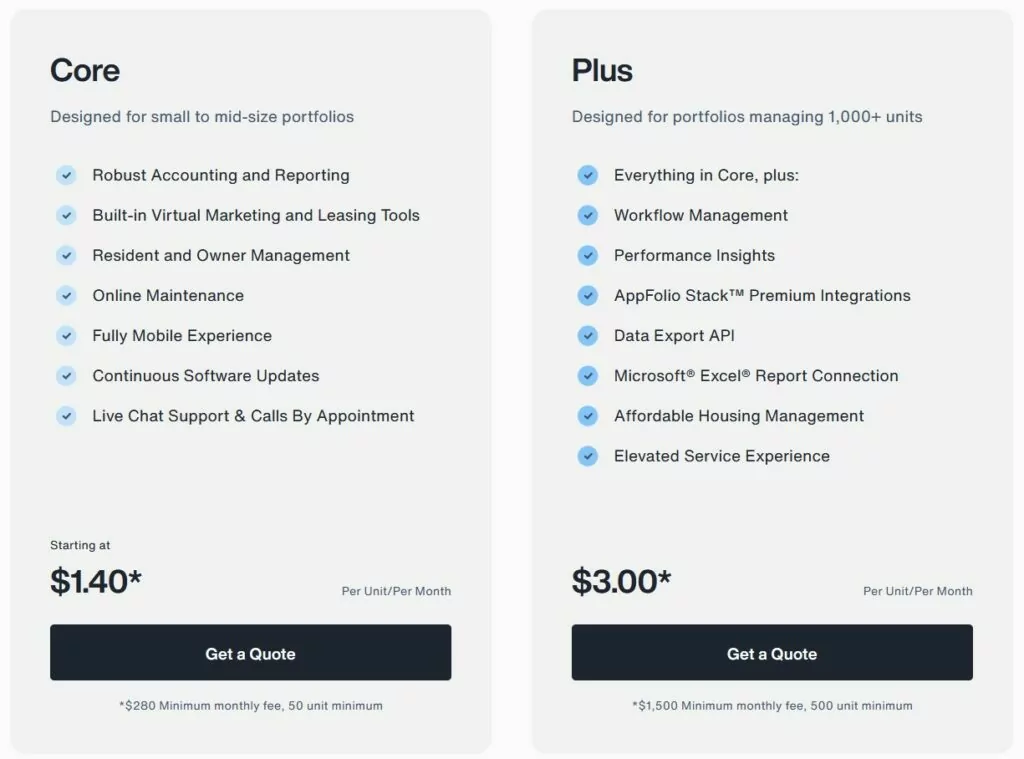 Another solution for owners and managers of multiple real estate properties, Rent Manager, is known for its comprehensive features and extensive integrations. But how does this platform stack up against AppFolio Property Manager's features?

Let's find out.
Overview of Rent Manager's features
Rent Manager was developed to streamline repetitive processes and help landlords scale their rental businesses.

Unsurprisingly, the platform offers features like online rent collection, work order processing, marketing tools, and unlimited live support.
Here are some notable features of Rent Manager:
Property Accounting

: Rent Manager offers robust property accounting functionality, enabling users to manage the financial aspects of their properties efficiently. It includes tax tools, utility billing, expense tracking, and financial reporting.

Tenant and Lease Management:

With Rent Manager, users can easily manage tenant information, lease agreements, and rent payments. It provides tools for lease generation, tracking lease terms, and managing tenant communication.
Marketing and Vacancy Management: With Rent Manager, users can market vacant units and manage the entire vacancy cycle. It includes ILS advertising, renter's insurance, and automated communication to streamline the renting process.
Pros and cons of using Rent Manager
Let's go over the pros and cons of using Rent Manager.

Rent Manager provides basic features like tenant screening, tenant portals, online reporting, and advanced capabilities like intuitive marketing tools and integrations with several home service providers such as Universal Utilities, Multifamily Utility Company, and more.

Depending on your plan, you can enjoy advantages like a customizable API, video home inspections, and the ability to leverage a rent manager call center to handle contacts.
Here is a list of pros for Rent Manager:
450+ built-in reports available

In-depth financial reports

Clean interface

Good customer support (Hold time is a bit long)

User-based pricing

Integrations available for different property management technologies

Customizable reports
Rent Manager and AppFolio share one disadvantage: beginner landlords or managers can not use them with a small portfolio.

Not only that but there is no free version nor free trial, so you can only watch a demo before deciding if it's the right tool.
Here are some cons of Rent Manager:
Prone to crashing sometimes

Too simplistic for complex property management​

Interface not as nice as competitors

Slow loading speeds

More geared towards residential rentals (Many features do not apply to commercial rental management)

Onboarding is difficult

Hidden fees for every additional feature

Not suitable for landlords owning less than 200 properties
Pricing and Plans Available for Rent Manager
Rent Manager has earned a reputation for its competitive pricing. Like AppFolio, there's a minimum property requirement to start an account. Landlords can pay as little as $1 per month per unit on this platform, but note that they need at least 200 properties to get started.

Price Comparison — AppFolio vs. Rent Manager
Core/Basic
AppFolio
Rent Manager
Price per Unit per Month
$1.40*
$1.00
Minimum Monthly Fee
$280
$200
Minimum Unit
50
200
Live Support
Data Export API
Mobile App Available
Plus
Price per Unit per Month
$3.00*
$1.50
Minimum Monthly Fee
$1,500
$300
Minimum Unit
500
300
Live Support
Data Export API
Mobile App Available
Premium
Price per Unit per Month
N/A
$2.25
Minimum Monthly Fee
N/A
$450
Minimum Unit
N/A
450
Live Support
N/A
Data Export API
N/A
Mobile App Available
N/A
* For AppFolio, the price per unit per month may vary depending on the number of units managed
Baselane vs. Rent Manager and AppFolio
When comparing AppFolio Property Manager vs. Rent Manager, it's easy to remember the other options.

But the truth is that dozens of tools help you accept payments, conduct tenant screening, perform credit checks, and manage communications with community associations. So for owner-operators and smaller landlords, and real estate investors, what's a good fit?

Baselane is a great example, as this innovative and FREE tool provides the necessary financial management and property management features like banking built for landlords, account reporting, comprehensive accounting, lease creation and e-sign, and free online rent collection. The best part is that Baselane is built for landlords, real estate investors, and smaller property managers.

So, if there's a specific ability you've been looking for, there's a strong chance Baselane features this or that it at least integrates into a tool that extends its functionality.

If you want to compare all powerful alternatives before choosing, check out Baselane's other features.

Banking and financial:
Zero account minimums and zero fees

Access to an unlimited number of bank accounts

Tenant rent income is automatically labeled as soon as they pay

Rent and collections:
Suitable for landlords and property management companies

Portan for owners and renters

Online rent payments and automatic invoice generation

Reports and accounting features:
It can be easily integrated into different tools such as Quickbooks

Allows every property manager and the landlord to upload invoices directly

Powerful property management software with full cash flow and tax reporting features

Other:
An easy-to-use interface and short learning curve

Loan quotes were generated in 60 seconds, one of the fastest in the market

Property managers and landlords can purchase insurance directly through the platform

Pricing:
Looking beyond available tools is an excellent strategy for property managers and landlords that want to reduce the amount of work related to their rental properties.

While AppFolio and Rent Manager are solid platforms for larger property managers, you should analyze all options, identify the most suitable capabilities, and make the best decision based on your unique requirements.

Baselane is another outstanding lease and tenant management with no cost unless you want to upgrade your features.

Do you need help identifying the best property management software for your case? Contact us today, and we'll be glad to help.