Regardless of your real estate portfolio size, having a comprehensive and organized rental property expenses spreadsheet is non-negotiable. This step-by-step guide outlines how to create a spreadsheet for rental property expenses (maintenance, utility bills, etc.), why real estate investors use spreadsheets, and reasons to upgrade to property management software.
Reasons Why Real Estate Investors Use Rental Expense Spreadsheets
Expense Tracking:

Spreadsheets help track and organize rental property expenses (e.g., rent prices, property maintenance, monthly mortgage payments).

Financial Analysis:

Spreadsheets help analyze the financial performance of rental properties.

Budgeting and Planning:

Spreadsheets make it easier to plan budgets and forecast cash-on-cash returns for rental property investing.

Property Comparison:

Spreadsheets can compare and evaluate investment opportunities for real estate investors and property management companies.

Record Keeping:

Spreadsheets provide a comprehensive record of profit and loss statements for real estate investments.
How to Create and Use a Rental Property Expenses Spreadsheet?
Follow the simple instructions outlined below to create and use a real estate expense spreadsheet to help keep your rental property finances in check.
We've also created a basic rental property expense worksheet template as a source of inspiration to get started with tracking expenses.
1. Use Spreadsheet Software
Open a spreadsheet program like Microsoft Excel or Google Sheets to create a rental property expenses spreadsheet.
2. Create a Property Information Section


Set up a section at the top of your spreadsheet to input rental property information, including:
Property Address

Lease Agreement Details

Type of Property (Residential or Commercial Property)

Tenant's Name and Contact Details (Optional)
Write all the relevant information to easily identify and reference the investment property.
3. Set Up Rental Income Section
Create a section below the property information to track rental income with columns for:
Rents

Fees and Other Revenue

Vacancy
This section helps track rent payments, monitor cash flow, and identify any outstanding or late monthly rent payments.
Once you enter the income amounts, use the "=SUM()" function to calculate the totals automatically. Type "=SUM" and select the range of cells containing the income amounts in brackets. For example, if your income is listed in column D (starting from row 2 to row 10), you would enter "=SUM(D2:D10)".
(It's already done for you in Baselane's spreadsheet.)

4. Add Monthly Expenses Section
Create a section to record monthly expenses with columns for the rental property.
Common monthly expense categories include:
Cleaning and Maintenance Costs

Utilities

Repairs

Taxes

Depreciation Expenses or Depletion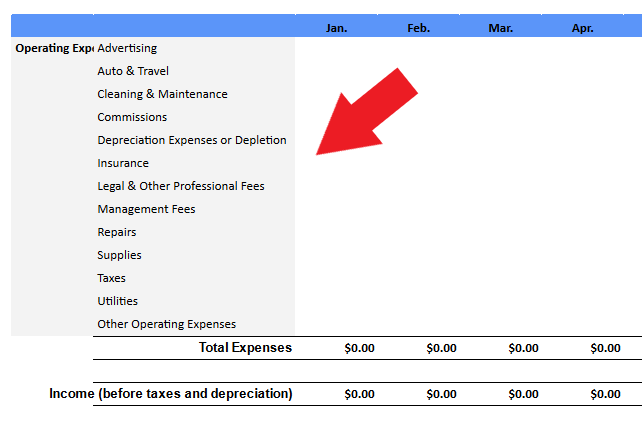 This section helps keep track of a wide variety of regular rental property management expenses.
5. Regularly Update and Review
Update the property management spreadsheet with new rental property income and expenses as they occur. Set a schedule to review and analyze the spreadsheet on a monthly basis.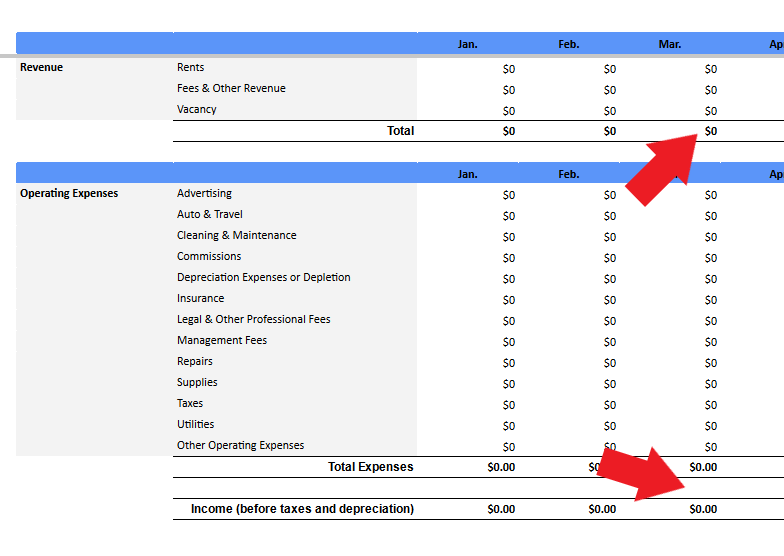 Property owners, landlords, and real estate investors who regularly monitor rental property finances can identify trends and make informed decisions for real estate investing.
The Downsides of Using a Spreadsheet for Rental Property Expenses
Time-Consuming:

Manual data entry can take a lot of time and resources, especially with multiple real estate properties and transactions.

Entry Errors:

Missing or incorrect expense sources can lead to inaccurate financial records and costly mistakes.

Missing Automations:

Spreadsheets can't automatically import transactions or generate

reports like specialized

property management software.
Scaling Limitations:

Managing rental income and expenses in a spreadsheet document can become increasingly complex as a portfolio grows.

No Financial Analysis:

Spreadsheets lack integrated financial analysis features like cash flow analysis or cash-on-cash return and ROI calculations.

Security Concerns:

Spreadsheets stored on a computer or in the cloud can be vulnerable to data loss or breaches, unlike specialized software for rental property management.
7 Reasons to Upgrade to Accounting Software from a Spreadsheet
Using a property management software tool with automated accounting features like Baselane can help streamline rental finances, landlord banking, and rental property bookkeeping all in one place.
Automation: Landlord accounting software

like Baselane can automatically import bank transactions, saving you 20+ hours monthly. It can also generate financial reports with a single click to make tax time easier.

Accuracy:

With automated transaction importing and built-in error checking, Baselane reduces the risk of human error that comes with manual data entry in expense worksheet templates and spreadsheets.

Scalability:

Baselane is designed to handle multiple rental properties and transactions that scale with your portfolio. Baselane can also manage security deposits in a

free Baselane banking account.
Analysis:

Baselane offers financial statements for Net Operating Income, Net Cash Flow, and more to help rental property investors make informed decisions and track return on investment.

Security:

Baselane uses robust security measures to protect data, offering a safer alternative for storing sensitive information than rental property spreadsheets on a computer or the cloud.

Integration:

Baselane lets rental property owners easily connect existing bank accounts for real-time tracking of rental property income and expenses. This eliminates manual data entry and ensures financial records are always up-to-date.

Filtering:

Whether you're looking for a specific transaction or want to view expenses for a particular property, Baselane makes it easy to quickly search and filter financial data.
For tips on a smooth transition from spreadsheets to landlord software, check out our blog post here.
Spreadsheets come with their own challenges, including the risk of errors, lack of automation, and limited accessibility. Upgrading to property management software like Baselane can save time and money with automated accounting, accurate bookkeeping, and scalable expense tracking for unlimited rental properties.