With average home prices declining and rental occupancy rates holding steady at 92.5%, Texas real estate investing doesn't show any sign of slowing. However, rental properties in Texas have a higher risk of damage from natural disasters such as hurricanes and floods.
This article covers Texas landlord insurance policies, types of coverage, and potential risks to consider for managing rental properties in the Lone Star State.
Key Takeaways and Pro Tips
While Landlord Insurance isn't mandatory, it is often required by lenders and highly recommended.

In my experience as a Landlord, it's best to get a landlord policy with a $5K deductible, but most importantly, make sure to have the right coverage based on local conditions (e.g., snow, wind, flooding).

Price: Landlord insurance in Illinois can vary depending on the property type, size, condition, location, and much more. Don't just focus on price. Find an insurer with the best coverage and reputation.

I also recommend you speak to a knowledgeable insurance broker when selecting your coverage. We've hand-selected Obie as our ONLY national insurance partner because I personally use them and think they are the best fit for landlords. Click here to learn more

.
Is Landlord Insurance in Texas Mandatory?
Texas doesn't require landlord insurance by law. However, it is highly recommended due to severe weather and natural disasters, such as hurricanes and wildfires. Most banks also require certain coverage for landlord insurance to get approved for a rental property loan in Texas. A standard landlord insurance policy provides coverage for property damage and liability protection, providing a safety net against unexpected events.
Types of Landlord Insurance Coverage in Texas
There are three main types of landlord insurance coverage for investment property protection in Texas. Coverage options will vary for each type of policy (called a "rental dwelling policy").
DP1 – Dwelling Fire Coverage (Basic)
What it Covers:

Protection against nine named perils, including fire and lightning, windstorms, hail storms, riots, smoke, aircrafts, vehicles, and a volcanic eruption.

Claims:

Based on the actual cash value of the damages incurred.

Best for:

Landlords seeking basic, affordable coverage for named perils only.
DP2 – Replacement Cost Coverage (Standard)
What it Covers:

Extended coverage for 18 named perils, with a broader scope than DP-1.

Claims:

Reimbursement is based on replacement cost, not just current cash value.

Best for:

Landlords seeking more than standard coverages and better payout options.
DP3 – Open Peril Coverage (Premium)
What it Covers:

Comprehensive protection covering all perils except those explicitly excluded from the policy contract.

Claims:

DP-3 policy claims typically offer a replacement cost and include loss of rent and liability insurance coverage.

Best for:

Landlords managing non owner-occupied homes (multi-family or single-family homes) used for residential rental properties.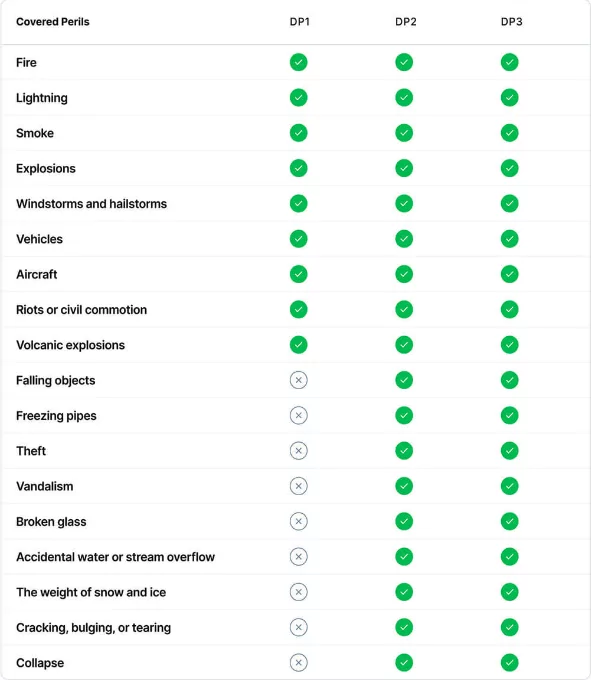 Important Texas Rental Property Insurance Considerations for Landlords
Knowing the special considerations and potential risks of owning local real estate will help you choose the best Texas insurance landlord coverages for your rental properties.
Some places in Texas have ground that moves or holes that suddenly appear, causing significant property damage. Sinkhole insurance covers your home, unattached structures (like a shed), and personal property for damage caused by sinkholes. This coverage isn't usually included in a standard landlord policy, so you have to request it.
Theft and Vandalism Coverage
Long-term and short-term rental properties in densely populated areas carry more risk for theft and vandalism. Personal property loss is usually covered by landlord home insurance, even when it happens during a break-in or vandalism. However, landlord insurance only covers vandalism if it's added as additional coverage.
Lenders may require flood insurance if your rental property is in a FEMA flood zone. Flood insurance claims can cover up to $250,000 for home damage, including appliances and systems, and $100,000 for personal belongings. But it doesn't cover things like mold not directly caused by floods, earth movements caused by floods, and items outside the insured building.
In hurricane-prone states like Texas, water damage and wind damage can make rental units or entire properties uninhabitable. Loss of rent insurance will replace rent money that isn't coming in during repairs. Policy limits are usually capped at 20% of the dwelling coverage. For example, $500,000 in rental property insurance coverage means you could claim up to $100,000 for rental income losses.
In addition to rental property insurance Texas coverages, an umbrella insurance policy provides additional landlord liability insurance when your primary policy reaches its limit. It also offers extra liability coverage for legal expenses for certain property damages and injuries.
How Much Does Texas Landlord Insurance Cost?
On average, Texas landlord insurance rates are around $204 per month ($2,444 annually). However, the average cost of landlord insurance depends on multiple factors.
Older homes tend to have higher insurance costs because of wear and tear. Insurance carriers will base coverage on the condition of water pipes when the roof was last replaced and if the wires are copper or aluminum.
The type of property (1-4 units, 5+ units, condo, building) and where it is located (proximity to coasts, hurricanes, earthquakes, etc.) impact the cost for landlord insurance.
Most landlord insurance companies take credit scores into consideration when calculating the costs of insurance for investment property coverage.
It comes as no surprise that additional coverages cost more than a basic landlord policy. The more coverage you add (e.g., hail damage, flood insurance), the more you will pay for Texas landlord insurance.
Deductibles are the amount you pay before insurance companies issue a payout on a claim. Lower deductibles can increase insurance rates (and vice versa).
Deductibles are the amount you pay before insurance companies issue a payout on a claim. Lower deductibles can increase insurance rates (and vice versa).
Tips to Reduce Texas Landlord Insurance Premiums
Insurance premiums depend on a rental property's condition, location, claims history, and other variables. However, there are ways to get lower premiums on insurance for landlords in Texas.
1. Increase Your Deductible
There are three deductible options: $2,500, $5,000, and $10,000. Most landlords tend to select a $5,000 deductible, but you might save $50-150 (rough estimate) by raising your deductible to $10,000. In our opinion, saving that much is not worth the extra risk.
2. Bundle Insurance Policies
Most insurance agents offer discounts when bundling multiple policies. Consider Texas rental property insurance providers that also offer homeowners insurance and auto insurance.
3. Improve Property Safety
Lower your chances of filing a claim for property damage by installing safety features, such as smoke detectors and fire extinguishers. Security systems can also reduce the risk of break-ins and theft.
Credit scores are one of several factors insurance representatives use to determine premiums. You can lower your rates by maintaining a credit score above 650.
5. Compare Insurance Rates
Compare rates and coverage options from multiple insurance companies to get the best landlord insurance in Texas. Some providers may have discounts or coverage options with lower premiums.
6. Require Renters Insurance Policies
Another way to a landlord insurance discount on premiums as a property owner is to require renters insurance. While renters insurance isn't required by law in Texas, it's a proactive step to safeguard your property.
Windstorm inspections can reduce premiums by making your rental property more resilient to wind-related damage. Separate wind and hail inspections are available from the Texas Windstorm Insurance Association (TWIA) for high-risk properties.
Find Affordable Landlord Insurance in Texas with Baselane
Regularly reviewing and updating landlord insurance policies will ensure you have the right coverage (and price) for your Texas rental properties.
Baselane landlord insurance offers industry-best rates for comprehensive rental property coverage. Get an instant insurance quote that can save up to 25% on your existing policy, with no phone call required.