What apps do landlords use? These are the top 10 tools every landlord should have to streamline rent payments, maintenance requests, property finances, and more.
Landlords are responsible for managing a laundry list of tasks. From accounting and bookkeeping to maintenance and tenant communications, there's a lot on your plate as a property owner. Whether you're a full-time real estate investor or manage properties as a side hustle, these tools can help you stay organized, save time, and keep as much of your hard-earned cash as possible.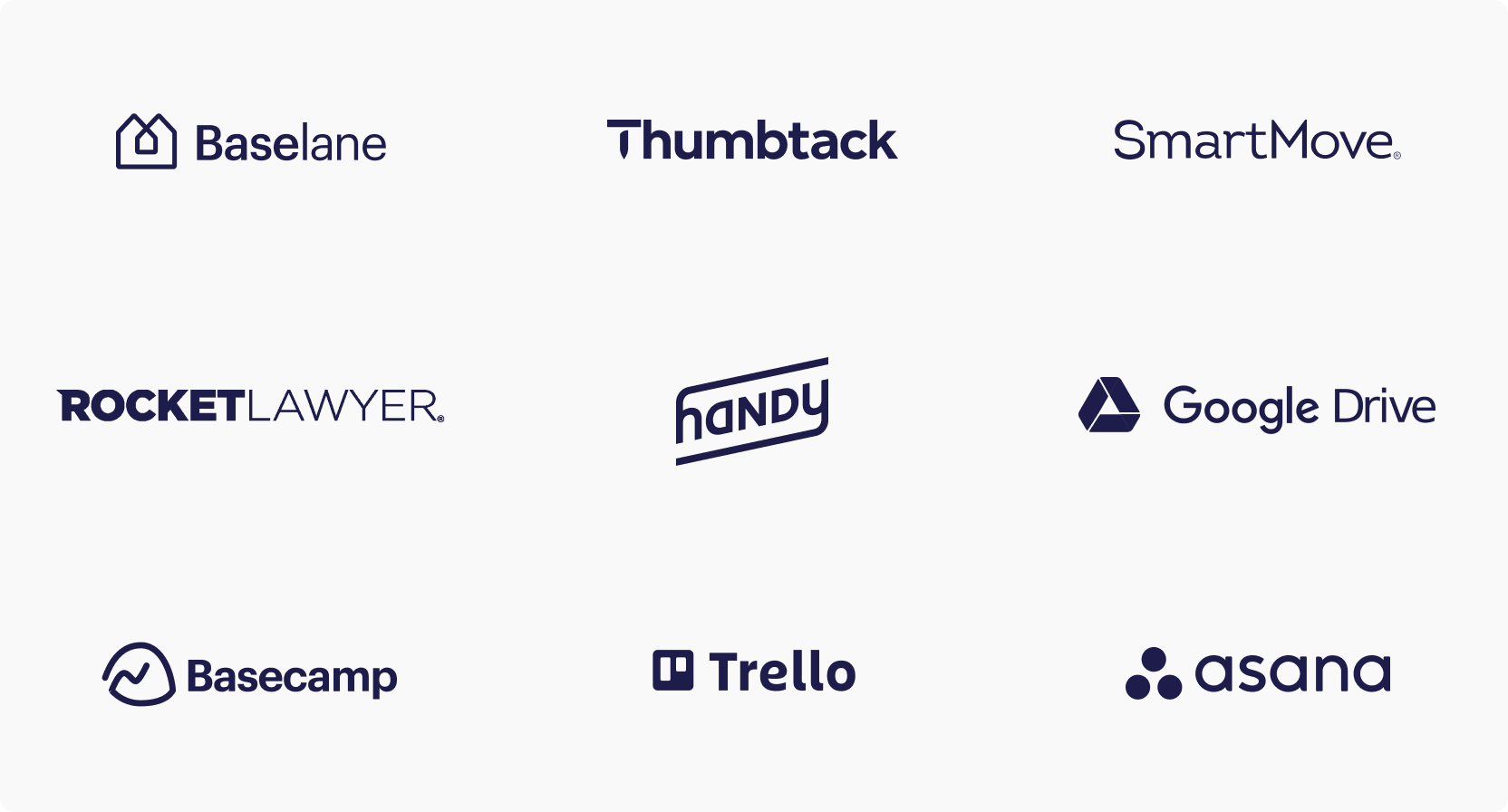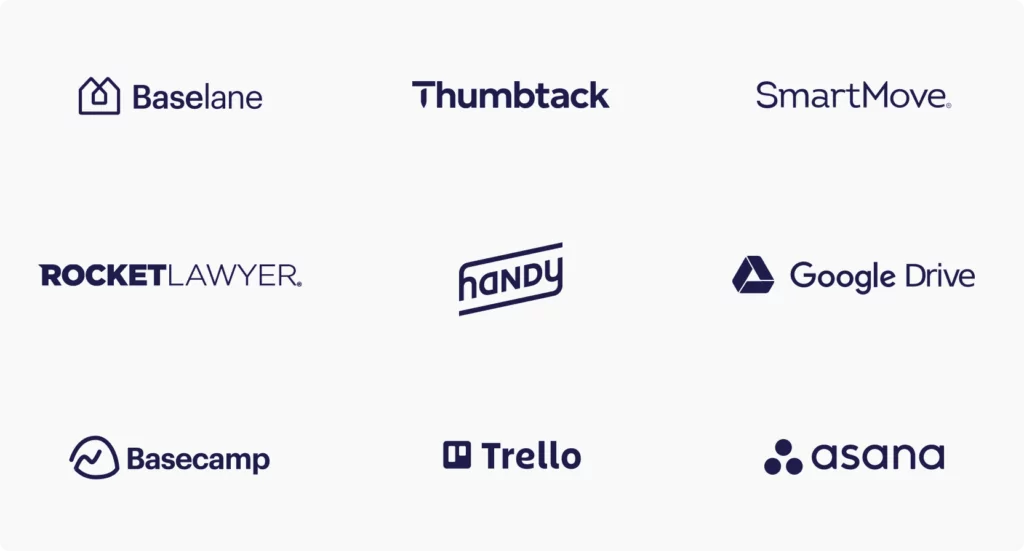 1. Why do landlords need to use tools
Owning long-term rental properties is a great way to earn passive income. However, there is a lot involved in evaluating new properties and renting them out. Even if you hire a property manager, landlord tools can help avoid mistakes in these critical processes.
In addition to choosing tools that make rent collection easier, property management apps help you keep up with property maintenance, screen tenants, process rental applications, and manage the other ins and outs of your property business.
2. Landlord Banking
If you're shopping around for a bank to handle property financial management, look for features that allow you to operate multiple accounts, earn interest, and avoid monthly fees. While some general business bank accounts can do the job, picking a landlord-specific bank offers major advantages.
Baselane banking allows landlords to create separate accounts for each rental property, earn competitive interest rates, and have no recurring fees or minimum balance requirements. Each account also comes with automated transaction tagging to quickly generate your Schedule E at tax time.
Replace your old bank accounts, spreadsheets, and outdated tools with Baselane banking. It's easier to use and built just for landlords & real estate investors.
Landlord banking features:
Organize your accounts to work the way you manage your properties, with flexible operating accounts for each property or unit, dedicated accounts for security deposits, and savings accounts for cash buffers

While earning market-leading APY on all deposits

Manage spending with your Baselane Visa physical and virtual cards

And earn top rewards on every card payment with up to 5% cash back

That's cash you can put back into your properties or to fund your next deal.

Easily pay bills or expenses with free ACH and wire transfers

All with no account fees or minimum balances

And Automate your bookkeeping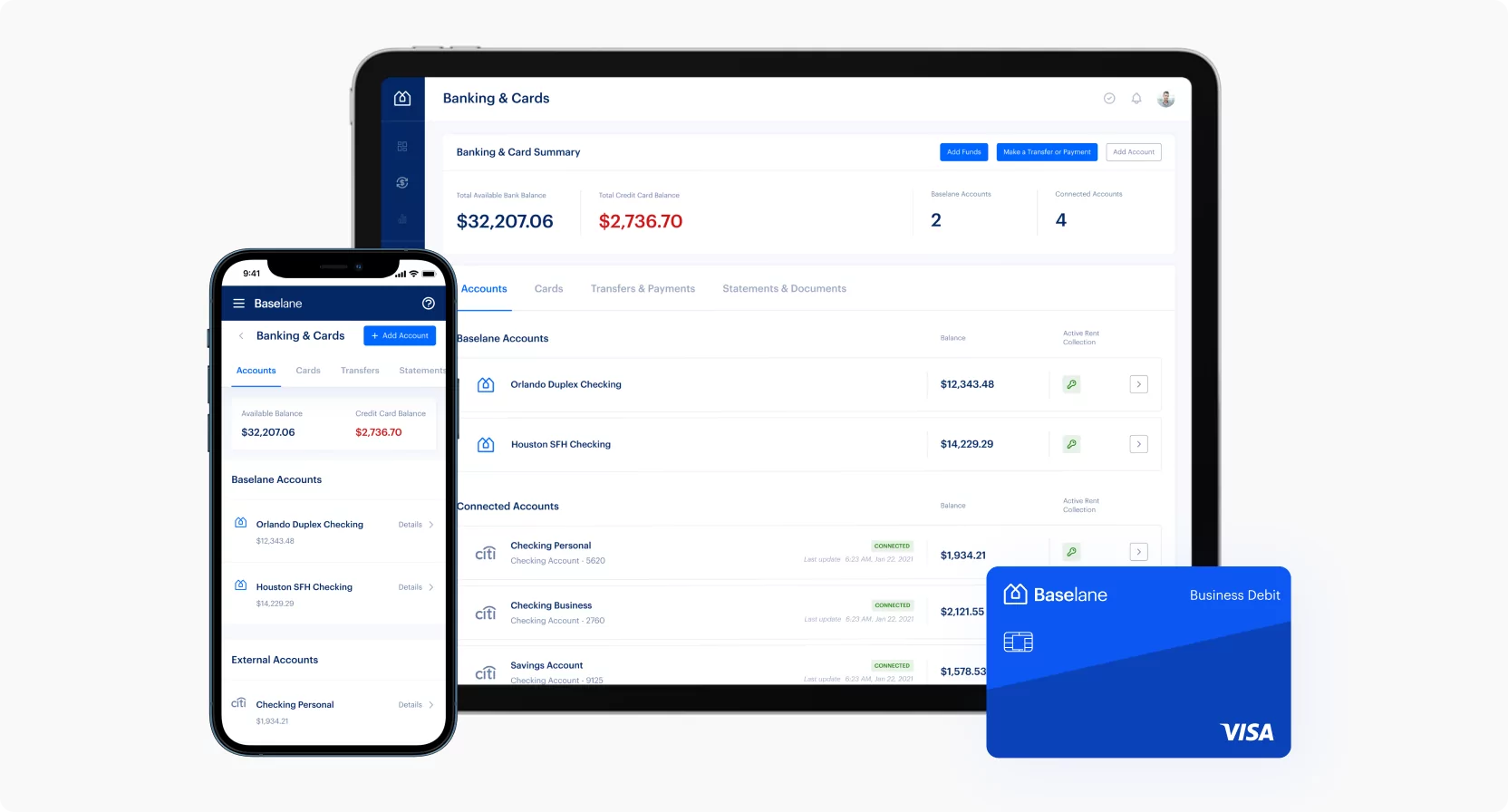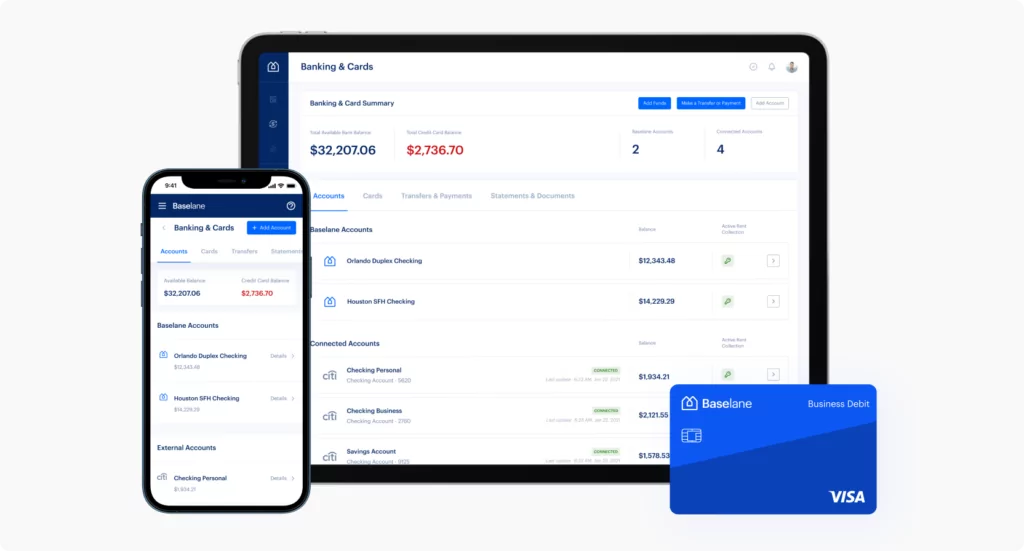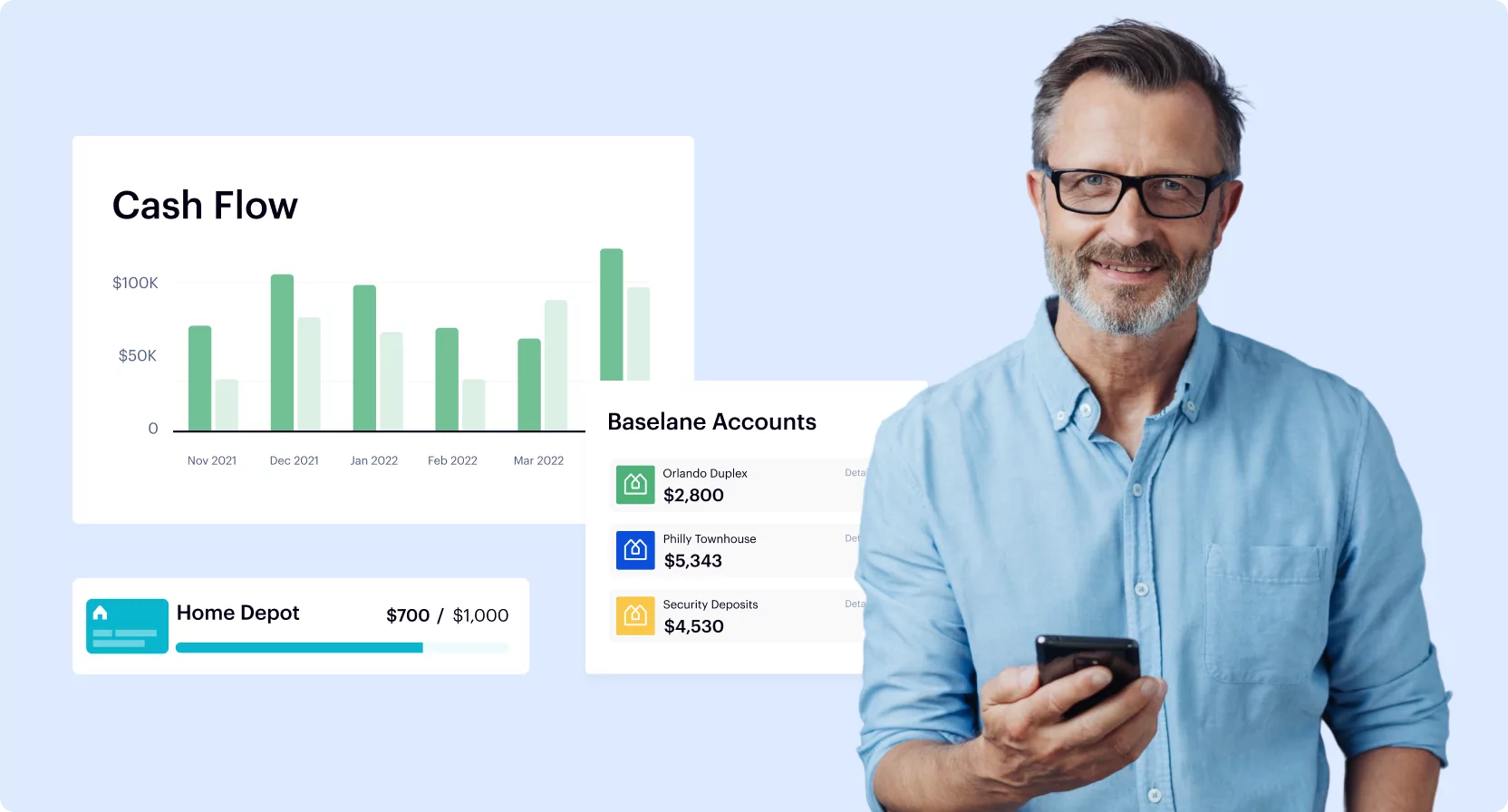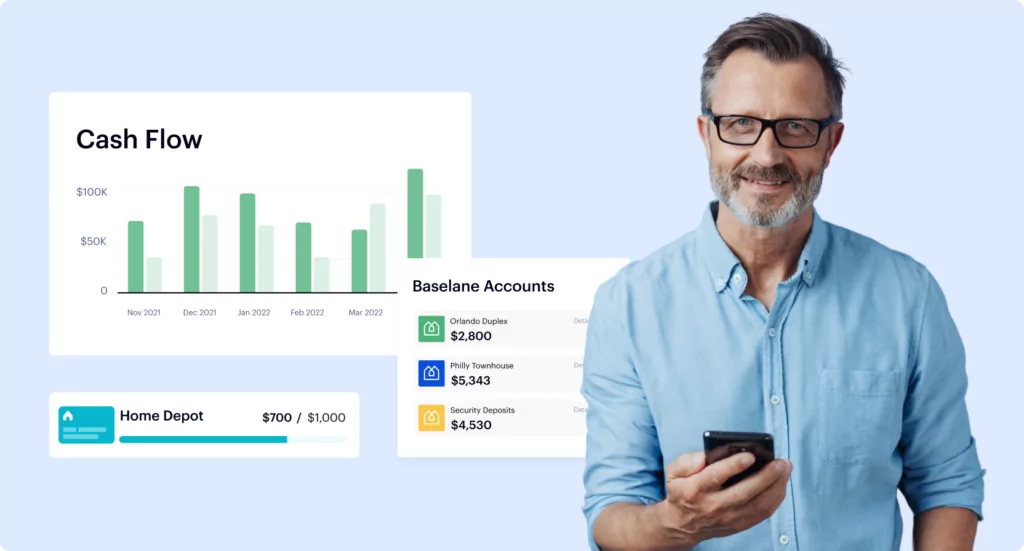 3. Property Analysis
Even a perfectly run property will lose money if you overpay or buy in the wrong location. Rental property analysis tools help calculate potential profits before you make an investment.
Baselane's rental property calculator gives you detailed projections based on the deal parameters you input for the purchase price, monthly rental income, down payment, and property costs. The reports make it easy to evaluate buy-and-hold properties, vacation rentals, rehab projects, multi-family buildings, and other real estate investments.
Baselane property reports include:
Cash flow

ROI

Cap rate

Operating expenses

Cash-on-cash return
If you want to go a step further, DealCheck, lets you import and compare multiple properties. There's a free version to start, but you'll have to pay for advanced features. Paid subscriptions unlock comparable listings, after repair value (ARV) estimates, and other financial data points.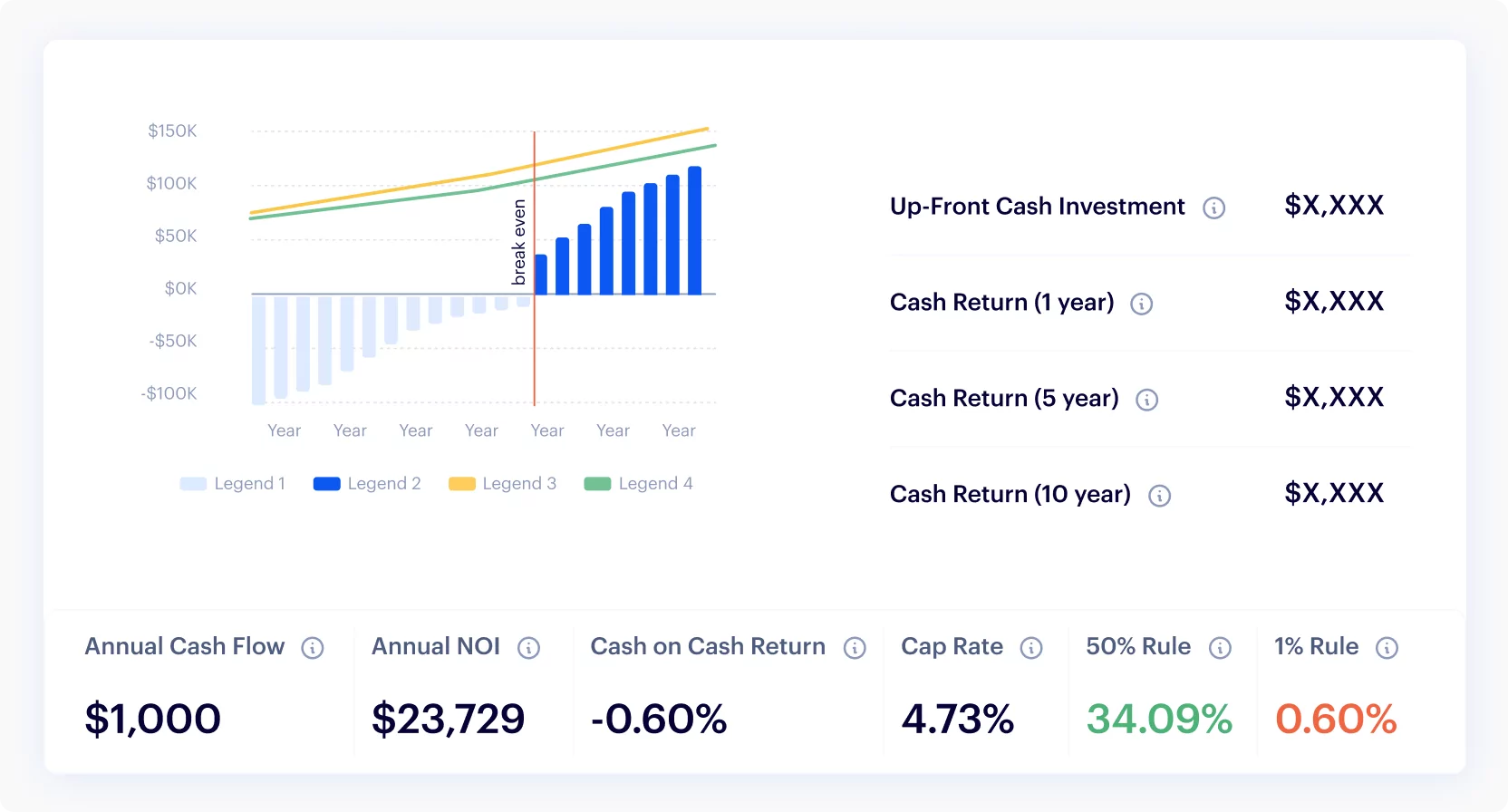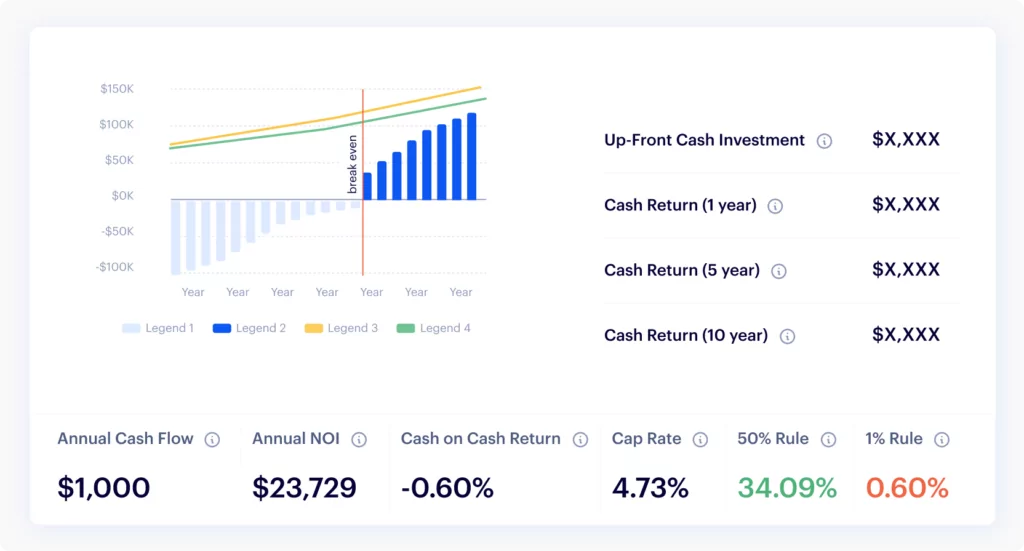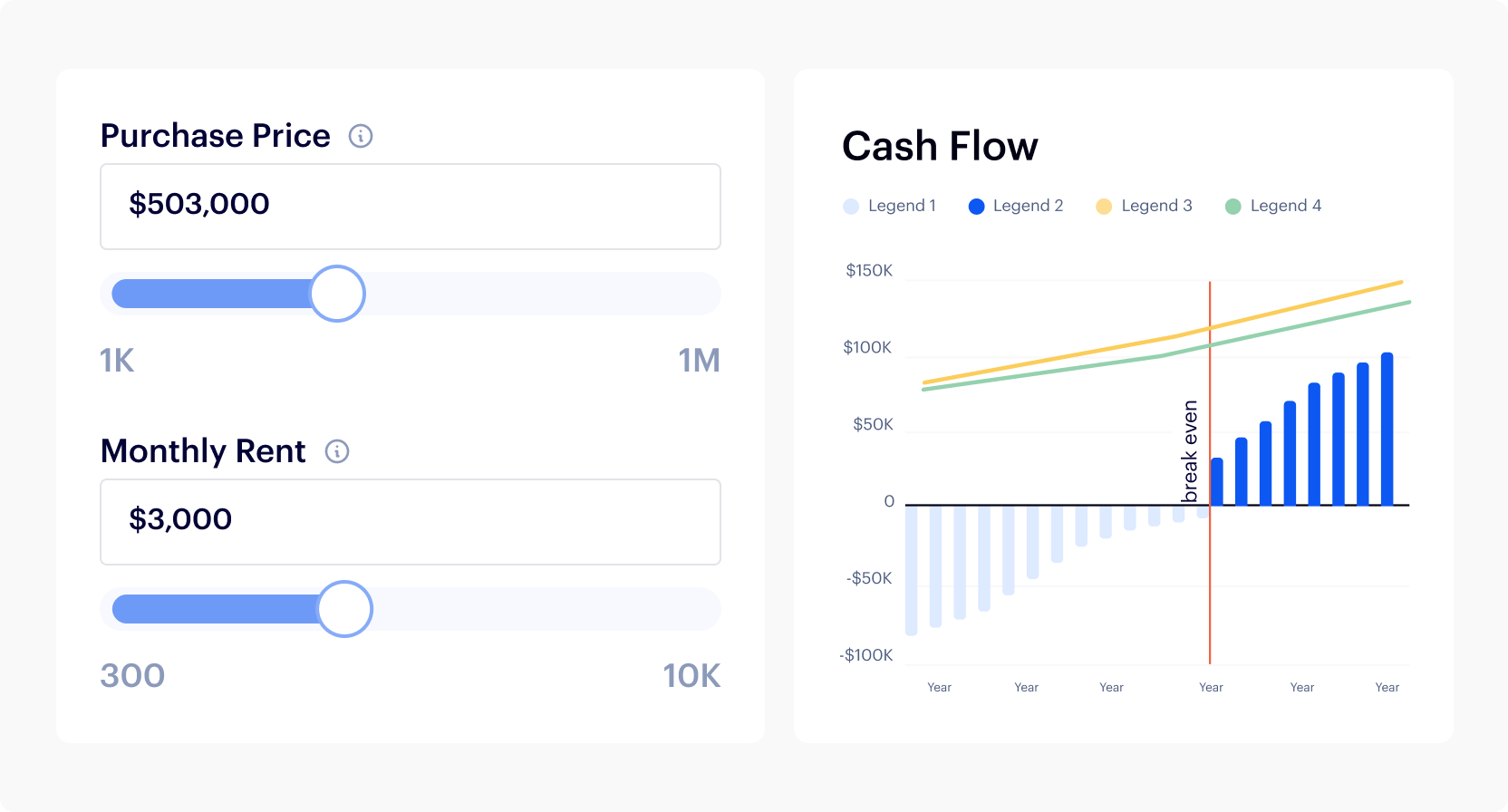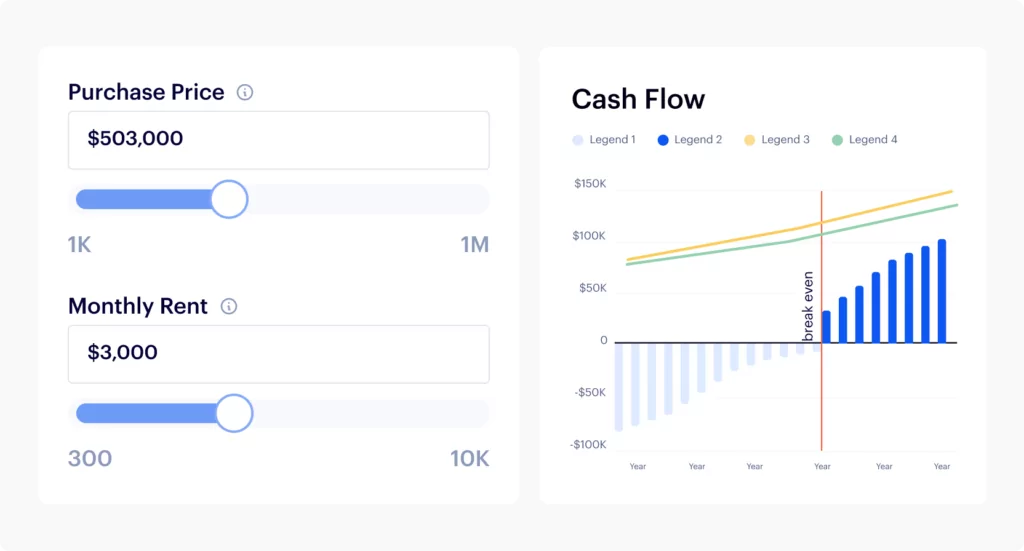 4. Tenant Screening
Tenant screening is a critical part of successful property management. Bringing in potential tenants without doing a background check can lead to unpaid utility costs, unexpected damages, late rent payments, and other headaches.
SmartMove is a screening tool from the major credit bureau TransUnion. Landlords get instant reports with critical information on rental applicants, including:
Credit scores

Criminal activity

Prior evictions

Income insights
A quick screening before signing a rental lease agreement can save you upwards of $3,500 to evict a tenant, while giving you the information needed to hand over the keys confidently.
5. Property Listing and Leasing
Rental listing websites are the best way to maximize exposure for your property. These platforms quickly gain leads from qualified tenants to fill vacant units, which can cost landlords up to $1,750 per month.
Several major websites tap into the Multiple Listing Service (MLS) to offer updated data on nearly all residential properties and commercial properties in the United States. Zillow Rental Manager is a free property listing site that reaches nearly 30 million monthly visitors. Other top options include Realtor.com and RedFin.
Some of these websites also offer digital lease forms for tenants to sign online. Zillow offers free rental agreement templates for nearly every state and a tool that takes you through each step of drafting a lease, so you don't have to guess what's covered.
6. Online Rent Payments
Plenty of rent collection apps offer online payments, but that's about all they can do. It's important to find the right tool that makes it easy to collect and manage monthly rent without the need to chase down tenants for late payments.
Baselane online rent collection lets tenants schedule monthly or automatic rent payments using a debit card, credit card, or ACH bank transfer. The only fee for renters is 2.99% if they pay by card. Bank transfer payments are free.
Baselane rent collection includes:
Multiple payment options

Tenant auto-pay

Automatic late fees

Monthly rent reminders
Funds are automatically deposited into your bank account in as little as two days. Baselane will also send alerts when payments are received or overdue.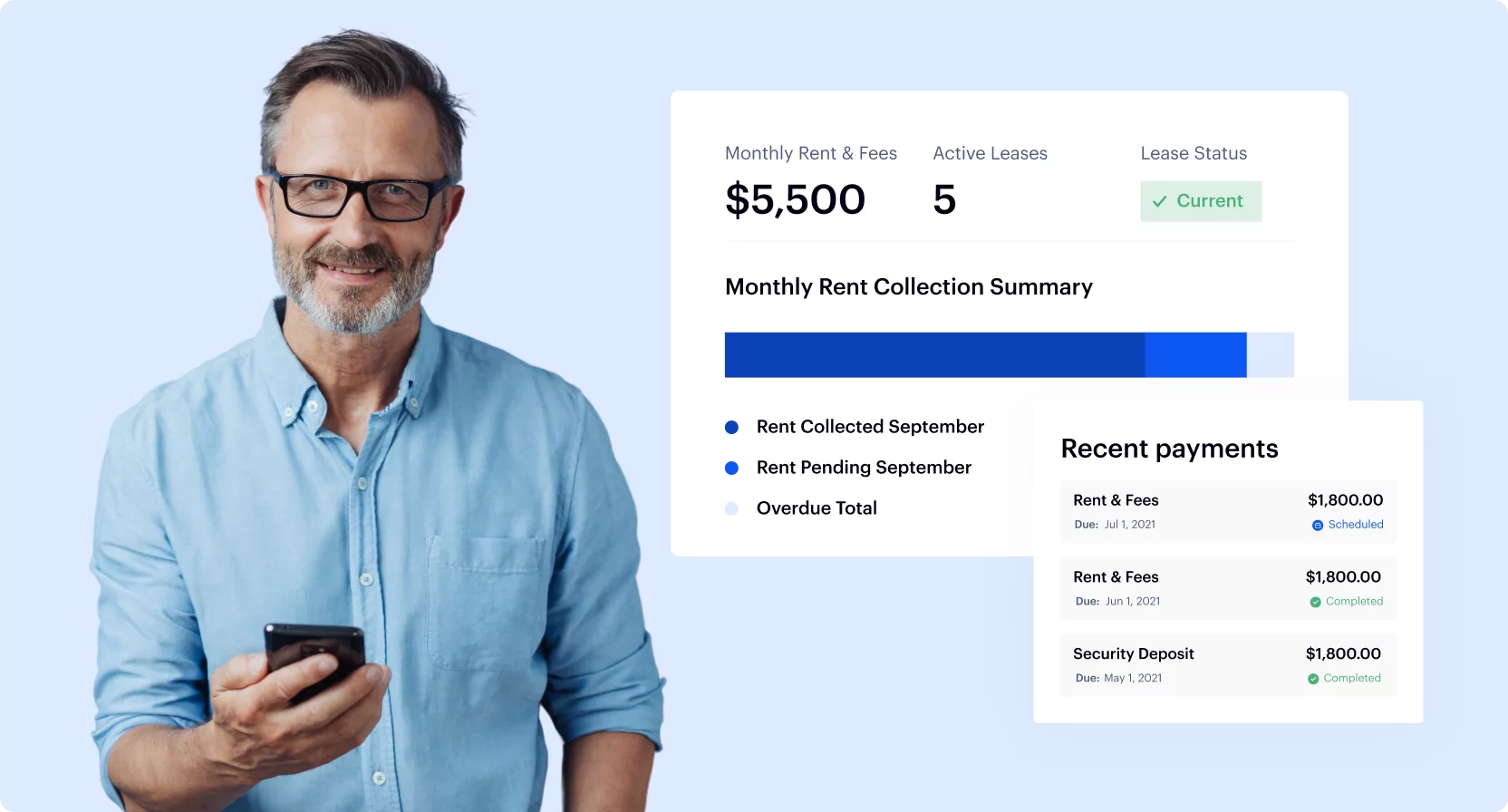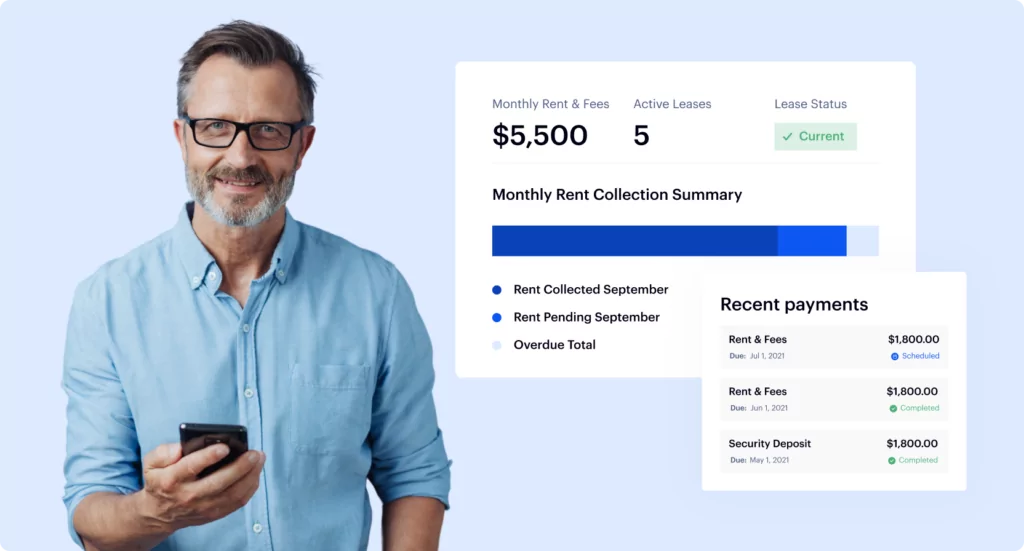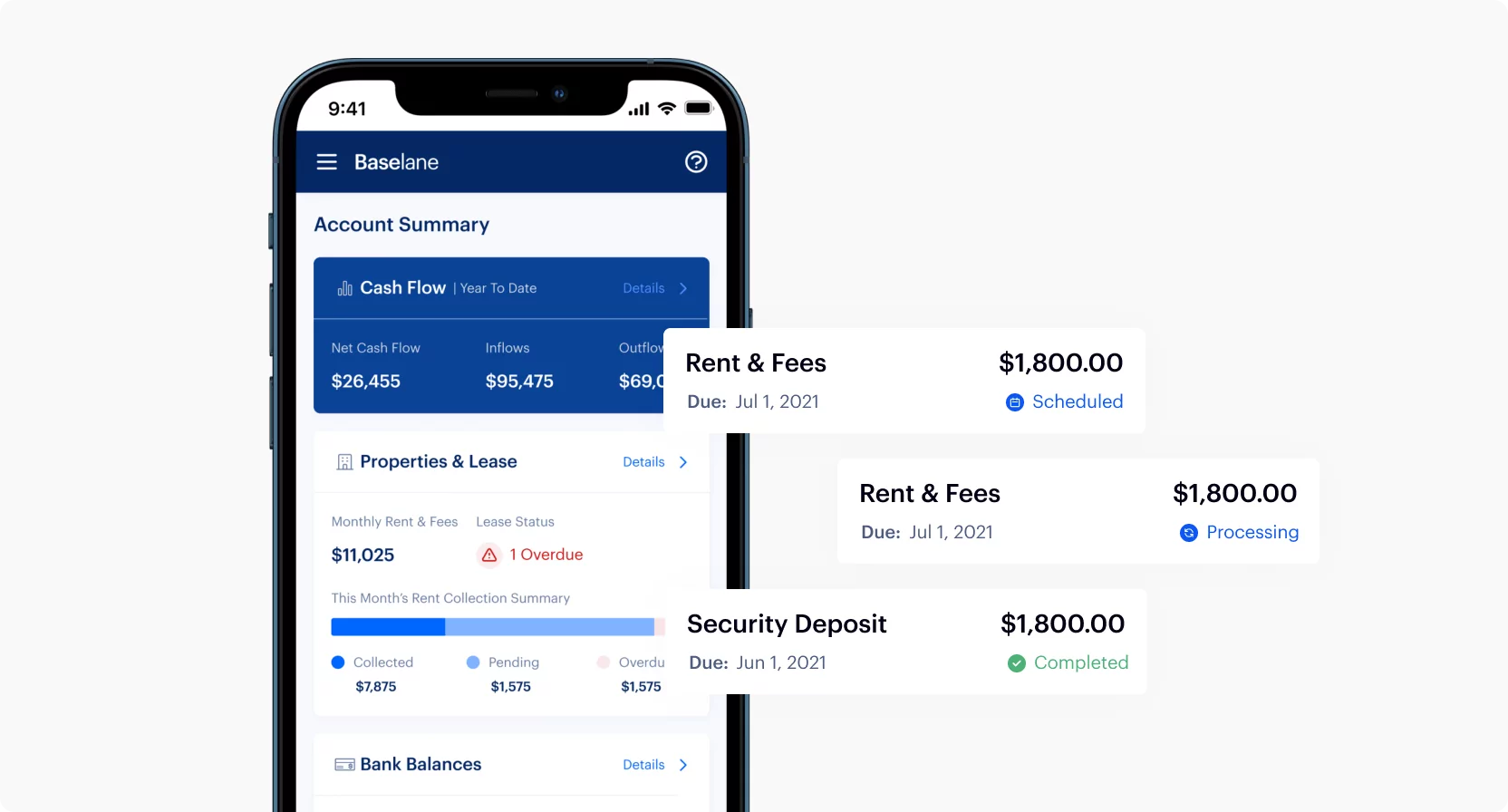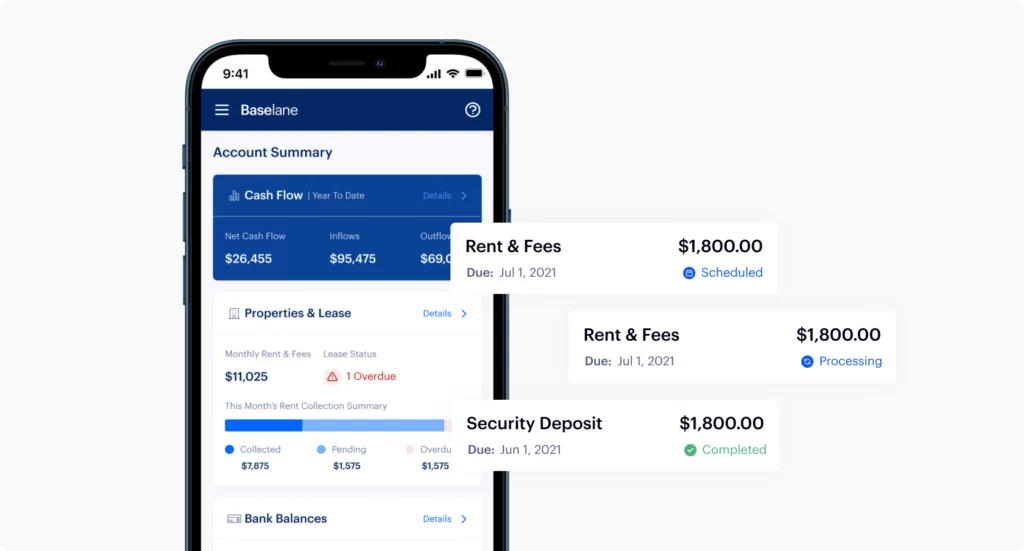 7. Maintenance and Repairs
Maintenance and repairs are an unavoidable part of being a landlord. It's important to have the right tools to respond quickly to maintenance requests, schedule repairs, and manage contractors. Thumbtack is a software platform with vetted contractors to handle everything from property maintenance, appliance and electrical repairs, pest control, and other services.
This tool makes it easy to fix issues before they become a big expense. Landlords can create tickets, assign tasks to contractors, track progress, and even pay invoices online. Thumbtack also automatically logs requests and expenses for taxes and potential legal purposes.
8. Cleaning Services
In a perfect world, tenants would leave rental units in the same condition as when they moved in. It should be cleaned and free of dings, knicks, or scratches beyond "normal wear and tear." But in reality, tenants often leave a mess behind when moving out.
With a service like Handy, you can hire a cleaning crew with the same simplicity as using a rideshare or food delivery app. In just a few taps, you can schedule a move-out clean to perform a quick turnover without scrubbing anything yourself.
Handy cleaning services offer:
Screened professionals

Affordable upfront pricing

Flexible scheduling

User-friendly booking

24/7 customer support
Tenants can also use Handy to reduce the stress involved in moving. This is a great way to avoid paying unexpected bills for clean-ups at the end of a lease term.
9. Legal Services
Whether you're leasing a new property or handling a dispute, online legal services offer an affordable way to safeguard your rights as a landlord. Rocket Lawyer matches landlords with lawyers to get legal advice and services for every part of the rental process.
Rocket Lawyer services include:
Creating and reviewing lease agreements

Handling tenant disputes and evictions

Consultations for local landlord and tenant laws

Advisement on security deposit and late fee requirements
Instead of paying hourly lawyer fees between $150-$400, Rocket Lawyer charges $39.99 per month to access legal services. Even if you only use your membership for a few hours a year, you could save over $1,000.
10. Document Storage
Rental contracts, receipts, move-in and move-out forms, eviction notices, and bank statements are just a few of the documents you need to keep track of as a landlord. The IRS also requires certain documents to be on file for 5-7 years.
Online cloud storage is a simple way to store important records that are accessible from anywhere. There are several popular options, including Google Drive, Dropbox, iCloud, OneDrive, and Box. We're partial to Google Drive for its network security, low costs, and multiple plugins with third-party applications or additional features.
11. Project Management
Buying and leasing rental properties requires a lot of moving parts, including appraisals, inspections, financing, rental agreements, insurance, and other landlord responsibilities. With project management tools, you can create checklists to track progress and deadlines for all the tasks you need to stay on top of as a property owner.
Basecamp, Trello, and Asana all offer flexible project management solutions for real estate portfolios of every size. Each comes with support for integrations to connect tools for email, calendars, budgets, document storage, scheduling, online forms, and more.
Final Thoughts
Rounding up the right tools can help simplify the day-to-day operations of being a landlord. You can make your job even easier with an all-in-one property management platform that does everything you need. If that sounds good, look no further than Baselane, which combines banking, rent collection, bookkeeping, and more with a single login.
Get started for free and let Baselane put your property management on autopilot.