Rental properties can be an excellent investment, but only if you know what you're doing and your rental business is set up for success.
Not sure if your rental property is profitable? Consider using a rental property calculator to help you determine the return on investment for your rental property. With this information, you can set goals for your rental property's profitability (for example, earning $500 per month per property) and make a plan to achieve them.
If you've found that you aren't meeting your rental property goals, there are a host of strategies that you can use to improve your rental property profits.
1. Choose the Right Loan Type
A sound strategy to improve your profitability is to reduce the cost of servicing your debt. You can do this by lowering your interest rate as much as possible. There are various loan types available for rental properties. What suits your property's needs will depend on your unique lending profile and the characteristics of your rental. Here are the five best loan types to use when buying a rental property:
Conventional mortgage:

Like a standard mortgage for a primary residence, a traditional mortgage uses a fixed or variable low interest rate while using the property as collateral. This type of loan is best for an owner-occupied rental or investors with up to 10 rental units.

Portfolio loans:

These loans can't be re-sold and have different underwriting criteria. Portfolio loans allow for a lower credit score and smaller down payment but have higher interest rates. This loan is best for a landlord who can't qualify for a conventional mortgage.

Home equity loan:

A loan secured against the equity in your home. This financing option can be a revolving line of credit or a fixed loan with monthly payments. This loan is best for landlords with significant equity built up in their homes.

Private and hard money loans:

Private lenders focus more on the value of the property and less on your income and credit score when evaluating loans. However, you'll usually need a higher down payment, most likely between 25-30%.

Real estate limited partnerships: Partnering directly with a lender is good for active investors who want to grow quickly. However, you'll usually have to give up a portion of your equity to access this loan.


Choosing the right loan type takes time and research. While this overview can help you get started, you should really dig into which rental property loan is right for you.
2. Optimize your Rent Collection
There are various ways to collect rental payments, ranging from personal checks and cashier's checks to more advanced mobile and online payment systems. In addition, direct payment systems, known as automated clearing houses (or "ACH" payments"), also exists. ACH payments allows tenants to set up autopay and pay the rent directly from the tenant's bank account.


Collecting rent online with property management software like Baselane is faster, safer, and more reliable than traditional methods like checks. Online rent payments don't rely on the tenant writing and delivering a check, saving you time and keeping your rental income on track.
Unlike checks, which can take up to five days to post, rent paid online using Baselane is deposited directly into your bank account in as little as two days.
Because Baselane uses multi-factor authentication, and bank-level encryption to keep payments secure, it's safer than using a check that can easily be forged, copied, or stolen.
Baselane's platform makes paying rent easier for your tenant, too. Tenants can choose their preferred payment method (bank transfer, debit, or credit card), set up auto-pay, and get reminders and receipts.
You can learn more about the advantages and disadvantages of online rent collection here.
3. Keep Vacancies Down
One of the biggest killers of rental property profitability is vacancy. Every month that your rental sits empty cuts into your profitability and reduces your earning potential. To help keep vacancies down, focus on attracting quality tenants and maximizing the number of applications you receive for your empty units.


Attracting quality tenants starts with having an appealing, in-demand property. Choose a property in a good location that targets your ideal demographics. If your property is vacant, maximize the number of applications you'll receive by investing in staging, high-quality photography, and well-targeted, well-written advertisements showing the property's amenities.
Automated and free Rent Collection, without the stress
Automated and free Rent Collection, without the stress
Get Started - It's Free
4. Keep up with Maintenance
Maximizing profitability isn't just about increasing your income but also minimizing your expenses. One significant expense is maintenance, including wear and tear and, unfortunately, property damage. To manage expenses related to maintenance, ensure you set clear standards for your tenants, so they know what they are responsible for, from sweeping and shoveling walkways to replacing furnace filters. A good time to cover this information is during a detailed move-in walkthrough.
Budget for and perform regular maintenance on your properties to avoid minor issues becoming expensive headaches. Annual inspections of heating and hot water systems, roofing, and foundations will help you catch and repair small problems cost-effectively.
5. Calculate and Track Rental Property's ROI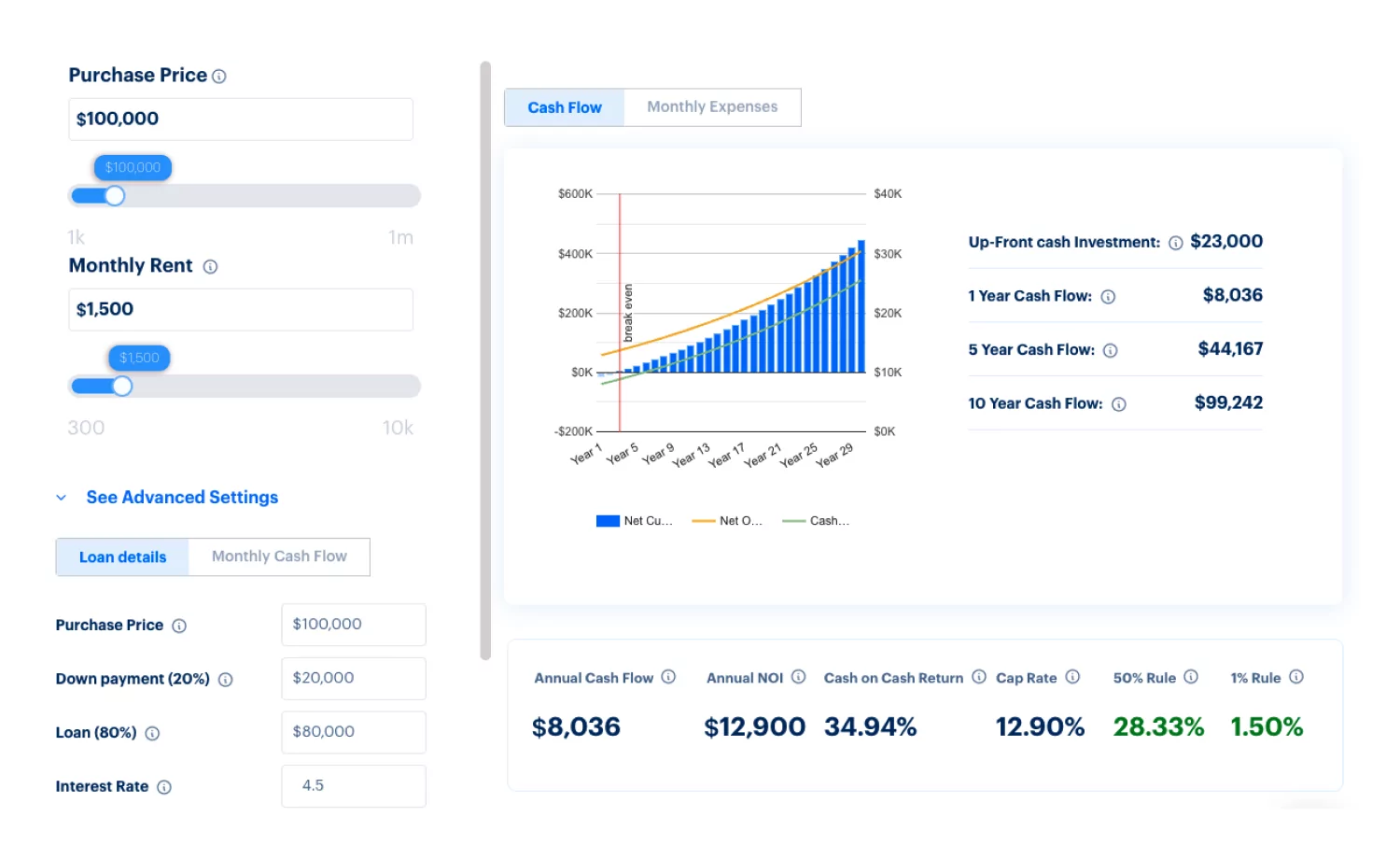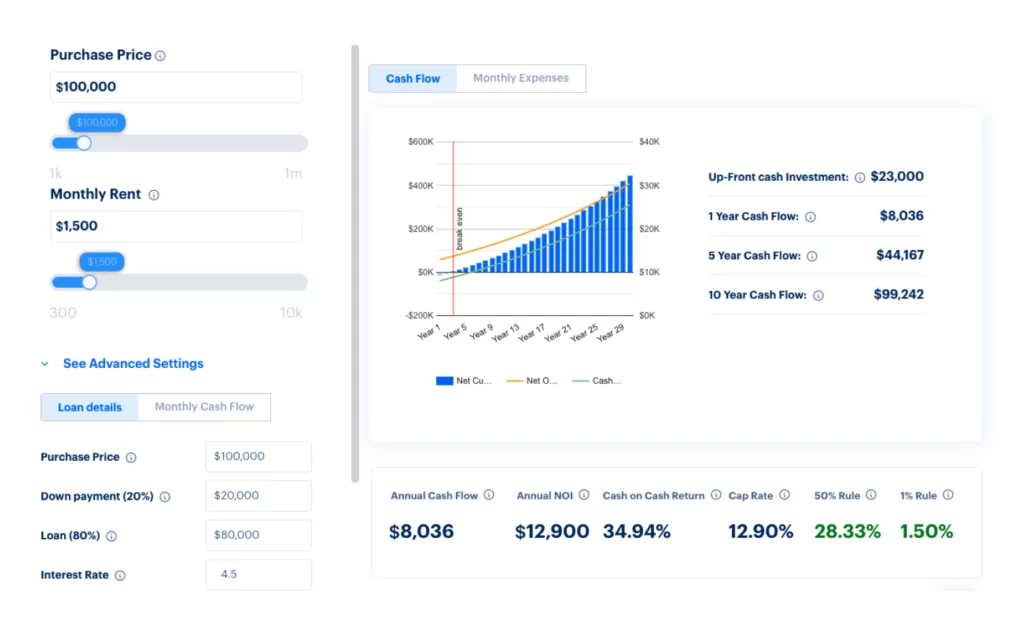 Finally, if you know your property isn't as profitable as it might be, but you aren't sure where to start, consider using a rental property calculator to evaluate your rental's performance return on investment.


A rental property calculator can help you do a diagnostic check on a property and determine which actions you should take to improve profitability. For example, a rental property calculator can immediately flag whether you are charging enough rent, whether your loan costs are too high, or whether you are losing money in other areas such as maintenance or utilities.


You can create a strategic plan to make your rental property profitable using these analytics. Once you've taken steps to improve your profitability, revisit the calculator to ensure you increase your income, decrease your expenses, and profit from your rental property.