Collecting the rent is one of the top pain points for independent landlords. Online rent payment platforms make rent collection easier for landlords and tenants alike, yet research shows only 31% of tenants pay rent online1, and even fewer use a proper rent payment service instead of an app.
Switching to online rent collection is one of the best ways to simplify your rental property business, if you do things the right way. With the right tools and a few optimizations, landlords like you can put rent collection on autopilot and make your rental property finances easier to manage than you thought was possible.
This article by Baselane will cover the basics of optimizing and tracking rent online.
1. Benefits of Collecting Rent Online
Collecting rent online with property management software like Baselane is faster, safer, and more reliable than traditional methods like checks.
Online rent payments don't rely on the tenant writing and delivering a check, saving you time.
Unlike checks, which can take up to five days to post, rent paid online using Baselane is deposited directly into your bank account in as little as two days.
Because we are leading payment technologies, multi-factor authentication, and bank-level encryption to keep payments secure, it's safer than using a check that can easily be forged, copied, or stolen.
Our app makes paying rent easier for your tenant, too. Our tenants can choose their preferred payment method (bank transfer, debit, or credit card), set up auto-pay, and get reminders and receipts.
2. What's the Best Way to Collect Rent from Tenants Online?
While it's possible to collect rent payments online using apps like PayPal and Venmo, they don't have all the features you need as a landlord.
These apps can't send automatic reminders to tenants, they can't directly withdraw money from your tenant's bank account, and they can't integrate with your rental property bookkeeping.
Baselane is a complete solution for your rental property finances that takes care of your banking, bookkeeping, and rent collection, all in one place.
When you use Baselane to collect rent online, the money is automatically deposited in your bank account, and the payment is automatically recorded on your books. If you have multiple rental properties, it can help you keep track of your payments with notifications and automated reports.
Baselane is great for your tenants, too. They get reminders to pay the rent, flexibility to pay the way they want, and automatic receipts. They can also pay rent using their phone, eliminating the need to write and drop off a check each month.
3. Using Rent Collection Software
Rent collection software is easy to use and you can get started with just a few easy steps.
1. Sign Up
Signing Up takes just a few minutes, with Baselane that is. Landlords and rental property owners can open an account for free. You can even create separate accounts for each property to monitor cashflow and expenses like repairs and homeowners association fees.
2. Enter the Lease Details
Baselane lets you specify the monthly rent amount, any recurring monthly fees with the rent (like for parking or pets), and when late fees should be applied. If the lease is just starting, you can also collect security deposits and one-time fees.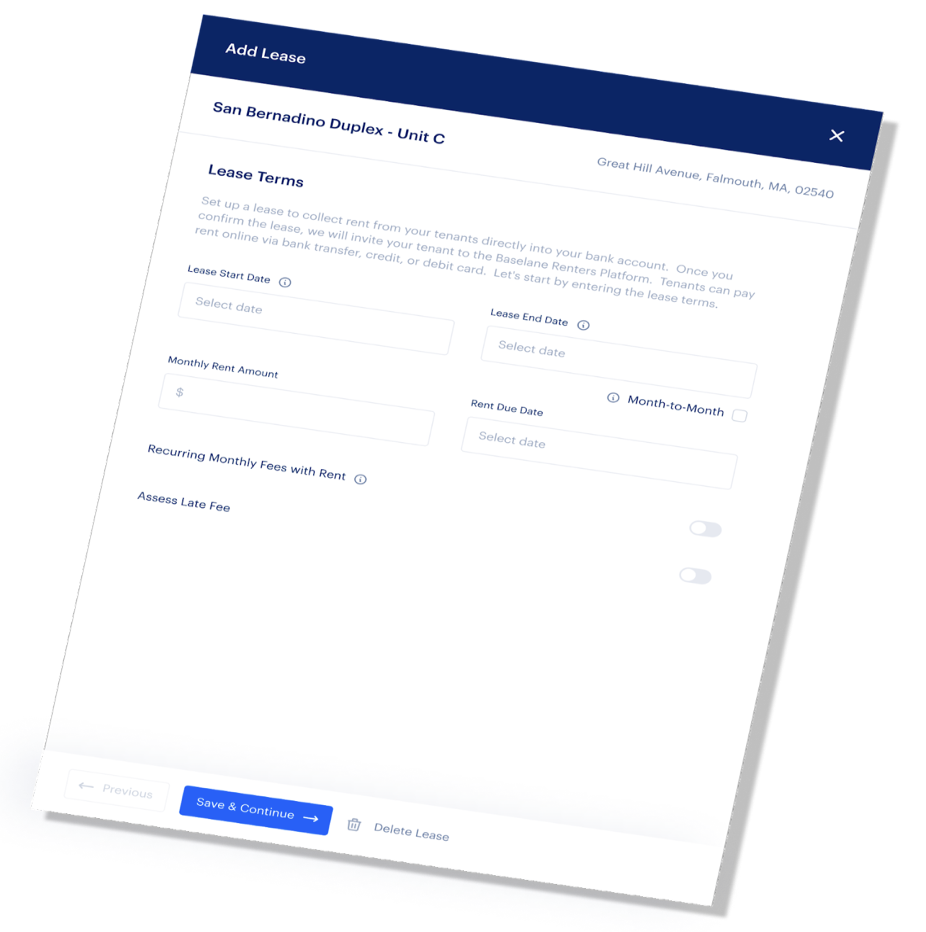 3. Enter your Banking Details
Baselane uses ACH transfers to automatically deposit rent payments into your bank account. You can also open a landlord bank account directly with Baselane to further simplify your rental property finances.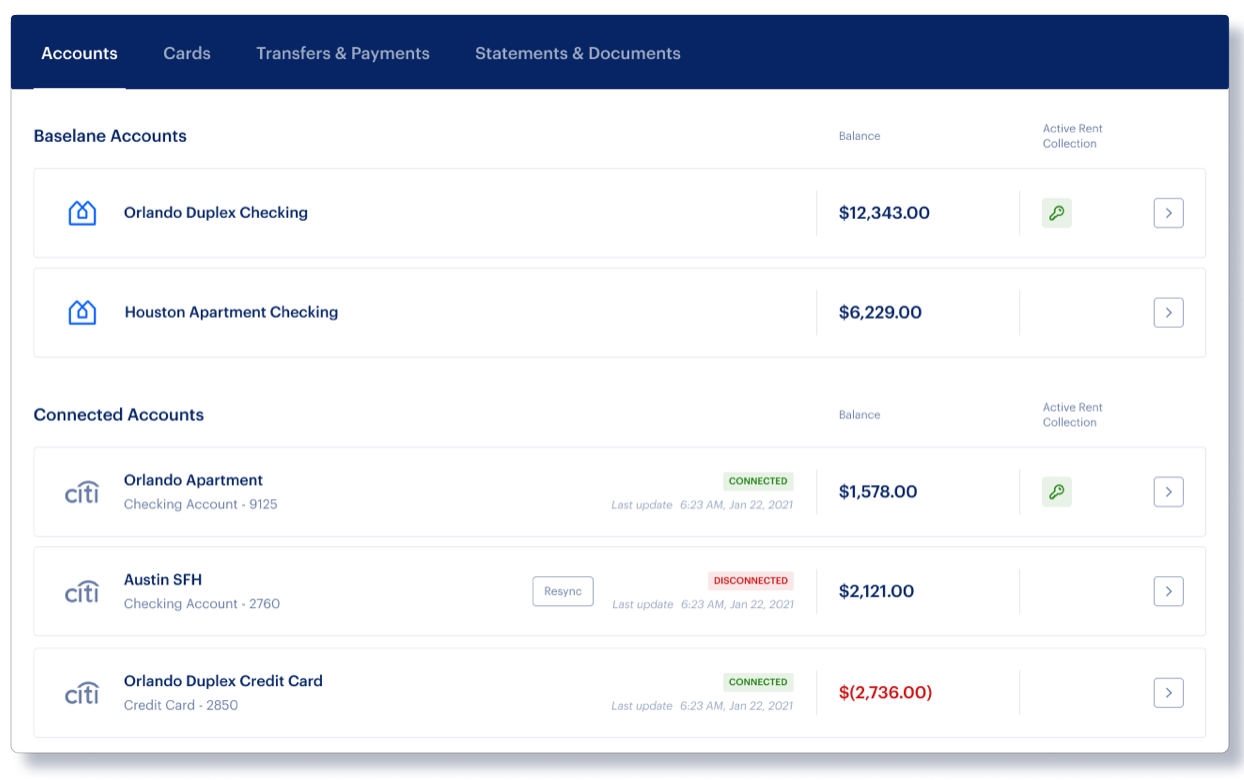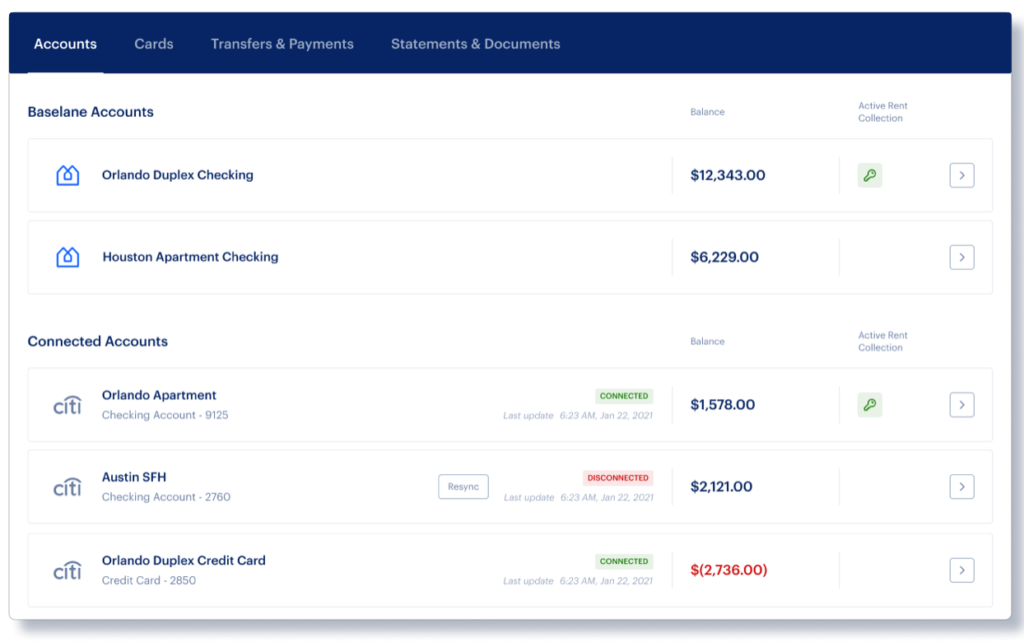 Invite your tenant. After entering your tenant's information, Baselane will contact them with instructions on how to create an account and set up their payments.
Once you're set up, rent collection is put on autopilot. Baselane takes care of sending the tenant reminders, gives you notifications when the rent is paid, and records rent payments in your books.
How to Optimize Online Rent Collection
Collecting rent online can streamline your process, saving you time and money. But just because you collect rent online, that doesn't mean your rent collection process is optimized.
Here are a few steps that you can follow to make sure you're gaining all the benefits of online rent collection:
1. Use Property Management Software that Encompasses All of Your Rental Property Finances
The downfall of many online rent collection tools is that they don't play nicely with your other software.
When you use Baselane, rent collection is integrated directly with your landlord bank account and bookkeeping so you don't have to move money and information across multiple places.
2. Turn on automatic reminders for your tenants
One of the biggest benefits of collecting rent online is saving time. Make sure you're not still doing manual work when online rent collection software can do it for you.
With rent collection software like Baselane, you can automatically give your tenants reminders when the rent is due or overdue.
3. Encourage Your Tenants to Set Up Autopay
Late payments are a headache for you and your tenants. You need the rent to pay your bills, and they don't want to be hit with late fees and (if you report to the bureaus) credit problems.
With autopay set up in Baselane, your tenants' rent payment is initiated automatically each month so it's less likely the rent will be late.
4. Use Reports to Stay on Track
Our online rent collection software gives you access to instant reports to see the status of your payments and whether any tenants are late with the rent.
Final Thoughts: Online Rent Collection
If you're not collecting rent online, now is the time to start.
Collecting rent online is faster and easier than traditional methods. With ACH transfers, rent payments are automatically deposited in your account and the entire amount is available to use right away.
Baselane puts your landlord banking and bookkeeping in the same place as your rent collection, you don't have to worry about recording transactions and reconciling your accounts, it's all done automatically.
Paying rent online has its benefits for tenants, too. Tenants get more flexibility in how they pay, with the option to use automated bank transfers, debit, or even a credit card. They get reminders and receipts automatically. They also don't have to worry about writing a check and dropping it off every month.
The best part is getting started is easy. It takes just a few minutes to sign up for a free Baselane account, enter the details of your lease, and invite your tenant to Baselane. Everything else is taken care of for you, so you can spend less time chasing the rent and more time on things that really matter.
FAQs
What is the best way to collect rent?
The best way to collect rent is online. Online rent collection automates much of the process for landlords and tenants, taking care of reminders, automatically initiating payments, and handling the reporting. Collecting rent online is faster too. You can access the funds from online payments in as few as two business days.
Is paying rent online safe?
Collecting rent online isn't only safe, it may be the safest method available. Unlike paper methods which can be copied and forged, online rent collection moves money directly from your tenant's bank account to your own.
We work with leading payment technologies and use bank-level encryption to keep payments secure.
How much work is it to set up online rent collection?
It takes just a few minutes to set up online rent collection for your properties.
After opening a free Baselane account, you just need to enter a few details about the lease, your tenant, and your banking information. We take care of everything else, putting your rent collection on autopilot.