Nearly 35% of Florida's population are renters, and thousands of landlords are working to keep homes available.
Technically, landlord insurance in Florida is not required by law. But, when you're planning on sticking to a specific budget for the long run, having landlord insurance should be a no-brainer.
After all, it will protect you from monetary losses that may happen due to accidents, natural disasters, or liability problems brought on by renting out your house or property to others. This is especially crucial for landlords in Florida, as the state has one of the highest rates of natural catastrophes.
Plus, lenders typically require this policy if you're financing a rental property.
Landlord insurance may seem like an expensive investment at first, but you should definitely consider it. Discover why property insurance could be a good idea, what it usually covers, and how you can choose the best landlord insurance in Florida.
1. What Is Landlord Insurance In Florida?
Landlord insurance is a type of policy for landlords renting out their properties to tenants. It is also commonly known as rental property insurance.
While not required by law, many seasoned landlords have found that having this kind of insurance coverage can make a huge difference in profits because it protects you from severe financial harm brought on by:
Damage caused by natural disasters
Water damage
Fire damage
Legal liability issues
Damage to the landlord's belongings on a rental property
Landlord insurance covers those renting out properties such as condos, apartments, and residential homes. When your profits are highly dependent on the livability of your investment properties, you need to have this kind of security against financial loss. Without it, you expose yourself to risks you can't afford to take.
2. What Does Landlord Insurance Cover?
Florida's rental property insurance covers a wide range of possibilities. However, remember that the coverage included depends on a policy's specific terms. These are but a few examples of typical coverage types.
Typical insurance coverages for a landlord policy can include:
Dwelling: Covers repair costs for a rental house, condo, or apartment resulting from covered perils like fire, wind, flood, and hail damage, as well as oil leaks, broken pipes, and appliance leaks.

Other structures: Covers the cost of repairing damage to detached structures on a rental property, such as a detached garage or a fence.

Landlord's personal property: Covers property of the landlord used to maintain the property, like lawnmowers and snowblowers.

Landlord liability: Covers the medical costs of third parties injured on your rental property.

Optional coverages: Include vandalism and burglary, as well as coverage for building codes and rental property under construction—all of which can be added to your landlord insurance policy for a fee.
3. What Are The Exclusions From Landlord Insurance?
To choose the best landlord insurance that will fit your needs, you must first understand what is typically covered by landlord insurance and what is not. These are a few of the exclusions that you'll often find on landlord insurance policies.
Owner-Occupied Properties
Some insurance providers won't provide landlord insurance if a property is owner-occupied. For instance, you might need to rely on homeowners' insurance rather than landlord insurance if you rent a portion of your house to a tenant. To make sure you understand the facts of your policy, speak with your insurance provider.
Renter Belongings
Landlord-held insurance often excludes coverage for your tenant's personal items. Tenants' belongings may need to be insured by their renters, which a landlord may require to protect them from liability.
Maintenance of Equipment and Appliances
While most landlord insurance policies cover damages brought on by an appliance leak or other equipment malfunction, the cost of repairing or replacing an appliance will not be covered. For example, replacing an air conditioner is the landlord's duty and is not protected by insurance.
4. How To Lower the Cost of Landlord Insurance In Florida?
Landlords are required to carry insurance coverage for both liability and property damage. This includes damage caused by tenants, guests, contractors, and others. If you don't have enough coverage, it could cost you thousands of dollars in repairs. Here are some tips to help you choose the best landlord insurance policy in Florida.
Prepare For Inspection
Before you start shopping around for insurance, make sure you know what inspections are covered under your current policy. You'll want to check whether your policy covers pre-existing conditions, such as mold, water leaks, and termite infestations. Also ask about the scope of the inspection. Some policies cover everything except appliances, while others include appliances, too.
Most insurance companies require property inspections prior to issuing a policy. These inspections are typically focused on the roof, electrical system, plumbing, and heating/cooling systems. They are looking for signs of water damage, leaks, mold, termite activity, and other issues that could lead to future claims.
Insurance companies want to make sure there aren't any major structural issues that might cause additional expenses down the road. This is why it's important to prepare for the inspection ahead of time. You don't want to find out about a problem during the inspection process.
Mitigate Storm And Wind Damage
A license can help you prepare for severe storms and high winds. These experts are trained to assess damage caused by wind and rain and recommend ways to mitigate storm and wind damage. Some of these methods include installing shutters, securing windows, caulking cracks around doors and windows, and adding hurricane straps to roof vents.
Insurance companies often offer discounts for homeowners who take steps to protect themselves against extreme weather conditions. For example, many insurers offer discounts for homes that have been retrofitted with hurricane resistant roof coverings.
If you live in a hurricane zone, you'll want to consider purchasing storm surge and wind damage protection. These types of policies typically add $1-$2 per square foot to your premium. They're especially important if you rent out vacation homes.
Higher Deductible
You might think that having a high deductible makes sense because you won't pay anything unless there's a major claim. But a high deductible actually increases your risk. A lower deductible means you'll pay less up front, but you'll end up paying more policy premiums over time.
If you want to save money on insurance premiums, it might be worth considering increasing your deductible. This means that you are responsible for paying out of pocket for smaller claims, like replacing a broken window pane or fixing a leaky faucet. However, this could mean that you don't have to worry about major repairs, such as having your roof replaced or repairing a water heater.
While this sounds great, there are some drawbacks to raising your deductible. For example, you may end up spending more money on repairs over the course of the year. You may also find yourself dealing with more paperwork, since you will now have to keep track of every repair bill. Finally, you may lose out on discounts offered by your insurer because you haven't had a claim in the past three years.
5. What Are The Best Landlord Insurance Providers In Florida?
If you're looking for a landlord insurance provider in Florida that will suit your needs, you've come to the right place! Some of the best options available to you right now are:
Obie
Obie offers instant insurance built for multifamily landlords and real estate investors. With Obie, you can get the coverage you need for your specific property without spending countless hours trying to figure everything out yourself. Upon entering your property address, Obie's simple quote request process will compare carrier rates, matching you with the right insurance for your property.
This provider covers many types of rental properties including single-family homes, multi-family homes, apartments, and condo units, in addition to also covering short-term rentals, vacant properties, and properties undergoing renovations.

Obie's policies include protection against financial losses resulting from damage to the property, liability for injuries that occur on the property, and loss of rental income if the property becomes uninhabitable due to a covered event.
Citizens
Citizens Property Insurance Corporation is a state-run insurance company in Florida that provides coverage to residents who are unable to find insurance through the private market. It was created in 2002 to provide insurance to Florida homeowners who were unable to find coverage due to the high risk of natural disasters in the state. It is the largest insurance company in Florida and is funded by premiums paid by policyholders. Citizens Property Insurance Corporation offers a range of insurance products, including home, condo, renters, flood, and windstorm insurance.
It is important to note that Citizens Property Insurance Corporation is a last resort for residents seeking insurance coverage, and residents are encouraged to explore options with private insurance companies before turning to Citizens.
Security First
Security First Insurance is a property and casualty insurance company based in Florida. It was founded in 2005 and is licensed to sell insurance in Florida, Texas, and North Carolina. The company offers a range of insurance products, including home, condo, renters, flood, and windstorm insurance.

Security First Insurance is known for its use of technology to provide a modern, convenient insurance experience for its customers, including the use of mobile apps and online tools to manage policies and file claims. The company has received high marks for customer satisfaction and is highly rated by industry experts.
Florida Peninsula
Florida Peninsula Insurance Company is a property and casualty insurance company based in Florida. It was founded in 2006 and is licensed to sell insurance in Florida, Georgia, and South Carolina. The company offers a range of insurance products, including home, condo, renters, flood, and windstorm insurance. Florida Peninsula Insurance Company prides itself on its commitment to providing high-quality insurance products and services to its customers, and has a reputation for excellent customer service. The company has received high marks for financial stability and is highly rated by industry experts.
Landlords Need Protection, Too
There's no denying that being a landlord in Florida can be incredibly lucrative. Still, there's a chance you'll experience devastating natural disasters that leave you and your tenants in a difficult situation. If damage occurs, you'll be forced to pay for repairs, temporary housing for tenants, and much more if you don't have the right insurance.
Make sure to choose the exact coverage you need based on your budget and the needs of your property. To make sure you don't go overboard with your insurance expenses, always research your options first before moving forward!
Looking for more insightful tips and information about working as a landlord? Check out Baselane's Resources section today!
Protect yourself 
and your investment
Make sure you have the right coverage
Check if you can save $100's on existing policy
No phone call or hassle required
Get an Instant Quote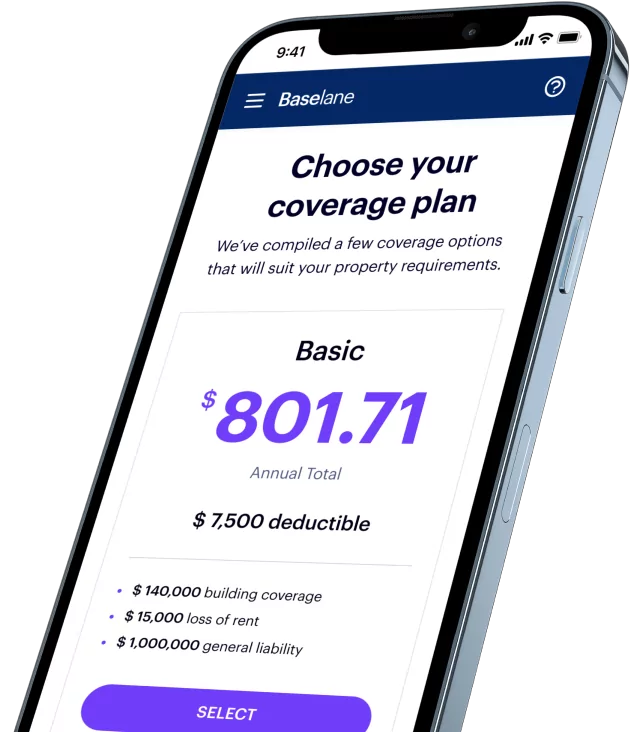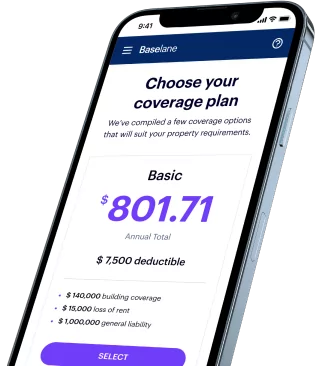 FAQs: Landlord Insurance In Florida
Is landlord insurance required in Florida?
Florida does not require landlord insurance, although many landlords do choose to purchase this optional policy. This doesn't mean that landlords are exempt from potential damage, however. In fact, without proper insurance, it could cost you thousands of dollars to repair damages caused by hurricanes, floods, tornadoes, earthquakes, lightning strikes, windstorms, hail storms, and wildfires.
Landlord insurance covers the building itself, including roofing, walls, floors, windows, doors, plumbing, electrical systems, appliances, furniture, fixtures, and landscaping. Landlords often use this coverage to pay for renovations, such as adding insulation, installing energy efficient lighting, replacing old carpeting, repairing broken windows, and upgrading heating and air conditioning units.
In addition to covering the physical structure of the home, landlord insurance can also include liability protection. Liability insurance protects against lawsuits filed by tenants, guests, employees, contractors, and visitors. If someone slips and falls on your property, or gets injured due to dangerous conditions, they may file a lawsuit against you, claiming that you failed to maintain safe premises.
Liability insurance can also cover legal fees incurred during a tenant dispute or eviction process. For example, if a tenant files a complaint against you because he believes that his lease agreement was violated, he might sue you for breach of contract. You could end up paying attorney fees to defend yourself against the claim.
If you don't have landlord insurance, you could face serious consequences. A recent study found that renters who live in homes without landlord insurance are three times more likely to experience a major disaster than those living in insured properties.
The average cost of a single-family home in Florida is $300,000, according to Zillow.com. To put this into perspective, the median price of a renter's home in Florida is just over $1,100 per month, according to RentHop.com. When you add in the cost of utilities, property taxes, maintenance, and other expenses, it quickly adds up.
How Much Landlord Insurance Is required in Florida?
Landlord insurance is not required in most states, including Florida, but if you have a lender, they most likely will require a landlord insurance policy and get coverage that is sufficient to cover the assets replacement costs. e.g. Most landlords carry $1 million worth of general liability insurance on each property. However, there are many different factors that go into determining what type of policy is best suited for your situation.
The exact size and location of your property will determine the final price of landlord insurance in Florida, as well as how much coverage you choose. For example, if you live in a hurricane zone, it might make sense to purchase flood insurance. If you rent out multiple properties, you could consider purchasing separate policies for each one.
Additionally, how much coverage you buy depends on how much you want to spend. Typically, rental property insurance is about 20 percent more expensive than homeowner's insurance, because of the additional liability of tenants and potential damage to the property.
Florida insurance rates are generally higher because of the increased risk posed by hurricanes. However, even though the state averages high winds, flooding and tornadoes, the actual risks vary widely depending on the area.
In addition to standard homeowner's and renter's insurance, some people opt for special coverages such as fire insurance, earthquake insurance, mold and water damage protection, and even pet insurance.
Is Landlord Rental Insurance Worth It?
Landlord Rental Insurance Is A Great Financial Choice For Your Business
Most landlords don't realize that they are required to carry landlord insurance by their lenders. This type of policy protects both the owner and the tenants against losses caused by natural disasters such as hurricanes, tornadoes, floods, earthquakes, and fires. In addition, it provides protection for damages caused by vandalism, theft, and accidents.
The cost of landlord insurance varies depending on where you live, what size building you rent, and whether you want to cover just your personal belongings or include those belonging to your employees. You might find that you pay less per month if you purchase a multi-unit policy rather than a single unit policy. However, there are some risks that are unique to each individual situation.
For example, if you own a commercial building, you may want to consider purchasing additional coverage for things like water damage, mold, fire, and smoke damage. If you own a residential building, you may want different coverage options than someone renting a condo.
You may also want to consider adding coverage for liability, which covers legal fees and settlements resulting from lawsuits filed against you because of injuries sustained by third parties while on your property. Landlords must provide liability coverage regardless of whether they choose to carry landlord insurance.
When deciding whether to buy landlord insurance, remember that you are protecting yourself and your investment. By taking out a policy, you can protect your assets and reduce the likelihood of losing everything.
How Can I Reduce My Landlord Insurance Premium?
Landlord insurance is one of the most important things to protect your investment, but it doesn't always come cheap. There are ways to reduce the cost of your landlord policy without sacrificing protection. Here are some tips to help you save money while keeping your home safe.
Landlords often worry about losing money because of damage to rental properties. While it is true that some losses can be covered under standard homeowner policies, there are many situations where landlords don't qualify for traditional insurance.
First, consider reducing the amount that you have in place now. Many homeowners' policies include liability limits of $1 million per occurrence or $2 million aggregate, depending on state law. If you're renting out one unit, you could easily exceed either limit.
Next, consider changing insurers. Most large carriers offer discounts to landlords who switch, and smaller carriers may be able to negotiate lower rates as well.
Finally, consider making changes to the property itself. Some things like fire suppression systems, sprinkler systems, smoke detectors, and alarm systems can be added to your policy without increasing premiums.
Do Tenants Need Renters Insurance In Florida?
Florida law does not require tenants in residential properties to carry renter's insurance. However, some landlords choose to require it because it protects both parties during a claim. This way, the landlord doesn't have to worry about paying out money for damage done to the property, and the tenant isn't able to use the landlord's personal assets to pay off a claim.
Additionally, tenants' insurance covers damage to the rental caused by either the tenant or their guests. If a guest causes damage to the property, the tenant cannot file a claim against the landlord.
Do You Need Rental Property Insurance In Florida?
Landlords are often required to provide renters with adequate security deposits and protection against damages caused by third parties. This includes liability insurance, which protects landlords from lawsuits filed by tenants claiming injuries or damages due to negligence or intentional acts committed by the tenant. Landlord insurance policies also typically include coverage for fire, storm, earthquake, vandalism, theft, and personal injury claims.
In addition to providing rental property owners with legal protections, having proper insurance coverage can help protect your investment and ensure that you don't lose money if something goes wrong.