Even though average home prices in California are 3.4% lower than last year, rental occupancy rates are still hovering around 95-96%, and most landlords are bringing in about $2,920 in monthly rental income. Despite potential opportunities for real estate investors, owning rental properties in California comes with a few risks, especially those located in wildfire-prone regions or coastal areas.
Use this blog as a guide for California landlord insurance policies, types of coverage, and optional coverages you might need to protect rental properties in the Golden State.
Is Landlord Insurance in California Mandatory?
While California's rules might not explicitly state that you must have landlord insurance, many banks will require some type of insurance for individuals or entities who own or lease rental properties. Typical landlord insurance policies cover property damage, like fires or storms. They also include liability protection for legal costs if a tenant or guest gets hurt on your premises.
As a landlord in California, you can require tenants to purchase renters insurance policy, but there are certain limitations. For example, you can specify types of coverage for property damage or pets but can't evict tenants for not insuring their personal property. Any renters insurance requirements should be outlined in the lease agreement.
What Type of California Landlord Insurance Coverage is Needed for Rental Properties?
There are three main types of landlord insurance, known as "dwelling policies." Dwelling coverage will vary based on the standard landlord insurance policy.
Dwelling Policy 1 (DP1): Basic Protection
What it Covers: DP1 provides simple coverage limited to nine named perils, including fire and lightning, explosions, windstorms, hail, riots, smoke, aircrafts, vehicles, and volcanic explosions.
Payouts: DP1 pays the actual cash value of a damaged property based on its current condition and depreciation.
Perfect For: Landlords who want to save money and only need minimum coverage.
Dwelling Policy 2 (DP2): Average Protection
What It Covers: DP2 covers another nine named perils (18 in total), including electrical damage, water or stream, falling objects, cracking or bulging, glass breakage, burglary, freezing pipes, weight of snow, and collapse.
Payouts: DP2 pays the replacement value to cover the full cost of repairing or replacing the damaged property.
Perfect For: Landlords who need more than basic protection without a ton of extras.
Dwelling Policy 3 (DP3): Comprehensive Protection
What It Covers: DP3 is an open peril insurance policy that covers all possible perils except for a small list of exclusions.
Payouts: DP3 pays the replacement cost and includes rent loss coverage and liability protection.
Perfect For: Landlords managing non-owner occupied homes used for residential rental properties.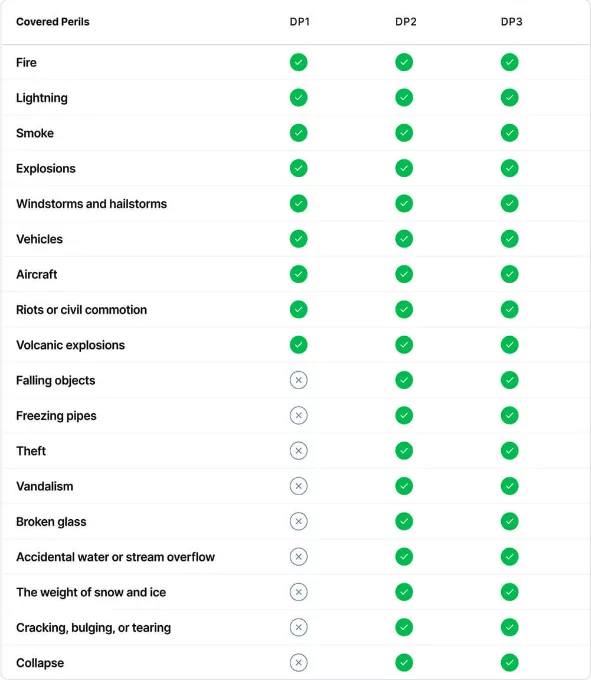 Additional California Rental Property Insurance Coverage
It's worth exploring extra coverage options on top of standard insurance for landlords to protect real estate investments in California.
Loss of Rent Coverage:
Unexpected events like wildfires can damage your property, forcing tenants to leave their units (and rent payments) behind. Loss of income coverage helps bridge the gap between missed rent payments and repairs until tenants can move back in.
Umbrella Insurance
An umbrella policy provides an extra layer of liability insurance to cover costs beyond your regular rental insurance policy. It's there for additional protection against legal claims for injuries and certain types of damage to rental properties.
Note: Owning an apartment building or listing an Airbnb will often require separate business insurance.
Theft and Vandalism Coverage:
Property theft and vandalism are a big problem in California, especially in metro areas like Los Angeles. Common coverage options include unauthorized break-ins or intentional damage, such as broken windows or defaced walls.
Important California Rental Property Insurance Considerations for Landlords
Managing rental properties in California requires additional considerations for landlord coverage in areas where certain risks are elevated.
Wildfires
Wildfires are a major threat in California, which accounts for 22% of U.S. wildfire damage over the past five years. With an average of 1.1 million acres burned annually in the state, landlords must consider dwelling fire protection.
Here are key factors to keep in mind for wildfire damage:
Homeowners Policies: Not all standard homeowners insurance policies cover wildfire damage.
High-Risk Areas: Some insurance carriers may exclude wildfire coverage in certain high-risk zip codes.
Blackout Dates: Some insurance policies may have specific dates or periods during which fire damage is not covered, particularly during peak wildfire seasons.
Earthquakes
The United States Geological Survey (USGS) estimates that California experiences about 10,000 earthquakes each year. Most have a magnitude between 3.0 and 4.0 (out of 10), while others exceed a magnitude of 5.5 or higher, causing more severe physical damage.
Here are some crucial considerations when evaluating earthquake insurance:
Fault Lines: Consider adding earthquake coverage if your rental property is near fault lines or in an earthquake-prone area.
Personal Injury: Check for earthquake insurance that includes liability coverage in case a tenant is injured during an earthquake because the physical property structure isn't sound.
Additional Coverages: Some landlords may require additional property coverages for landslides, mudflows, and floods caused by earthquakes.
Floods
Floods are one of the leading causes of property damage and fatality in the U.S. As the global climate changes, California has 1,128,290 properties with a 26% chance of flooding in the next 30 years. This is 23% of all real estate properties in California.
Consider these things when looking into flood insurance:
Flood Insurance: The Federal Emergency Management Agency (FEMA) often requires optional coverage for flood damage in high-risk areas.
Standard Policies: Standard landlord insurance typically doesn't cover natural disaster flooding, which is very different from a leak in your house caused by a broken pipe.
Extra Coverage: To cover water damage, consider a water and sewer/septic add-on (called a backup policy) to a standard insurance policy.
Find Affordable Landlord Insurance in California with Baselane
Landlord Insurance in California can seem complex, especially with different types of coverage for natural disasters and dwelling policies. Comparing landlord insurance quotes from multiple carriers is the best way for rental property owners to get proper rental coverage at a fair price.
Baselane landlord insurance provides comprehensive coverage at affordable rates that can save 25% on annual premiums. Get competitive insurance quotes in less than a minute, with zero commitment and no phone call required.