Whether you're a seasoned landlord veteran with an expansive portfolio or a newcomer taking on your first rental property, a comprehensive property maintenance services list is one critical component to your success.
In real estate, tenant satisfaction directly impacts your bottom line. Maintaining your property is not just a legal obligation but a financial and strategic necessity.
In this blog post, we'll outline what property maintenance tasks to prioritize as a property manager, whom to contact for different jobs, and how using Baselane's integrated platform can simplify and automate your property management efforts.
Importance of Property Maintenance for Landlords
Based on data from the Pew Research Center, in 2019, around 36% of U.S. households were renters rather than homeowners. As a landlord, property maintenance should never be an afterthought—it's a crucial part of your strategy for success.
Here's why:
Satisfied tenants tend to stay longer, reducing the dreaded void periods that can eat into your rental income. The cost of turning over an apartment, including marketing, lost rent, and maintenance, can be as much as $5,000.
Effective property maintenance enhances tenant satisfaction, making them more likely to renew their leases when the time comes. It also means fewer negative reviews and positive word-of-mouth referrals.
Regular upkeep helps protect your property's value and can even enhance it over time.
Research conducted by the University of Connecticut and Syracuse University has revealed that consistent property maintenance can enhance a property's value by approximately 1 percent annually.
As a landlord, you're required by law to provide a safe and habitable living environment for your tenants.
For example, tenants' safety is protected under California Civil Code in California. Ignoring timely maintenance can lead to civil and sometimes even criminal liability.
Proactive property maintenance can help you detect and rectify minor issues before they become significant—and often expensive—problems.
For example, fixing a leaky pipe right away can prevent extensive water damage that could cost thousands to repair.
Prospective tenants are more attracted to properties that are in good condition. Regular maintenance ensures your property is always ready to impress.
Checklists for Property Management Maintenance by Season
As a landlord, your property maintenance task list will shift with the changing seasons. Here's a season-by-season breakdown to keep your property in top shape all year round.
Spring is all about recovering from winter and preparing properties for summer. Focus on outdoor tasks, as the weather is getting warmer but not hot.
The melting snow and spring rains can expose or exacerbate water-related issues, leading to potential damage to your property's foundation, roof, or interior. As per the data from the Insurance Information Institute (III), approximately 14,000 individuals in the United States experience the effects of water damage daily.
In some areas, the spring season can also bring rains and tornadoes, sometimes – prepare accordingly.
Inspect roofing for winter damage, and repair if needed

Check outdoor areas for any damage from winter frost, ice, or snow

Inspect and clean gutters and downspouts

Check and repair outdoor lighting

Inspect and repair windows and doors for proper sealing

Check and repair any water leaks in faucets, hoses, and sprinkler systems

Focus on lawn maintenance landscaping

Test fire sprinkler and alarm systems

Ensure all smoke detectors, carbon monoxide detectors, and fire extinguishers are functioning correctly

Inspect and repair irrigation systems and sprinklers for efficiency

Pressure wash sidewalks, driveways, and the exterior of buildings to remove winter grime and maintain a clean appearance.
With its higher temperatures, summer can stress your property's cooling systems and potentially increase utility costs.
Long sunlight exposure can cause wear and tear on your property's exterior, such as fading paint and damaging roof shingles. It's also a peak time for pests, leading to infestations if not handled proactively.
Schedule a pest inspection as pests start becoming more active in springs

Service the air conditioning for peak summer performance

Check plumbing systems for potential leaks

Clean and maintain swimming pools and hot tubs, if applicable

Maintain landscaping, including watering, mowing, and trimming

Check and maintain outdoor generators and backup power systems

Refresh property exteriors with paint touch-ups
Preparing for Hurricane Season
If your property is located in an area prone to hurricanes in summer, there are crucial steps you need to take to protect your investment and ensure the safety of your tenants:
Reinforce windows and doors with hurricane shutters or impact-resistant glass.

Establish a clear emergency plan and communicate it to your tenants.

Review and adjust insurance coverage for hurricane and flood damages.

Regularly inspect the property's structural integrity, focusing on the roof, windows, and doors.

Trim tree branches that hang near your property to minimize storm damage.

Provide tenants with recommended emergency supplies such as flashlights, batteries, and water.
Fall's cooler temperatures and falling leaves can put additional demands on your property. Leaves can clog gutters and downspouts, leading to potential water damage, while cooler temperatures and increased moisture can stress your property's heating systems.
Pre-winter heating system check-ups and servicing costs can vary, but routine inspections can prevent more expensive emergency repairs during winter.
Here's the building maintenance checklist for the fall season:
Inspect roofing for loose shingles, gaps around vents, and debris

Check seals around windows and doors, and swap out screens for storm windows

Clean gutters and drainage to prepare for inclement weather

Winterize plumbing and protect against sleet and freezing rain (for colder, snowy regions)

Check HVAC and chimneys for any needed repairs

Share fire safety plan and warn residents of seasonal fire hazards

Protect entryway and common area floors with absorbent and heavy-duty mats

Take precautionary measures against termites, mice, and other critters

Landscape selectively to keep the property in good shape for the fall and winter months, including clearing out dead or overgrown brush

Inspect all carbon monoxide and smoke detectors and replace batteries as needed

Cover or remove window AC units

Set thermostats in common areas for colder temperatures
The winter season can bring significant challenges for property owners, including the risk of frozen pipes, costing landlords around $500 per incident.
Remember, the Baselane property management system is here to assist you in managing these challenges effectively, helping you to minimize costs, maintain the value of your property, and ensure tenant satisfaction.
Here's a list of rental property maintenance services for the winter:
Schedule inspection and servicing for boilers and furnaces

Insulate pipes to prevent freezing (if not done in the fall)

Arrange snow-clearing service contracts in advance

Clear debris from gutters remaining from the past season

Check roofs for pooling water and loose shingles

Ensure an adequate supply of de-icing chemicals

Install energy-efficient appliances and insulated windows

Inspect walls, foundations, and masonry for cracks

Arrange for professional chimney and flue cleaning

Blow out sprinkler and irrigation systems

Test carbon monoxide detectors for proper functioning

Inspect and replace weather stripping if necessary

Provide reminders to residents about heater usage and kitchen safety guidelines ahead of the holidays
Maintenance Tips And Aspects You Need To Know
Here are some essential property maintenance tips to keep in mind as a landlord:
Create a Maintenance Schedule
Divide your maintenance tasks into upfront, weekly, monthly, seasonal, and emergency categories. This will help you keep track of ongoing tasks like cleaning common areas, changing air filters, testing smoke alarms, and maintaining landscaping.
By following a schedule, you can ensure that regular preventive maintenance is prioritized and completed on time. Ensure you have a reliable network of contractors and service providers to assist you in promptly resolving maintenance requests.
Educate Tenants on Basic Property Maintenance Management
Provide tenants with guidelines on adequately using and caring for various aspects of the property, such as plumbing fixtures, electrical systems, and appliances.
This proactive approach can reduce routine maintenance costs and promote a cooperative relationship with your tenants.
When tenants report maintenance issues, it's essential to respond promptly and address them on time.
Whether it's a leaky faucet, a broken appliance, or a malfunctioning HVAC system, addressing repairs promptly demonstrates your commitment to tenant satisfaction and prevents minor problems from worsening
Hiring property management companies can relieve landlords from the day-to-day responsibilities of property maintenance, allowing them to focus on other aspects of their investment portfolio.
The Benefits Of Using Property Management Maintenance Software
Managing property maintenance can be complex and time-consuming, especially if you're handling multiple rental properties or dealing with many maintenance requests. This is where property management maintenance software, such as Baselane, can be a game-changer.
Let's explore the benefits of utilizing property management software:
1. Educate Tenants on Basic Property Maintenance Management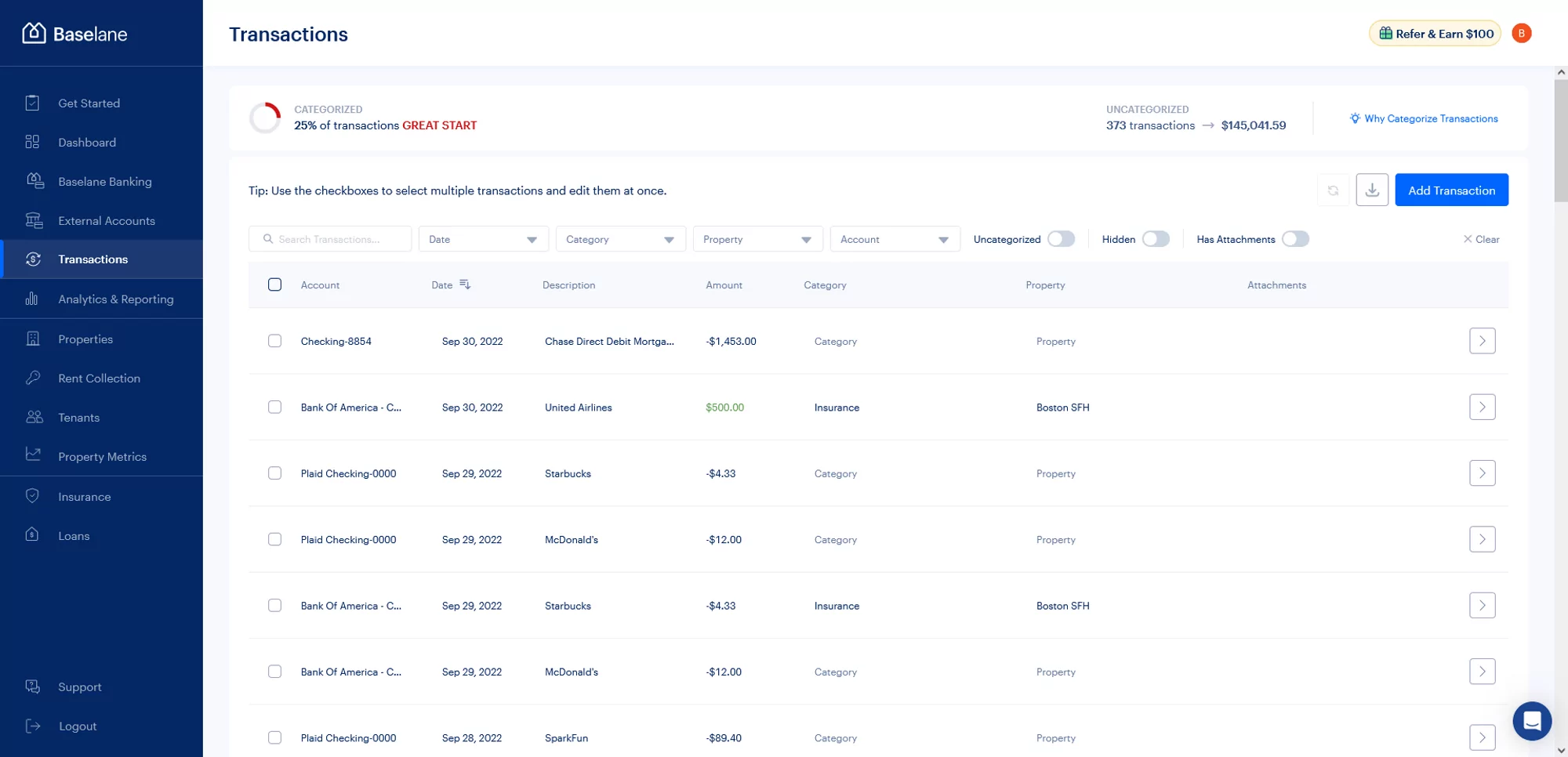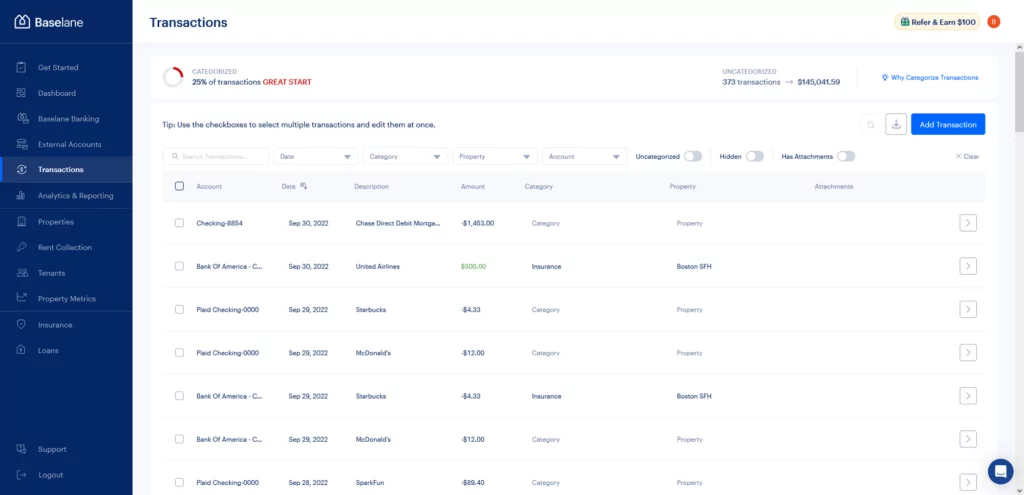 Baselane is all-in-one landlord accounting software that enables you to track and categorize maintenance expenses related to your properties easily. You can record and organize expense receipts, invoices, and other financial documents associated with maintenance tasks.
2. Vendor and Contractor Management
Baselane can be a centralized hub for managing vendor and contractor information. For your maintenance service provider, you can store data within the platform, such as:
Contractor names.

Contact details.

Transaction dates for your maintenance service providers.
By leveraging Baselane's financial tracking features, property managers can gain valuable insights into your property maintenance expenses.
The platform provides a clear overview of how much you're spending on maintenance for each property, helping you identify trends and patterns in your maintenance costs.
Baselane offers a security deposit account for landlords, providing financial protection in case of property damage caused by tenants. It covers the cost of repairs and provides a financial cushion during the tenancy period. With transparent and compliant handling of security deposits, landlords gain peace of mind and can confidently manage their rental properties.
To summarize, the rental property maintenance services list can single-handedly make or break your rental property business.
By emphasizing maintenance, you can elevate tenant contentment, uphold property worth, adhere to legal requirements, reduce expenses, and attain a competitive advantage within the rental market.
Ready to experience the benefits of Baselane firsthand? Try our demo today and discover how Baselane can revolutionize property maintenance, landlord banking, and rent collection.